The full extent of the destruction in the wake of the earthquake that hit Turkey and Syria this week is only beginning to emerge, as the overall death toll nears 20,000. Displaced populations and refugees appear to be disproportionately affected by the tragedy.
The number of victims from the earthquakes in the Turkish-Syrian border region keeps growing rapidly. More than 19,000 people are confirmed to have died in total during the tragedy (by the time of writing, February 9), up from merely several hundred earlier in the week. 
The current tally already exceeds the death toll of the last big earthquake, which hit Turkey in 1999, significantly.
Among the countless victims are also many migrants and refugees, especially from the Middle East. In fact, in the ten Turkish provinces affected by the natural disaster, one in ten of the local population is a Syrian war refugee.
Side by side
Turkey has long been host to the world's largest refugee population since reaching an agreement with the EU in 2016 to help stem migration numbers. 
While many refugees fleeing the war in Syria moved to the big urban centers of Turkey like Istanbul and Izmir, others remained close to the border with Syria, settling in cities like Adana, Diyarbakir and Gaziantep.
This is why throughout southeast Turkey, surviving Turkish families are seen looking for shelter and help alongside Syrians. Anti-migrant sentiments, which have been rife in Turkey for years, appear to have been brushed aside for the time being, as everyone is trying to get by, one day at a time.
"We are here with Syrian refugees, we are all victims," 37-year-old Aydegul Bitgin told the AFP news agency. "There's nothing that we don't need: baby food, wet wipes, diapers. We left our home with nothing."
Read more: 'We escaped death in Syria, and now we were struck by an earthquake in Turkey'
Losing everything -- again
Among the many Syrians affected by the earthquake is Ridwan Gurre, who spent the past seven years building a new home in Diyarbakir. He told AFP that his life was just getting back on track — but now he has lost everything once again.
"When we were in a war, we knew that when the planes flew overhead, it was time to take shelter. When the earthquake came at such an unexpected hour, we didn't know what would happen next," Gurre said, highlighting that he didn't know what to expect from the future.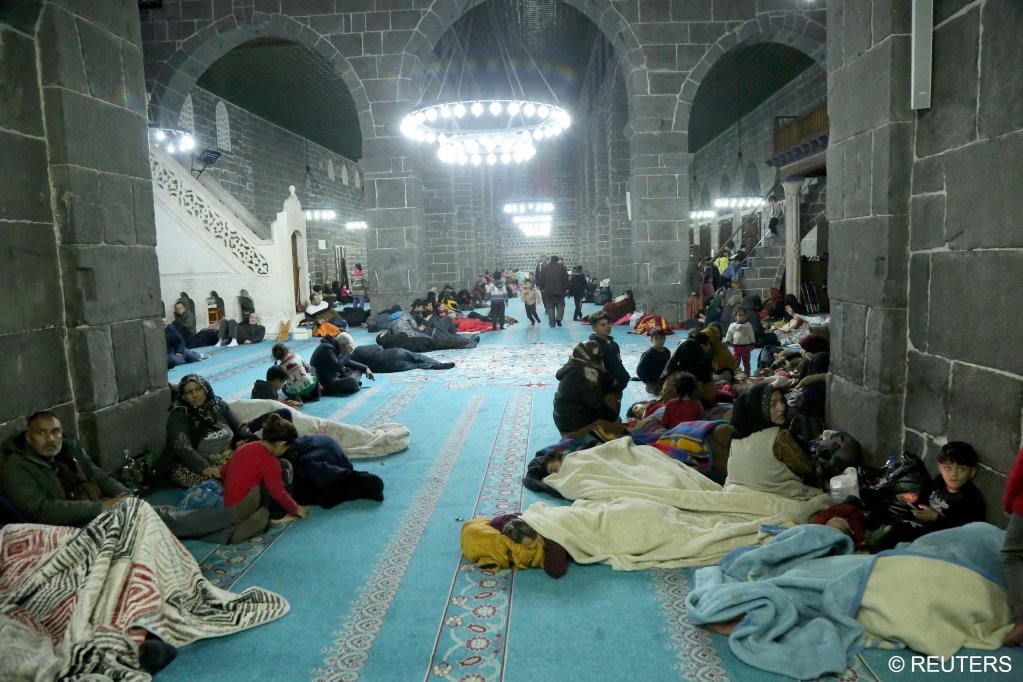 The 42-year old, his wife and two sons have been forced to sleep in the local Grand Mosque in Diyarbakir since Monday's earthquake, escaping the freezing temperatures on the streets. They will have to rebuild their lives once more after this tragedy. 
An entire family wiped out
The devastating earthquake also killed an entire family who had fled to Turkey from the Palestinian territory of Gaza twelve years ago.
Abdel-Karim Abu Jalhoum, his wife Fatima, and their four children, were among at least 70 Palestinians who were found dead as a result of the disaster. His brother, Ramzy, told the Reuters news agency that his brother had originally gone to "Turkey to seek a better life away from wars and blockades here in Gaza."
"We lost the family. An entire family was wiped off the civil registration record," he said.
Abu Jalhoum's mother Wedad said she prayed their bodies could be returned home for burial: "I haven't seen my son, nor his children for 12 years. I want my children, I want to see them and bid them farewell."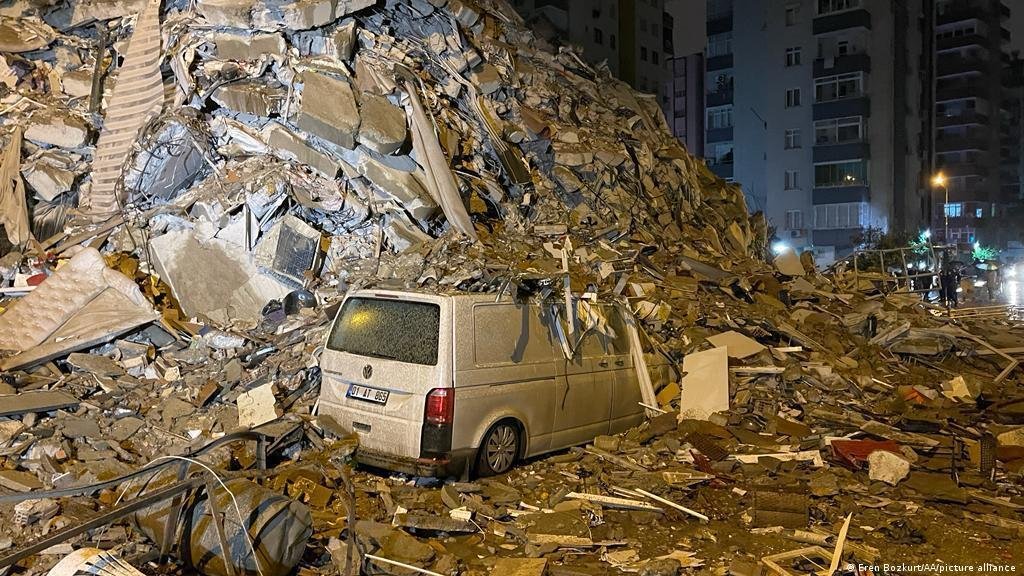 The 50-year-old father of four had been working in a wood factory in Antakya. He and his family had integrated into their new lives. Six months ago, they had moved to a new apartment building — one that was shaken to the core by the earthquake.
Read more: One-way ticket to death: Youth in Gaza desperate to seek better life
Repeat displacement
UNHCR said it would still take a while to fully understand the impact of the disaster on the refugee population: 
"We do not know the exact number of refugees affected, and may not know for a few days, but we fear the number is significant given that the epicenter of the earthquake was close to areas with high concentrations of refugees," the UN refugee agency said, adding that the earthquake had delivered a "real blow" to displaced people in the region, especially Syrians.
Philippe Leclerc, UNHCR representative in Turkey, stressed the fact that most Syrian refugees in Turkey live among the local population "in the same buildings that collapsed," adding that only 47,000 out of 1.5 million Syrian refugees in that region lived in temporary accommodation camps in the ten provinces affected by the earthquake. 
Read more: Earthquakes in Turkey and Syria also affect millions of displaced people
Tug-of-war over aid deliveries
Meanwhile in Syria, UNHCR has begun distributing 30,000 first aid kits in the affected areas, including in Aleppo, Homs and Tartous. Among the items distributed are mattresses, blankets, sleeping mats and winter clothes. 
There are also 20,000 tents in stock in the the capital Damascus, which UNHCR hopes to use. However, the delivery of aid is also a major political issue in a country which has been in a state of war for 12 years now. 
Delivering aid from Syrian territory controlled by Damascus — including the capital itself — is tricky, as this means relying on the regime to agree to pass it on to the people.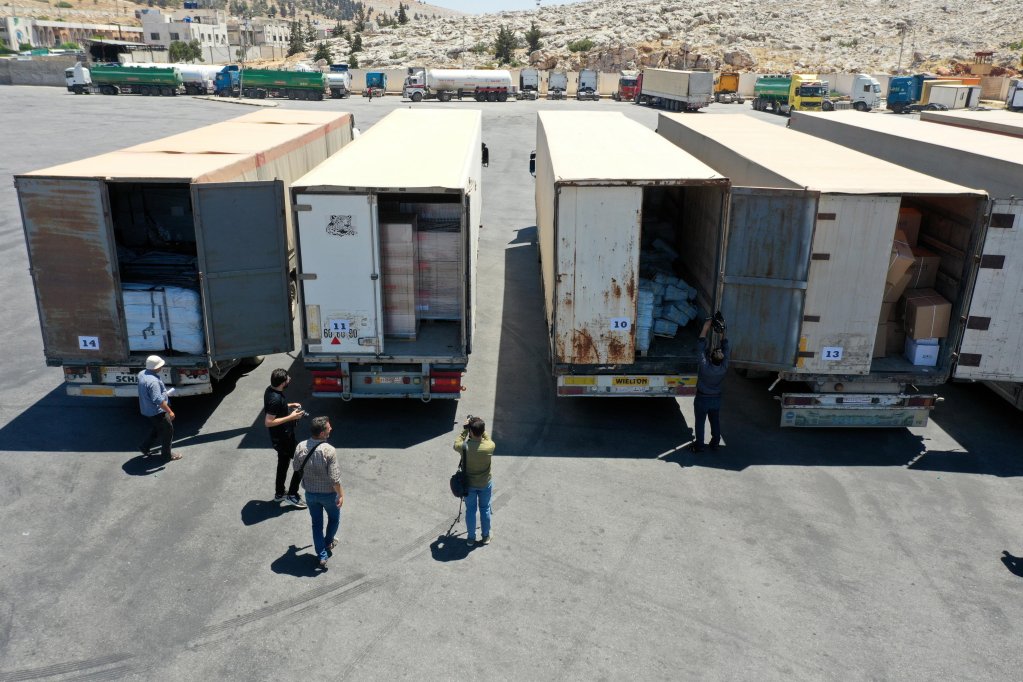 Nearly all humanitarian aid to Syria is therefore delivered from Turkey through Bab al-Hawa -- the only border crossing that has been kept open and accessible since last year, as per UN mandate. The Bab al-Hawa crossing, however, is contested by the government in Damascus as well, which says that keeping this crossing open amounts to a violation of Syrian sovereignty.
Furthermore, Bab al-Hawa itself was affected by the earthquake: "The road leading to the crossing point has been damaged, which temporarily disrupts our ability to fully use," the UN said. Two more border crossings are now due to be opened to let in more aid deliveries; however, Syria is yet to agree to this.
Meanwhile, Marc Schakal, the head of the Syria program at Doctors Without Border (MSF), said he feared NGOs could become overwhelmed with requests, as in addition to their existing work they would now have to address this tragedy as well.
Read more: UN humanitarian aid for Syria via Turkey at risk
Not only Arab refugees affected
But it's not only Syrians and Gazans who as refugees are affected by the devastating earthquake. Reports are beginning to emerge of Afghan nationals also trapped in some of the rubble.
Meanwhile, a Somali survivor of the earthquake living in the Turkish city of Gaziantep has shared his story with the BBC.
Yussuf Muhamed Mohmed said he and his family were being looked after by locals and were being provided with food and shelter, as were other Africans he had encountered.
Mohmed, who is in Gaziantep as a university student, said however that he was worried that resources might run out in the area, as all local infrastructures were affected by the destruction of the quake -- from roads being blocked to transportation being hampered to the remaining buildings showing severe signs of damage, making them uninhabitable.
He also said that trying to help people like him by sending money was also futile at the moment, as no remittance company was operational in the area.
"We are in a difficult situation but we share the same problem with the locals," Mohmed told the BBC.
Read more: Are Syrian refugees going to pay for Europe's disagreements with Turkey?
with AFP, Reuters, InfoMigrants, BBC