The municipality of Michałowo in Poland has been honored the Paweł Adamowicz Award for the help it provided refugees at the border with Belarus. At the ceremony, the mayor said that they "will continue to act with humanity."
The municipality of Michałowo in Poland was given the Paweł Adamowicz Award by the European Committee of the Regions (CoR) on Wednesday (February 8) in Brussels.
They were given the award in honor of the help they provided refugees at the border with Belarus in September 2021. Back then, Belarusian president Alexander Lukashenko had encouraged thousands of people from mostly Middle Eastern but also African countries to fly into Belarus, tempting them with the promise of an easy entry into the European Union. But authorities in eastern Poland responded with massive pushback efforts and tight border controls, leaving many migrants and refugees stuck in the border region with little access to help or resources.
Refugees received housing, food, clothing
In a press statement, the CoR explained how Michałowo -- located in eastern Poland, at the border with Belarus -- had helped refugees and migrants: "The local administration of Michałowo provided clothing, warm meals and overnight accommodation for those in need [in the fall of 2021], with support also from non-governmental organizations." They added that "Michałowo continues to assist refugees – from all countries arriving at the border, while also organizing or co-organizing various debates and conferences to raise public and government awareness regarding migration issues and above all its human dimension."
Locals in the border region in and near Michałowo also made headlines with their 'green light' efforts in 2021 -- wherein people willing to host and provide help to stranded migrants and refugees lit a green light in their homes.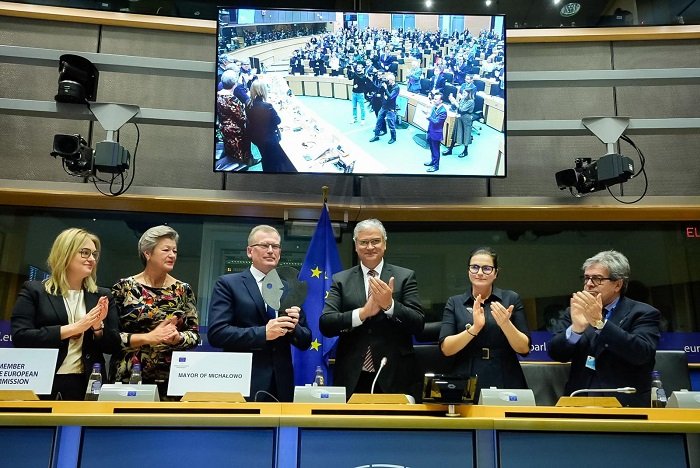 Honoring people working against 'intolerance, oppression and xenophobia'
The Paweł Adamowicz award was created in honor of its namesake, the long-term mayor of the Polish city of Gdańsk who was murdered in 2019 while speaking at a charity event.
"The establishment of this award is an homage to and recognition of everyone who works with courage and integrity against intolerance, radicalization, hate-speech, oppression and xenophobia," the CoR said.
"Michałowo and its people showed the entire world what [the values of freedom, solidarity and equality] mean by welcoming people trapped at the border with Belarus," CoR president Vasco Alves Cordeiro tweeted, alongside a photo of him and Michałowo Mayor Marek Nazarko.
Mayor says he will continue this work
During the award ceremony, mayor Marek Nazarko said that an image that had remained with him was that of a child within a group of about 20 Iraqi Yazidis who was drawing a flower with his hands on a fogged-up window of a bus, which to his mind showed the "innocence of children, unaware of the situation of danger they were in."
In speaking about the migration emergency that Michałowo was dealing with, the mayor said that the local community "will continue to act with humanity," adding that "no one will stop us from doing this."