Survivors of the earthquakes in Turkey will be able to apply for visas to join family members in Germany under special new procedures. The aim is to cut down on bureaucracy, but for Syrians the hurdles are still high.
In response to the catastrophic earthquakes that struck the border regions of Turkey and Syria last week, the German government has confirmed that it is simplifying the procedure for those affected to obtain temporary visas to join family in Germany.
"As the federal government, we want to help families in Germany to be able to take in relatives who were affected by the earthquake temporarily if they no longer have a roof over their heads or need medical treatment," said Foreign Minister Annalena Baerbock.
Confirming a report by the Bild am Sonntag, the interior minister, Nancy Faeser, told the German public media channel ARD that Turkish and Syrian families in Germany will be able to bring "close relatives" from the earthquake-affected areas "with as little bureaucracy as possible." 
"It's about help in times of need," she tweeted. The visa will be valid for a stay in Germany of up to three months.
Application process
Bureaucracy has not been completely done away with, however. According to the foreign office, Turkish nationals still need to apply for a visa to enter Germany at one of the missions in Turkey.
Provided they can produce a valid passport and documents, the process should take only five days. Also, as of this week, appointments can be made at Visa Application Centers throughout Turkey. 
People who have lost their passports as a result of the earthquakes can still apply: the government says its newly-created task force in Turkey will decide these on a case-by-case basis.
For Syrians, the process is more complicated. As the German embassy in Damascus remains closed, Syrians have to make appointments at missions in neighboring countries, such as Lebanon, Jordan and Turkey (in Istanbul).
When asked at a press conference on Monday whether there were plans to make things easier for Syrian citizens given the difficulty of traveling to a German diplomatic mission in another country, a foreign ministry spokesperson said only that Syrians could go to embassies in the region to submit visa applications there.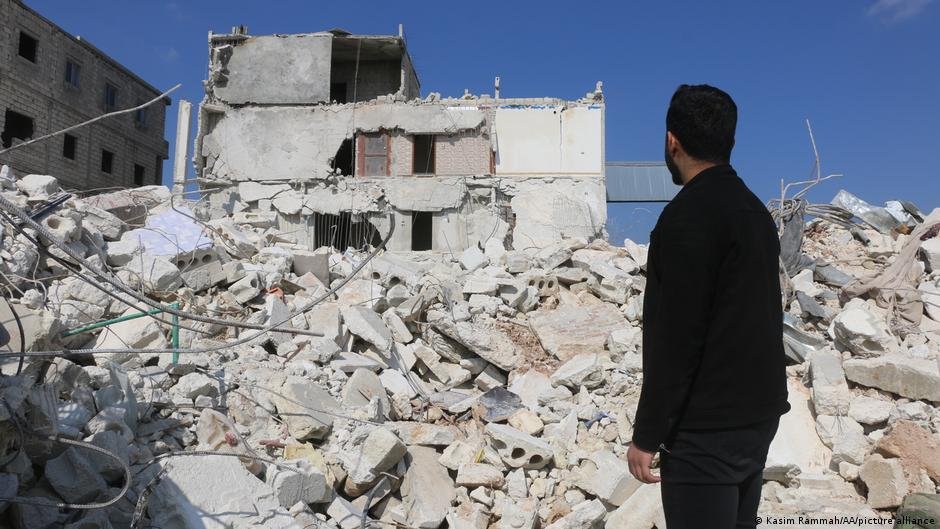 Host family must undertake to pay costs
The new visas will be issued free of charge, but there are several conditions attached to being eligible. Most importantly, according to ARD, the relatives in Germany need to sign an undertaking that they will pay all costs, including living expenses and any hospital treatment required, as well as the return journey.
The visa is aimed at people who are "especially affected" by the earthquake, meaning they are homeless or they need treatment for injuries. The definition of family members is also limited to first- or second-degree relatives, meaning: parents, children, grandparents, grandchildren and siblings.
The applicant in Turkey has to provide a considerable number of documents, including (but not limited to) proof of health insurance, a biometric photo, evidence that the primary residence was in the earthquake zone, and proof of connection to the host family member in Germany.
Hundreds of thousands of people homeless
A 7.7 magnitude earthquake struck the Turkish-Syrian border region early on Monday, February 6, followed by another 7.6 magnitude tremor at noon. By Tuesday (February 14), the death toll in Turkey was close to 32,000 and more than 5,800 in Syria. At least 85,000 people have been injured and hundreds of thousands left homeless.
The German Foreign Office has answers to frequently asked questions about the earthquake, in English, here. It includes advice about the requirements for Turkish and Syrian citizens to be able to enter Germany.
The Foreign Office hotline (German/English) on the simplified visa procedure for earthquake-affected persons is +49 (0)30-5000 3000.