An Italian court has declared a decree restricting sea rescue unlawful. The decree issued by the Italian government stipulates that only the migrants most in need of protection from a rescue ship are allowed to go ashore.
A court in Catania, Sicily, declared in a February 6 ruling that an Italian decree issued last November was "unlawful", referring to restrictions imposed by Italian authorities on the German-flagged ship Humanity 1, operated by the Berlin-based non-governmental organization SOS Humanity.
The court found that the decree discriminatorily hindered the right to rescue and access to the asylum procedure when in November it allowed only a selected number of the 179 survivors rescued by SOS Humanity to disembark in the Sicilian port of Catania, leaving the remaining 35 passengers on board.
The ruling is being hailed as a "win" for sea rescue organizations, who have increasingly come into conflict with the Italian authorities in recent years. This has been especially true since far-right politician Giorgia Meloni took office as prime minister in Rome in October 2022. Her government had announced plans to reduce the number of migrants arriving in Italy on boats.
Read more: International law and the criminalization of sea rescue
Selected entry into Italy
In November 2022, the Humanity 1 had rescued 179 people. After being granted permission to dock in Catania, and in accordance with the decree, only 144 particularly vulnerable passengers were selected to disembark. The remaining 35 migrants, all adult men, were refused entry, contrary to international maritime law which requires the safe disembarkation of all those rescued.
The ship's captain, Joachim Ebeling, was urged by Italian authorities to leave the port again with the 35 survivors on board, in accordance with the inter-ministerial decree.
However, Ebeling refused citing maritime law: "It is my duty to complete the rescue of people in distress by disembarking all survivors in Catania as a port of safety. I cannot leave the port until all survivors rescued from distress at sea have disembarked."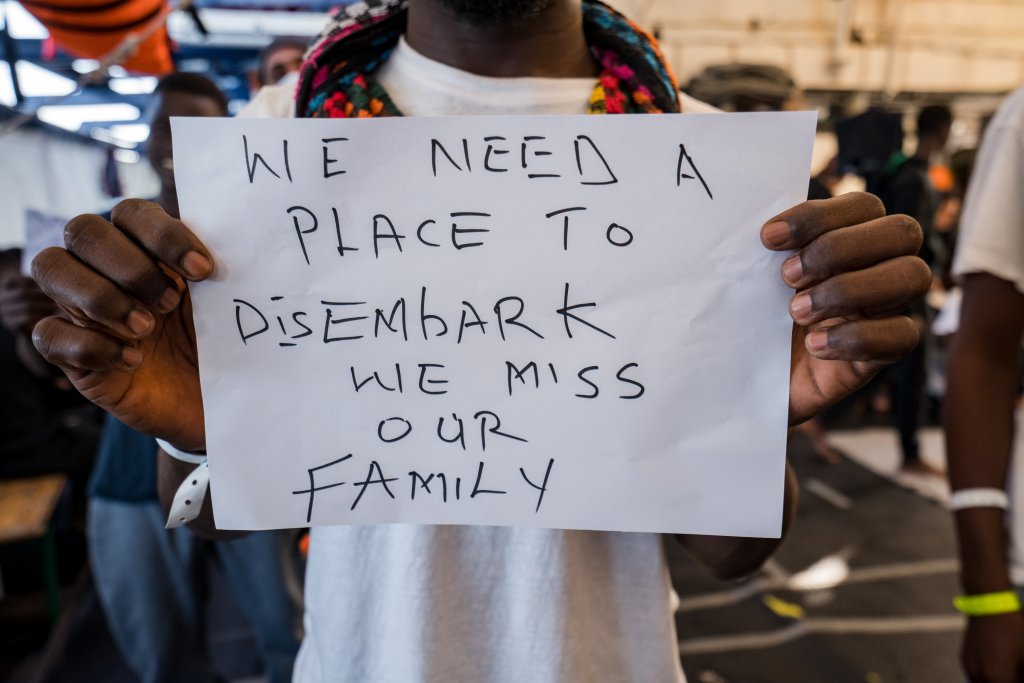 Following the incident, SOS Humanity, together with an Italian legal team, initiated fast-track legal proceedings at the civil court in Catania on behalf of the 35 survivors. Following widespread media coverage and before the court could come to a decision, the remaining passengers were allowed to disembark Humanity 1 on November 8, 2022. 
Read more: Italy blocks 35 migrants from entering Sicily port
Breach of international legal obligations
Italy has assumed a number of international obligations including that of "providing assistance to any shipwrecked person, without distinction of health status, as is the case in the government decree," the judge said in the ruling.
SOS Humanity's advocacy officer Mirka Schaefer welcomed the ruling, stating that the new Italian government is now "obliged to follow international law".
She also pointed out that the judge has highlighted Italy's obligation to provide assistance to every shipwrecked person -- something which the Italian government failed to do in November 2022.
"The rights of refugees who seek international protection cannot be undermined by depriving some of them of their right to apply for asylum in an EU member state," Schaefer said in a statement.
Read more: Italy continues to refuse safe harbor to three NGO rescue vessels
Ruling will also impact January decree
The court's decision will also impact Italy's new anti-migration decree issued on January 2, 2023, which further restricts non-governmental search and rescue organizations from carrying out operations in the Mediterranean Sea. The new law will be voted upon in the Italian parliament on Wednesday.
In last week's ruling, the judge highlighted Italy's duty to assist people in distress at sea in accordance with international maritime law, and Italy's new decree is currently violating this very obligation.
Schaefer warned that the new decree not only "contradicts international maritime law, human rights and European law" but that it will also "lead to more deaths in the Mediterranean".
Read more: NGOs call for commission to investigate Italy's latest migrant decree
With AFP