The search for survivors continues in the Turkish town of Kahramanmaras, the earthquake's epicenter. Millions of people in Turkey and Syria are displaced. Syrian refugees have particularly been affected and must start their lives anew – a second time. InfoMigrants reports.
The lower section of the city of Kahramanmaras is now nothing but ruins. The town was the epicenter of the magnitude 7.8 and 7.5 earthquakes which struck Turkey and Syria on February 6. Concrete buildings and houses have collapsed, and floors are stacked on top of each other.
Some roads have been cleared, but endless piles of rubble still cover the city streets. Everywhere, rescue workers are combing through the piles, blowing thick clouds of dust around. A week after the earthquakes, rescue workers are still trying to find survivors. But now, it's mostly dead corpses being excavated.
According to the latest UN death toll, the quakes killed more than 35,000 people in both Turkey and Syria.
In Kahramanmaras, many people were forced to leave their homes in case further buildings collapsed.
Many families have found refuge in the big Atatürk Park where AFAD, the Turkish disaster management agency, has set up tents. People there distribute food and clothing. Outside, some sleep in tents or small buses.
'We're reliving what we lived ten years ago'
Saousane (all people interviewed requested to be referred to only by their first name), her husband and children also slept in a car next to Atatürk Park for several days. They were then moved to a gymnasium opened by the city for families who lost their homes in the quake. Saousane is from a village near Hama in Syria and has been living in Turkey for 10 years.
In Turkey, 3.7 million of its 4 million refugees are Syrian.
When disaster struck Kahramanmaras, Saousane's building was destroyed. At first the balcony collapsed and cracks started to show in the building walls. In just a few seconds, Saousane and her husband lost 10 years of all the hard work they put into rebuilding their lives in Turkey.
After fleeing Syria, the family first spent several years in a refugee camp in Antioch, before they were transferred into container accommodation nearby. For years they lived in precarious conditions until Saousane's husband found employment and the family was finally able to rent out an apartment.
 "We were getting a semblance of stability. Now we have to start from the beginning," she says, shaken. "We're reliving what we lived ten years ago."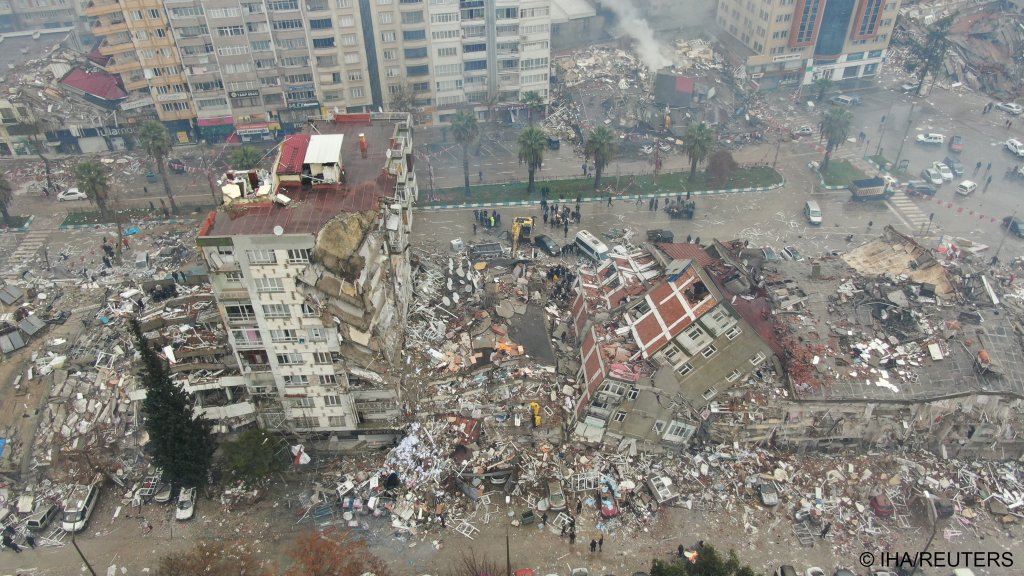 'I don't want to leave'
Saousane fears being forcibly evacuated to a new city in Turkey. Nearly 400,000 people have already left the affected areas, according to the latest count. But Saousane fears being uprooted again. "The rest of my family is here, I don't want to leave," she says.
Next to her on a gym mat is Maïssa, who fears the same thing. "All we want for now is a tent. The only thing that matters is to be housed with our families," she begs. The two women said they asked the AFAD for a tent but did not get it because of their nationality.
Many Syrians are choosing to leave the city. From Kahramanmaras, Syrian NGO Molham Team organizes bus trips to Ankara, Istanbul, Izmir or Bursa.
"Many organizations already distribute food and clothing, so we decided to focus on transferring survivors," Mohamed Osman told InfoMigrants, a manager of Molham Team in Southern Turkey.
"We try to be quick because there are a lot of people in the gymnasium and we already detected the apparition of skin diseases among some people," he says. Around 1,300 people were transferred by the NGO to various Turkish cities during the weekend.
The impossible return to Syria
At the local train station, people trying to leave must fill out a document indicating where they would like to go. On Monday morning (February 13), many families wait for their bus departure. Nearby volunteers hand out sandwiches, soup and baby food.
Aïcha, Fatma and Maali are surrounded by seven 10-month- to 9-year-old children. The three Syrian sisters have lived in Turkey since 2014. After a night in the Atatürk park, they are waiting for a bus to Kayseri, 250km away, where their fourth sister lives.
"We hope to stay at hers a little, but I don't know what we'll do next," Maali says, rocking her baby wrapped in a cover.
For the sisters, the future in Turkey is unclear. "We hope to one day return in Syria, but it's impossible right now because our families were part of the opposition. We would be arrested on the spot," Fatma explained to InfoMigrants, her one-year-old son on her knees. "My ex-husband was part of the Free Syrian Army. He was killed in combat," Aïcha adds.
Aïcha cannot shake off the feeling of setback kicking in. Since her arrival in Turkey, the young woman remarried, had kids and moved into the city of Kahramanmaras, where she thought she would be safe from danger. On February 6, the earthquakes toppled her neighborhood mosque's minaret onto her house. The building was destroyed. Aïcha was able to flee with her kids but was not able to take anything else with her. "The coat on my back is all I have." She now must start her life anew, again.