A Vietnamese family faces imminent deportation after a last-ditch attempt to be granted residence failed. Pham Phi Son has lived in Germany for 35 years -- his daughter is due to start school this summer.
A Vietnamese man, Pham Phi Son, who has spent most of his life in Germany, is facing imminent deportation along with his partner and their six-year-old daughter, who was born in Germany.
In the eastern state of Saxony, the Hardship Commission, which hears applications from people who have exhausted all other options of being granted a residence permit, on Friday rejected Pham's bid to stay.
"I am very sad," the Volksstimme newspaper quoted him as saying on Monday (February 13). He now fears the authorities will turn up to deport him, the paper reported.
This is not the first time the Hardship Commission has considered Pham's application: the case was considered in 2019 and again last year.
A petition to the state parliament in August, 2022 against Pham's deportation, collected more than 84,600 signatures. 
Family made Germany home
Pham arrived in the former East Germany (GDR) in 1987 as a guest worker. Unlike thousands of others who returned to Vietnam after the Berlin Wall fell two years later, he remained in Saxony.
Following German reunification, guest workers who stayed had problems finding new employment and accommodation and were often subjected to racist violence.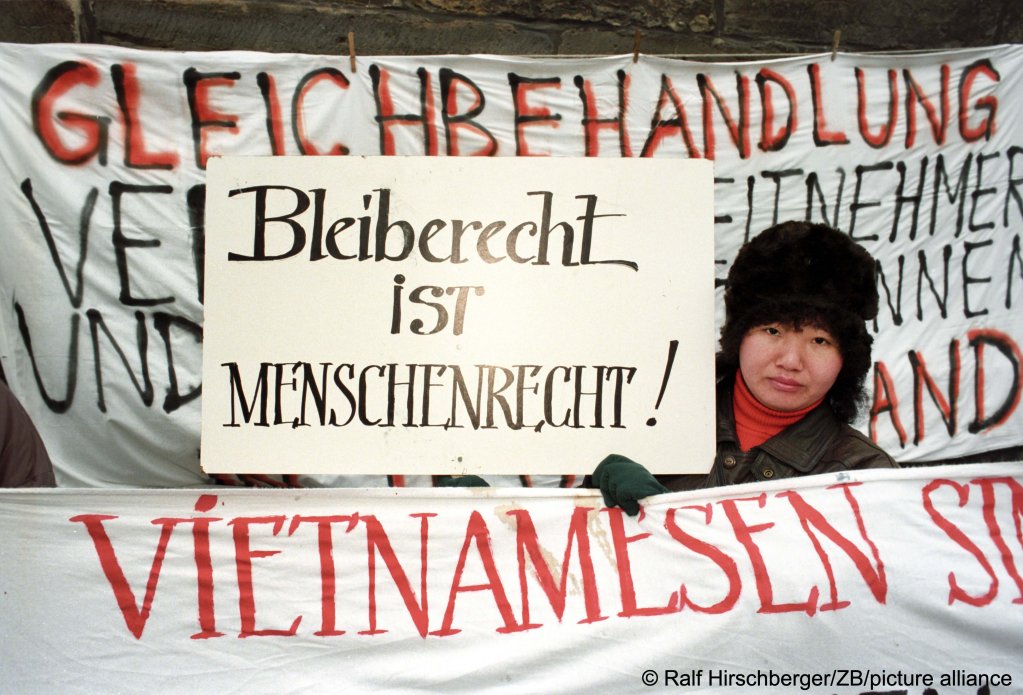 In recent months, the Pham/Nguyen family has tried hard to secure the right to stay in Germany, making last week's decision by the Hardship Commission especially bitter. Both parents had secure jobs in Chemnitz and Nguyen was also enrolled in a language course.
"Deportation would not only tear them away from their lives, it would also traumatize the daughter who was born in Germany," said Dave Schmidtke, a spokesperson for the Saxony Refugee Council, adding that Emilia, who is due to start school this year, has never been to Vietnam.
Premier's call for skilled migrants
The family's threatened deportation follows a call by the state premier, Michael Kretschmer, in January for more skilled workers from India or Vietnam, and links to the former GDR guest workers.
Emiliano Chaimite, a joint managing director of the umbrella group of migration oranizations in Saxony, said it was "cynical," as Kretschmer refused to recognize the contribution of those who had come to Germany as guest workers more than 30 years before.
"Many like Pham Phi Son have accomplished a lot and endured a lot in recent years. We as a society have a duty to recognize the achievements of these people and to help those who have long been a part of this society," said Chaimite.
According to Saxony's Immigration Commissioner, Geert Mackenroth, Pham may be able to apply for the new permanent right of residence for well-integrated migrants, known as the Chancen-Aufenthaltsrecht (opportunity right of residence). 
Schmidtke, from the Saxony Refugee Council, said the idea of applying under the opportunity right was "a mockery of the family and everyone involved," but added that the family and their supporters would be examining all legal options.