Bulgarian prosecutors have charged five people with human trafficking after 18 Afghans were found dead inside a truck on a dirt road in Bulgaria last Friday. Separately, 43 migrants were discovered in a van on Monday in western Bulgaria.
Following the discovery of the bodies of 18 Afghan migrants by police in Bulgaria in an abandoned truck near the capital Sofia on Friday (February 17), Bulgarian authorities charged five suspects with involuntary manslaughter, participation in a criminal organization and people trafficking, news agency AP reported on Monday.
If convicted, they could face up 15 years in prison, according to AP.
The truck was abandoned near the village of Lokorsko after the driver and his companion found that many of the 52 migrants in the hidden compartments of the truck were dizzy and some had already died, according to news agency Reuters citing prosecutors. The compartments were reportedly isolated with foil.
Despite strong and prolonged banging in the cabin, the driver refused to stop the truck earlier, the head of the National Investigative Service and deputy chief prosecutor Borislav Sarafov told reporters.
'Slow and painful' death
The 18 victims died of a combination of lack of oxygen in an enclosed space and difficulty breathing as they had been crammed into the truck "like in a tin can," Sarafov said.
"The victims died slowly and painfully," he added. "This case shows an extreme callousness and demonstrates that migrants are seen only as goods that should be shipped from one place to another, irrespective of whether they are alive or dead." The other 34 migrants, who were rushed to hospitals on Friday, remain in stable condition, officials said.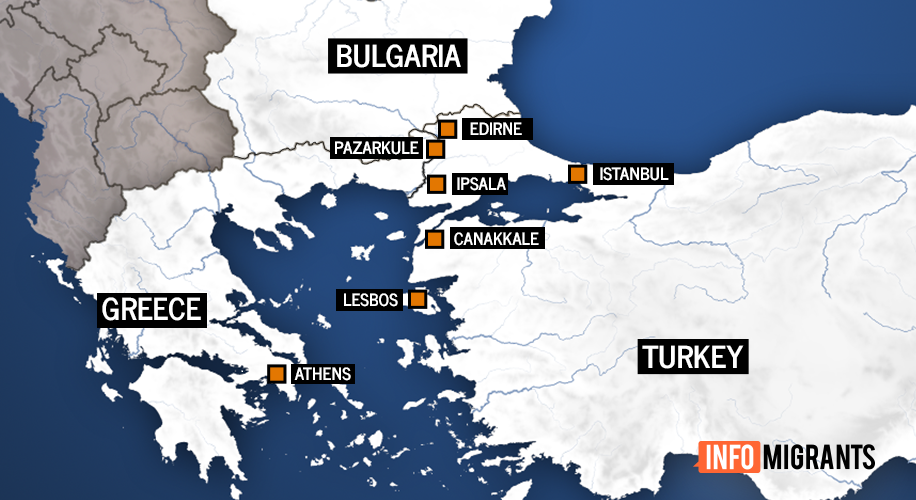 According to AP, five of those charged are in custody, while the alleged ringleader, who had managed to flee the country, is in police custody in Greece, where authorities have yet to decide whether to extradite him.
Prosecutors said the suspects belong to an organized crime ring smuggling migrants from the border with Turkey across Bulgaria to Serbia, from where they continued their journey mainly to Britain, Germany and France. The migrants paid €5-7,000 each, according to the prosecutor.
The truck driver and his companion were also charged over the deaths of the migrants, Reuters reported.
43 migrants found alive in van
On Monday, Bulgarian officials said that police discovered 43 migrants, including ten children, hidden in a van in western Bulgaria. According to news agency AP citing a Bulgarian prosecutor, the 43 migrants seem to be in good health despite the can being crammed with people.
Bulgaria, a country of seven million, is the poorest member of the European Union. It is a major transit country on the so-called Balkan route, a major migration route for people from the Middle East and Afghanistan seeking to enter Europe from Turkey.
Migrant smuggling: Series of deadly accidents
Last week's deaths highlight the dangers migrants might face in the attempt to reach European countries -- often with the help of smugglers, who are frequently arrested both inside and outside the EU for trying to bring migrants into western Europe.
Some recent incidents -- traffic accidents as well as shootouts involving smugglers -- include:
Last September, three migrants as well as a people smuggler were reportedly killed and eight injured when a car carrying 11 migrants drove off a bridge in southern Hungary.
Last August, three migrants were killed and 11 injured in a car crash in southern Hungary. Police blamed a people smuggler for the accident.
Last July, a shootout between migrant groups near the Serbia-Hungary border left one person dead and at least six others injured. The clash reportedly involved Afghan and Pakistani migrant smugglers.
Last June, a pickup truck in northeastern Greece crashed, leaving one migrant dead and at least 16 injured. The driver had been reportedly attempting to evade a police checkpoint.
Last April, two migrants died after being hit by a lorry on a highway between the Italian cities of Genoa and Ventimiglia in northwest Italy. A third person was seriously injured.
In January 2022, a Belgian court sentenced a Vietnamese man to 15 years in prison after convicting him of being the ringleader in the trafficking of 39 migrants found dead in a lorry. Their bodies were found in a truck outside London in October 2019.
In December 2021, a car carrying at least ten migrants crashed into a house in Hungary. Seven people reportedly died and four were injured, including the driver of the car.
In July 2021, at least 12 people died and many others were injured when their minibus overturned and caught fire in eastern Turkey's Van province.
In March 2021, a truck carrying Syrian migrants crashed near the Croatia-Bosnia border, leaving four migrants dead and at least 11 people injured.
In August 2015, Austrian police discovered an abandoned truck containing the bodies of 71 Iraqi, Syrian and Afghan migrants. Among the suffocated victims were eight children. The truck, found parked along a highway, had crossed into Austria from Hungary.
In June 2000, 58 Chinese immigrants were found dead inside an airless truck in the English port town of Dover. The Dutch truck had transported the immigrants across the English Channel from Belgium.
With Reuters, AP