Around 12,000 asylum claims in the UK are to be decided based on a questionnaire instead of a face-to-face interview. The plan is aimed at clearing a huge backlog of applications.
The requirement to undergo a face-to-face interview for around 12,000 asylum seekers is set to be scrapped under a new government plan announced Thursday (February 23). Instead, claimants from a select group of countries will have to fill out and return a questionnaire. 
The Home Office said all asylum seekers would still be subject to mandatory security checks, and those who fail to respond to the questionnaire may have their claims discontinued.
Backlog of more than 160,900 claims
The aim is to clear what the prime minister, Rishi Sunak, has called a legacy backlog of 92,000 claims submitted before the government's latest asylum legislation came into force, which have yet to be processed.
"We are working to speed up asylum processing so that people do not wait months or years in the backlog, at vast expense to the taxpayer, and to remove everyone who doesn't have a legitimate reason to be here," a Home Office spokesperson said. 
Official figures released on Thursday showed that at the end of 2022, more than 160,900 people were waiting for an initial decision on their asylum claim, the most on record. 
The 12,000 asylum seekers who will receive the questionnaire are from countries from which a high proportion of individuals are typically granted asylum -- Syria, Eritrea, Yemen, Libya and Afghanistan -- the Home Office said.
"To ensure our processes remain robust and all claims are properly considered, we have recruited hundreds of case workers to crack through cases," the Home Office spokesperson added.
Mixed response
The questionnaire contains 50 questions that must be answered in English, and claimants will have 20 working days to complete it.
Some refugee campaign groups criticized the changes, arguing that the questionnaire makes complicated demands of people who know little to no English and have fled conflict or persecution.
Writing in The Guardian newspaper on Friday, Enver Solomon, the chief executive of the Refugee Council, quoted an asylum seeker who has spent more than 18 months in a hotel as saying that most refugees could not speak enough English to fill in the document. "If they want help from someone else they will charge them, and asylum seekers are not allowed to work," the asylum seeker referred to as 'Ali' said.
The British Red Cross said speeding up the asylum process for people from nations with the highest grant rates was a "common sense decision" that was long overdue. However, the 20-day time limit could have "devastating impacts" and create more work for the Home Office, the organization added.
Sile Reynolds, head of asylum advocacy at Freedom from Torture, said survivors of torture could be at risk of further abuse under the scheme if their asylum claims were wrongly withdrawn and they were deported, The Guardian reported on February 23.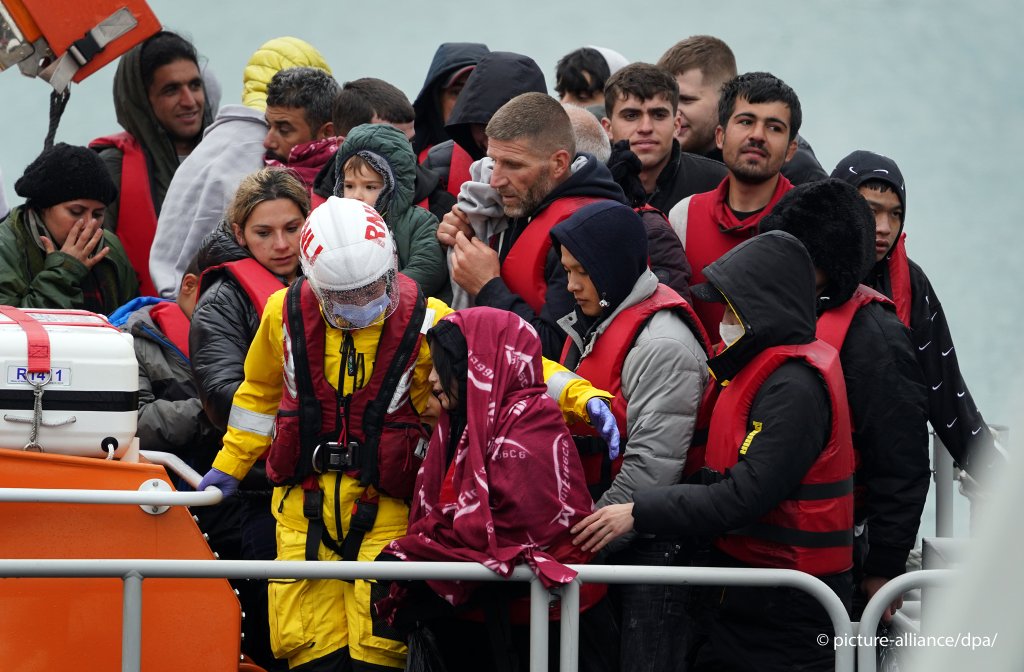 The questionnaire states that the person completing it does not need to have any knowledge of the asylum system. "We only need you to explain why you are claiming asylum," it reads. But Colin Yeo, an expert on refugee and asylum law, told The Guardian that asylum seekers would need legal advice in order to answer it properly.
The UNHCR representative to the United Kingdom, Vicky Tennant, welcomed the move to "meaningfully reduce the current backlog of cases."
"Thousands of refugees who have waited months or even years in limbo should finally receive decisions on their claims, allowing them to begin rebuilding their lives," she said in a statement published Thursday. But she warned that asylum seekers must be given the opportunity of a face-to-face interview before any negative decision is made.
150 rescued from Channel
The changes were announced as the UK government continues to pursue a policy of cutting the number of irregular migrants arriving in the country. Last year, a record 46,000 migrants crossed the Channel to Britain, according to government figures.
More migrants attempted the crossing on Thursday. The French coast guard said it rescued 150 people from four boats when they got into trouble some distance from the French coast. The migrants were returned to Calais and Boulogne-sur-Mer, French district authorities reported.
With Reuters