There have been more public protests against plans to build accommodation for refugees and migrants in northeastern Germany. Far right extremists joined a demonstration of around 500 people on Monday.
Police sources say that about 500 people gathered on Monday (February 27) to protest the building of an accommodation center for refugees in the city of Greifswald. Among the protestors were about 20 participants from Germany's far-right scene, according to police.
About 30 people were reported to have gathered for a counter-demonstration at the site.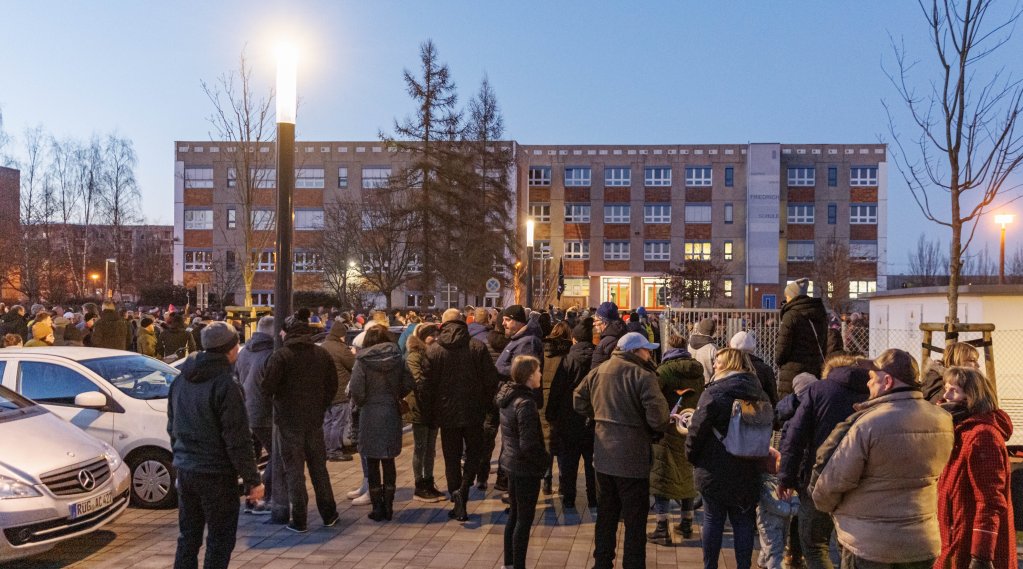 State facing challenges with housing migrants
A meeting of the local district council was held to discuss the plans at the same time as the protest at a school building next to the site.
With crowds gathering at the school's entrance gate, access to the council meeting had to be limited.
Greifswald's Lord Mayor Stefan Fassbinder told the dpa press agency that protestors confronted him both outside the school building and at the meeting, expressing their dismay about the plans.
He said that originally, the plans for the new migrant accommodation were supposed to have been subject to more discussion and exchange with the public, but that the district had put pressure on the council to speed up the process.
Read more: Germany will not give states further financial support for refugees
Opposition to migrant centers
The district council on Monday approved the plans despite public criticism as well as objections from the local council.
District commissioner Michael Sack said other towns and municipalities in the area had taken in more refugees than Greifswald, arguing that his administration was left with no choice but to find accommodation for the refugees and migrants who had been assigned to the district by the state of Mecklenburg-Western Pomerania.
In recent weeks there have been several protests in the state against accommodation centres for migrants and refugees, with some demonstrations becoming violent: At the end of January, riots took place during a meeting against the construction of an accommodation unit for 400 refugees in Upahl — a village with 500 residents located in the northwest of the state.
During that rally, there also were several members of the far-right present, according to the police.
Read more: German cities demand more money for refugees
with dpa