Stepping up deportations has been a key objective of Germany's coalition government. But the policy continues to suffer setbacks and it is particularly problematic in the city state of Berlin.
There currently are 21,654 people in Berlin who are due to be deported, according to Germany's Left Party, Die Linke.
But new figures released by the federal government have revealed that as many as one in ten rejected asylum seekers in the city state issued with a deportation order cannot be removed, as their identity cannot be established.
According to the government, nationals of Moldova made up the largest group subject to deportation orders in the state, followed by those with 'unconfirmed identity'. Iraqi nationals comprised the third-largest group.
Read more: EU Home Affairs Commissioner Johansson calls for more repatriation programs
Thousands due to be deported, but even more 'tolerated'
In the states of Bavaria, North Rhine-Westphalia, Lower Saxony, Schleswig-Holstein and Thuringia, most of those issued with deportation orders were Iraqi nationals.
In Brandenburg, next to Berlin, almost a quarter of those due to leave the country are from Russia. 
In the southern state of Baden-Württemberg, people from Gambia formed the largest group of those earmarked to leave Germany.
Overall across Germany, Albanians, Serbians and Pakistanis were also high on the list of people who continue to be issued deportation orders or are in fact sent back to their home countries.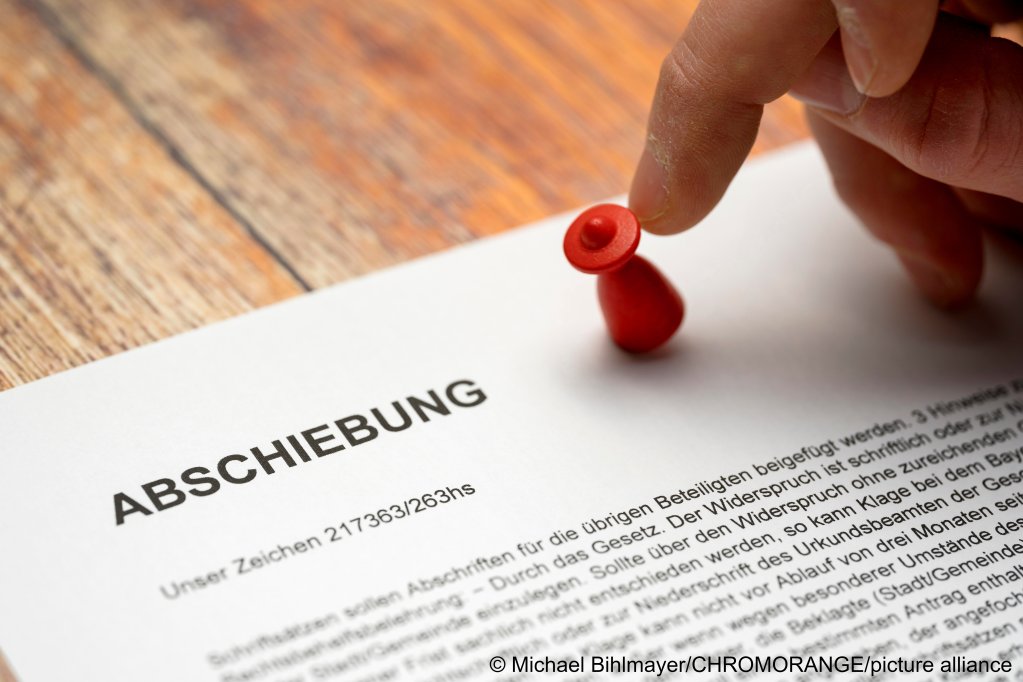 According to the federal government, the total number of foreign nationals required to leave the country as of December 31, 2022 was at 304,308 individuals. However, the majority (248,145 people) had been issued a so-called Duldung, which means that their deportation order has been suspended for the time being. 
Such "tolerated" persons technically remain obliged to leave the country eventually, but are allowed to stay temporarily because they cannot be deported due to a host of legal reasons such as not having identification documents or undergoing longterm treatment for an illness.
Read more: Thousands of deported migrants reenter Germany — report
Deportations shrouded in secrecy
Last year, 26,545 people who were obliged to leave Germany left voluntarily, while 12,945 people were deported. According to the federal government, about half (6,348) of those deportations could be carried out without any escort. 
However, in the case of 340 people, security forces from the destination states had to be present to escort them back home. Furthermore, a total of 1,637 deportations took place in the presence of security forces. The government said that in 6% of all deportation cases it had to use physical force to carry out these deportations; however, that rate does not include the use of handcuffs, body cuffs and other comparable aids.
The names of the airlines actively involved in deportations were not publicized in this report or in any other prior government communique on the subject. 
The government justified the classification of that information by saying that publicizing the names of airlines would make the execution of repatriation and deportation flights even more difficult or render the practice impossible altogether:
"Publicly naming the airlines that offer repatriation flights risks exposing these companies to public criticism and, as a result, making them unavailable to transport people who are required to leave the country to their home countries," the government said.
Read more: Germany fails to carry out two in three deportations
Only a fraction of intended deportations carried out
Despite plans of focusing on deportations as a means to better control immigration numbers, the German government is still lagging behind: Compared to the years before the COVID-19 pandemic, which temporarily led to significant restrictions on international travel, the number of deportations in 2022 was relatively low. 
In 2019, for example, there were roughly 22,000 deportations from Germany, which fell to below half that number the next year during the height of the COVID-19 restrictions. A year later, a total of 11,982 deportations were carried out, with less than 1,000 more being organized in 2022.
This decline in deportation numbers is due to a series of geopolitical developments in recent years, including the takeover of Afghanistan by the Islamist Taliban in 2021, as well as developments pertaining to the war in Ukraine and the repression following the mass protests in Iran.
Meanwhile, the number of people entering Germany to apply for asylum is also on the rise once more, which could cause an even greater backlog of deportation cases down the line.
Read more: Germany debates tougher deportation rules
with dpa, Deutscher Bundestag