More migrants have been intercepted along the Latvian border in the past year, where they find themselves detained and subject to abuse by border agents.
The number of migrants passing through the dense forests along the Latvian border, where temperatures often drop far below freezing, has increased in past months.
Data from the Latvia Ministry of Interior show that from December 2022 to January 2023, there were more than 1,300 prevented attempts from crossing the border -- a sharp increase from November, when 429 were deterred.
Latvia bulked up its border patrol in August 2021, declaring a state of emergency that prevented people from seeking asylum and authorized its border police to turn away migrants at the approximately 172-kilometer-long border it shares with Belarus.
The state of emergency, which has been extended numerous times, will remain in force until May 10.
Unlike other migration routes into eastern Europe, there's sparse NGO surveillance on the border -- meaning little help if things go awry.
"We don't even know how many people died on the Latvian border last year, let alone their names," Toms Ancitis, a researcher of migration in Latvia, said in an interview with Euronews.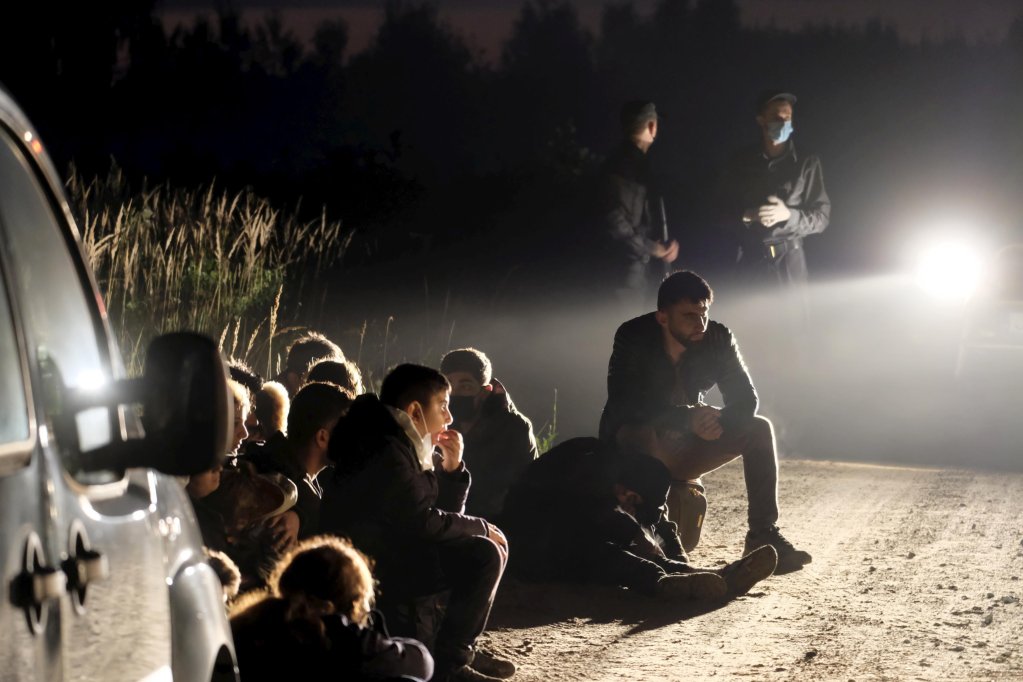 Secret detention, torture, and abuse
The refugees and migrants who manage to cross the border are arbitrarily detained in tents at undisclosed locations in isolated areas of the forest or placed in detention centers.
The Latvian government has claimed the tents are used to provide humanitarian assistance.
Human rights organization Amnesty International has documented these tent facilities as "heavily guarded sites used to arbitrarily hold refugees and migrants and as outposts for illegal returns" where Latvian security authorities subject migrants to intimidation, verbal and physical violence.
In the report "Latvia: Return Home or Never Leave the Forest", Amnesty International reported cases of authorities confiscating migrants' mobile phones, cutting off communication with loved ones and the rest of the outside world. Families have reported being unable to reach people who were last known to be in Latvia.
Adil, a man from Iraq, was not placed in a tent facility but ended up stranded at the border as winter temperatures dropped to -20C.
"We used to sleep in the forest on the snow. We used to light fires to get warm. There were wolves, bears," Adil told Amnesty International.
"Holding migrants and refugees in tents in undisclosed locations or leaving them stranded at the border without access to communication or safe alternatives ... constitutes 'secret detention' and could amount to enforced disappearance," Amnesty International said in a statement.
In a tweet, Latvian Minister for Foreign Affairs Edgars Rinkēvičs rejected the findings of the report, calling it "bogus accusations".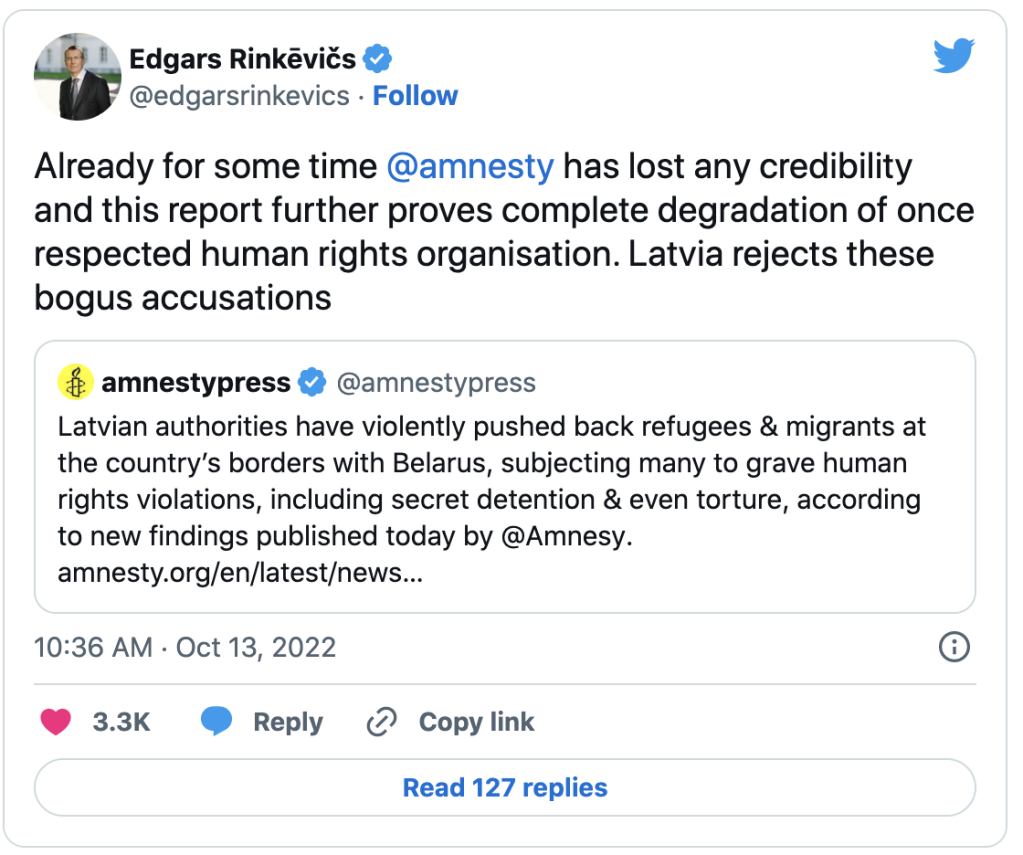 Human rights organizations have slammed Latvia for its discriminatory border crossing policy, saying that while Latvia blocks the entry of refugees and migrants from racial or ethnic minorities, it has welcomed more than 36,000 refugees from Ukraine.
Tight restrictions force humanitarian agencies out
The small percentage of those allowed into Latvia are usually placed in detention centers where there is limited access to humanitarian assistance.
Last December, the humanitarian agency MSF ended its operations in the country, saying they were not granted unrestricted access to people in detention centers.
"Therefore, it was challenging for our teams to provide support in an impartial way that ensured medical confidentiality and compliance with medical ethics," said MSF in a statement.
MSF began providing psychological support, food, and hygiene items to asylum seekers and migrants detained in the Mucenieki and Daugavpils immigration detention centers in July 2022. MSF extended its assistance to include financial aid when those detained reported that they found it difficult to access essential goods.
Amidst the closure of its operations in Latvia, MSF reiterated its concerns for the safety and welfare of migrants and asylum seekers in Latvia.
According to MSF, the Latvian border guard service conducted over 4,000 pushbacks in 2022, forcing people back through the border fence, and leaving them to languish without sufficient food and water.
Some even die. Last December, an Afghan man who entered Latvia by squeezing through a hole in the border fence died of severe hypothermia. He was allegedly smuggled across the border together with another Afghan man.
Correction: We updated this article on March 17, 2023. An earlier version said that 1,300 people were prevented from crossing the Latvian border. It could be that the same person tried to cross the border multiple times and each of those attempts is counted.