Oleksandra and her son barely managed to escape the massacre in Bucha on their way out of Ukraine. Now, she is trying to rebuild her life in Aachen, Germany. She shared her story with InfoMigrants.
➡️ This is a three-part series about Ukrainian refugee women in Germany. Click here to read part one and part three.
Irina Vasilkevic, a case worker for the Ukrainian Aid Association in the German city of Aachen, organized a meeting with Oleksandra, a Ukrainian refugee, at a local bakery in the city.
But first, she heeded a word of warning:
"Oleksandra's story is not like the average story of Ukrainian women refugees living in Germany today. Her case is particularly dramatic," Irina told InfoMigrants, just as Oleksandra walked in.
"We can take any table you want. I can tell my story anywhere, I have no problem with that," Oleksandra said when asked if she preferred to conduct the interview in a more private and discreet place.
And just like that, in the middle of a busy bakery, Oleksandra started sharing her experience: "I've been here for eleven months. I arrived in early March last year. I am the luckiest woman in the world, because I escaped Bucha."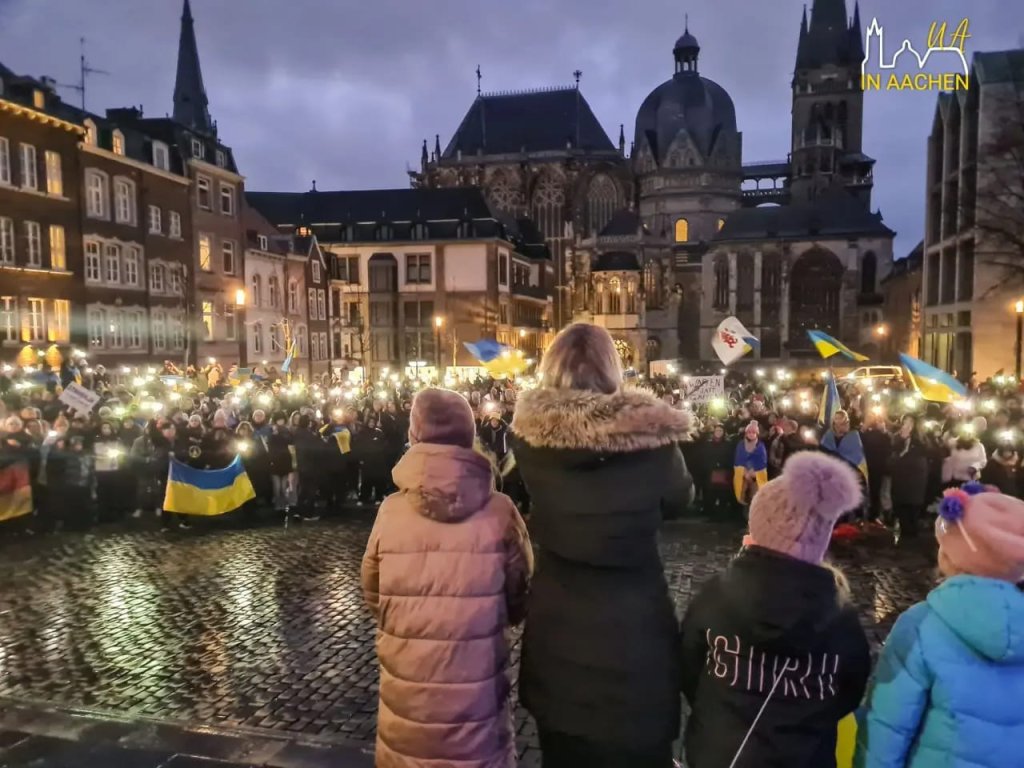 Read more: A peek inside an integration cafe for migrants and refugees in Germany
One morning in February
"On February 24, when the Russian invasion started, I got up and thought I would go to work like I do every day. Then I looked out the window and saw that something was happening at the airport. At first I thought it had something to do with the fire department," Oleksandra said.
The she received a call from her boss at the local land registry administration, telling her not to come into the office.
What Oleksandra saw out her window that morning was the Russian army's attack on the Hostomel airport -- one of the very first of the invasion, which Putin had announced just a few hours prior.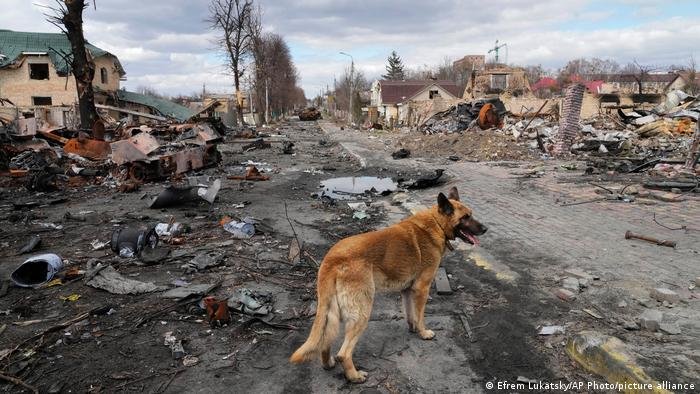 Read more: Ukrainians in Germany oppose asylum for Russian deserters
'Hide in a basement!'
Oleksandra is 50 years old, divorced, and a single parent to her 10-year-old disabled son. 
"He was born very sick, prematurely after six months of pregnancy," she said. "We spent the first years of his life in hospital. He is disabled and has motor problems. He tires quickly and also suffers from celiac disease, an intolerance to gluten."
That February morning, Oleksandra sought advice from her ex-husband, who is retired from a career in a Ukrainian press agency.
"I said to myself that he must know something. He told me to seek shelter in a basement," she said.
Luckily, the nearest basement was located right next door, underneath her son's school.
Read more: Inquiry into Ukraine war crimes based on refugee accounts
From bad to worse
Oleksandra rushed to the basement in a state of shock, where she decided to stay for the next week. In hindsight, she said, she would have acted more quickly and planned better.
After a few days of subsisting on food from the school's vending machines, she ran out of money. Shortly after, the machines stopped working. Finding anything to eat became increasingly difficult.
After over a week underground, things took a turn for the worst.
"On March 2, I went back to my apartment to make coffee," she said. "Then I saw the fighter planes flying over the house. There were snipers on the roofs. They were just shooting people. I looked out the window and saw them shooting down passersby. I thought we might not survive."
Oleksandra said she felt abandoned and unsure of what to do next.
"I just grabbed both our passports so we could be identified if we died."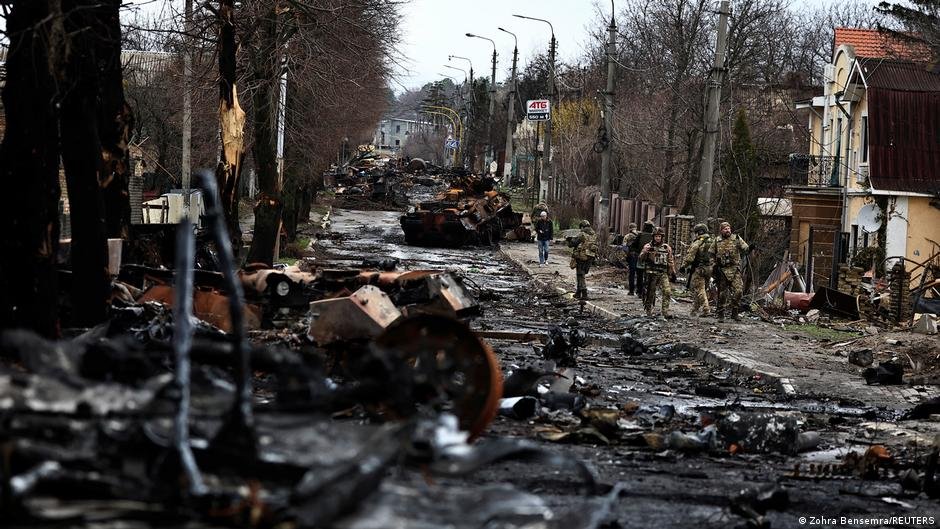 Read more: EU awards 'brave' Ukrainian people 2022 Sakharov Prize
'No one helped'
Eventually, Oleksandra decided her only option was to try and make her way out of Kharkiv to Kyiv, where she could take an evacuation train out of the country.
But this plan proved difficult: the bridges on the way out of the city had been destroyed. 
"The pedestrian bridge was gone," she said. "The water level was very high. There was only a pipe that remained for us to cross the water. There was a man there who stretched out a wire for us to grab. I told my son to go first."
Replaying these images in her mind, Oleksandra stops to wipe away her tears. "I had to let him go alone, I couldn't help him. The pipe was too unstable. I yelled with all my might to encourage him, to keep him going." 
She says she remembers seeing reporters stationed on the other side of the bridge.
"But no one reached out to help him."
Playing the tooth fairy game
The images Oleksandra describes -- of demolished roads and bridges in Kharkiv -- were among the first photos of the war to circulate around around the world. Hundreds of Ukrainians are seen balancing on the rubble, carrying backpacks, suitcases and pets.
Oleksandra, her son and the many others trying to escape were forced to walk dozens and dozens of miles to the train station in Kyiv, crossing through a forest where fighting was raging. 
"We could hear Ukrainian and Russian soldiers on both sides, but I couldn't tell them apart. My son asked me if we were going to die. I explained to him that the forest was our friend, that it would protect us.
"It was a challenge to make as little noise as possible," she continues, explaining that she told her son to pretend he was like the tooth fairy, sneaking through the forest as quietly as possible in order to go unnoticed.
The little game eventually saved their lives.
Read more: Ukraine war has caused largest refugee movement since WWII
A new home
It took several days for the mother and son to leave Ukraine and make their way to Germany — all the way to the western city of Aachen via Poland.
"During the coronavirus pandemic, I had started to learn German. I wanted to keep busy at home during the lockdown. So I bought an online course for €9.
"In one of the (online) conversation groups, there was a German from Aachen. He was the one who picked us up at the Polish border and brought us to the city."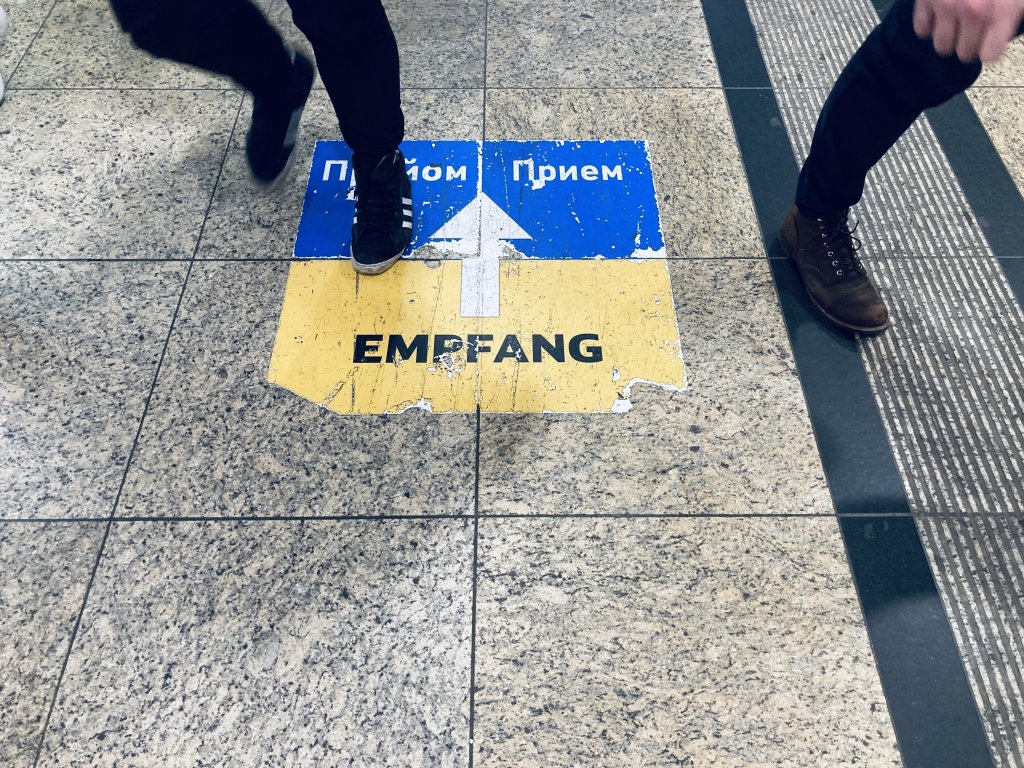 It took a year for her to feel like her new life was finally falling into place. She recently found her own apartment, where she and her son are settling in. Her son has started taking piano lessons from a Ukrainian musician in Aachen, and is also making progress in learning German.
Like a third of all Ukrainians who have come to Germany since the war broke out over a year ago, Oleksandra sees herself remaining the country. For Oleksandra, Aachen is gradually becoming her new home, where she is trying to make the best of her life. She has to, she says: she has no home to go back to.
Read more: The Escape Diaries: Life in Germany after fleeing the war in Ukraine
No return
When asked if she might consider returning to Ukraine once the war is over, Oleksandra stops for a moment to think.
She then reaches for her phone to share a picture sent from a friend in Bucha who didn't leave the area.
The picture looks familiar. It shows the same school from the earlier photo — the school her son used to attend, where they hid in the basement for a week. In front of the school, there's some flattened ground with a mound of sand next to it.
"People were buried here, in mass graves," she explains. "How could you go back there? How could my son go back to that school, where he could have died, and where everyone else died? We know where people are buried. 
"I no longer have a house there. I no longer have a home."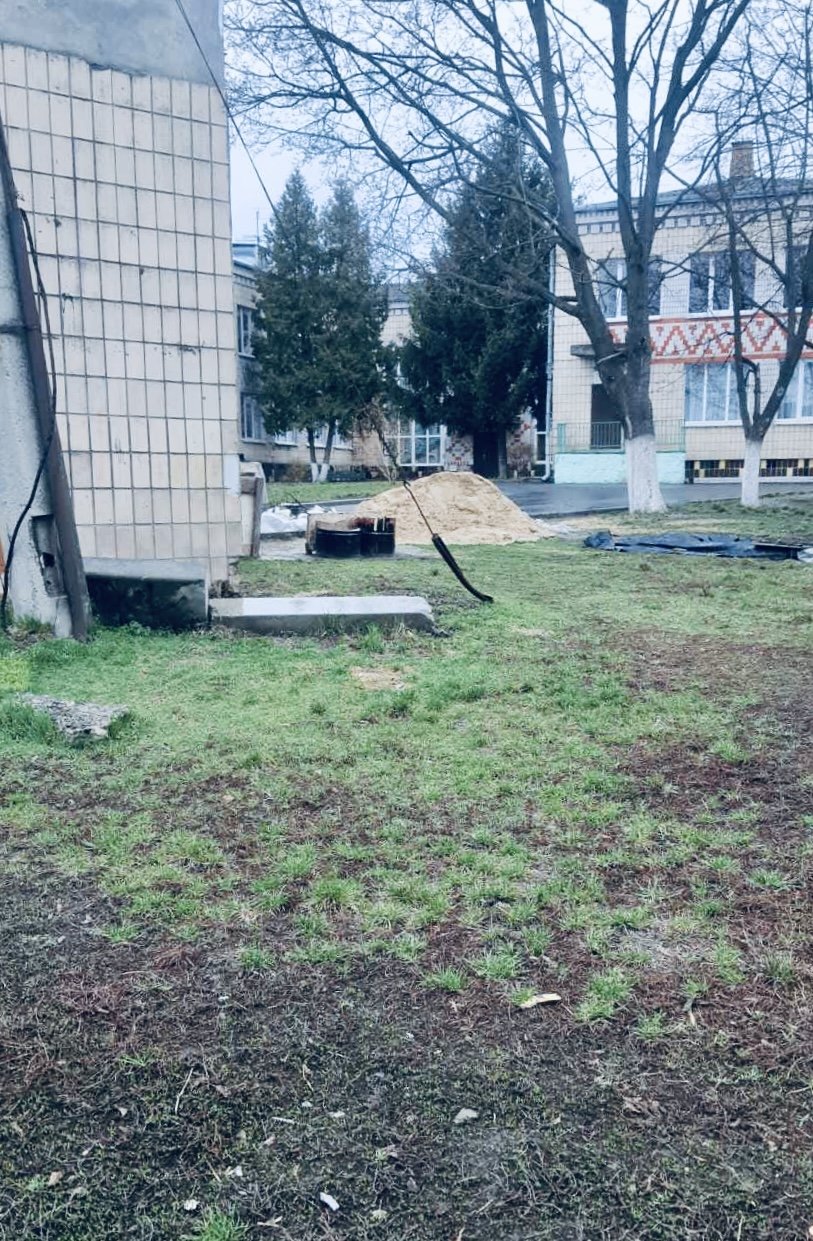 Read more: UNHCR: Most Ukrainians want to return home, but fear they cannot
Despite the severe trauma she suffered, Oleksandra hopes to find ways to reconcile with the past, to heal: "I have seen things that no human being should see. But today, I want to give something back to Germany — the country that took me in. I want to be useful, to find inner stability and to control my emotions so I can find a job. 
"I don't want to spend my days crying and talking about the war. I don't want what I had to go through to affect others. I just want to live again." 
Read more: How two Ukrainian refugees support their home country from their Latvian exile
Translated for InfoMigrants by Sertan Sanderson