In February 2022, Clinton Chalokwu was selected in Nigeria to play for the Ukrainian first division Vorskla Poltava football team. But the Russian invasion on February 24 crushed this young Nigerian's dreams. Now in France, he is threatened with deportation.
In October 2021, Clinton Chalokwu, then 17, left Nigeria for Ukraine after being selected by a Ukrainian agency looking for young talents in football.
"I passed selections, then stayed three months in Kyiv, before joining the first division Vorskla Poltava team. I was supposed to sign my first professional player contract late February, but war broke out.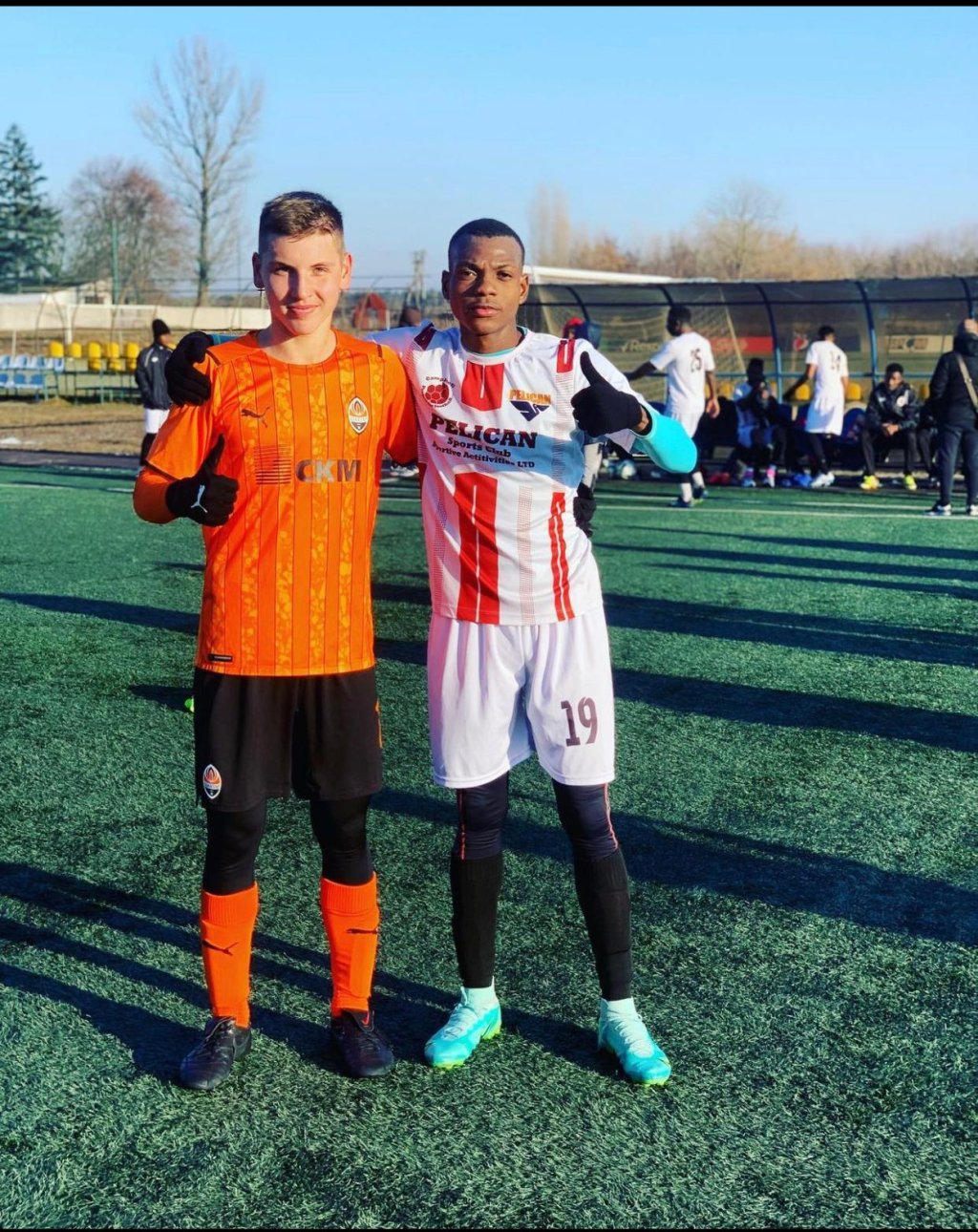 On February 24, 2022, the first missiles struck Ukraine before dawn broke. A few minutes earlier, in a televised speech, Russian president Vladimir Putin announced the launch of a "special military operation" in Ukraine. It was the beginning of the war. Like dozens of thousands of Ukrainians, Clinton Chalokwu wanted to flee. He did so on March 1.
It was sad and I was scared. It was traumatizing to see the war. So I took a train for civilians fleeing the fighting. I went to Hungary, where I stayed for three weeks. But I decided to leave the country because there was a lot of racism and there wasn't a good football level. I couldn't pursue my dream. So, I left for France.
I arrived in Paris by bus. An association for people under 18 took care of me and I went to a shelter for three months, until my being underage was challenged by a bone test.
Read more: Ukraine war: African students face Russian missiles and racism
Now, I'm 18 since November 2, 2022. I live in a host family at Bricqueville-la-Blouette, [editor's note: near Coutances, by the Channel] since the month of June. When I left the shelter, I did not speak a word of French, I learned the language with this family. At the beginning, I didn't go out because it was risky when I didn't have a complete application to go to the prefecture. We took a lawyer right away, for my application.
I also soon searched for a football team in which I could play.
That's how I started playing at the FC Agon Countainville and volunteering to train young players. I was even promised to go through sports instructor training in Caen. I only needed an immigration status to start, I had already succeeded at the school admissions test.
'My project, my dream, were crushed when I received the prefecture's letter'
In the meantime, I received a deportation notice ("OQTF"), on February 21, 2023, demanding I leave the country under 30 days. It broke me, I was sad. My project, my dream, were crushed when I received the prefecture's letter. I'm not going well right now.
My lawyer filed an appeal against the deportation notice. But I haven't had a response yet. I don't want to return to Nigeria anyways, I cannot realize my project there, the football level isn't good. And even if the war ends, I don't want to return to Ukraine. The memory I have of it is terrible, I don't want to return after what I lived through there. 
After Clinton received the deportation notice, his football club and his host family circulated a petition. On March 14, 2023, it was signed by more than 5,000 people and they organized a protest on March 4, on the national day of protest against the latest immigration reform bill.
Many people support me. Seeing so many people help me gave me a morale boost. Now, I know I'm not alone. It helps me staying positive.
I hope now everything will be alright and that the appeal will go through because I only want to fulfill my dream. War wasn't my fault. And just because I wasn't Ukrainian, I couldn't have [a protection]. If I were Ukrainian, obtaining status would have been easier. But that's the way it is."
A few weeks after the start of the war in Ukraine, a temporary protected status for Ukrainians was put in place in the EU. It allows Ukrainian refugees to receive an allowance and work in France. But non-Ukrainian foreigners coming from Ukraine are not included in this measure.