Thousands of migrants deported from Algeria have been abandoned in the desert of northern Niger, according to Doctors without Borders (MSF).
Thousands of migrants have been left stranded in "precarious conditions," says the medical humanitarian charity Doctors without Borders (MSF).
On Thursday, March 16, the charity released a press release in which they called on the international community and the Economic Community of West African states (ECOWAS) to "urgently provide protection" for the people stranded in and near the desert town of Assamaka.
The charity says that between January 11 and March 3 2023, a total of 4,677 migrants had arrived in Assamaka, which is a town in northern Niger, in the Agadez region. Many of them arrived in the town on foot after being deported from Algeria and left in the desert.
People of concern in Niger
According to MSF, "fewer than 15% of them were able to access shelter or protection when they arrived." MSF already works in an integrated health center in Assamaka, but since the arrival of the migrants this year, MSF says the center is "overwhelmed."
According to the UN refugee agency UNHCR, there were over 300,000 asylum seekers and refugees in Niger and more than 700,000 people of concern who had been forcibly displaced either internally, or from other nearby countries as of February 2023.
The numbers of refugees and asylum seekers in the country had stayed relatively stable over the last few months of 2022 and in to the start of 2023, but had been on an upward trend since the beginning of 2022.
'The situation is worrying'
"The situation is worrying," explained an MSF project coordinator for Agadez, Schemssa Kimana. "Today the health center that we support in Assamaka is overflowing. The majority of people who have recently arrived in Assamaka have settled in the IHC compound, due to lack of space in the transit center."
Also read: 'We were abandonded in the desert at 2am'
Kimana explained that there are "people sleeping in ever corner of the facility." Makeshift tents have been set up at the entrance to the center and in the courtyard. There are others camping in front of the maternity ward, "one the roof, or in the waste area," stated MSF staff in a press released. They describe this situation as "unprecedented."
Health risks, estimates MSF, are varied, including the risk of spreading contagious diseases and skin infections, with people seeking shelter wherever they can, including sleeping near waste, just to escape the desert heat. At their height, temperatures in Assamaka can reach 48 degrees Celsius.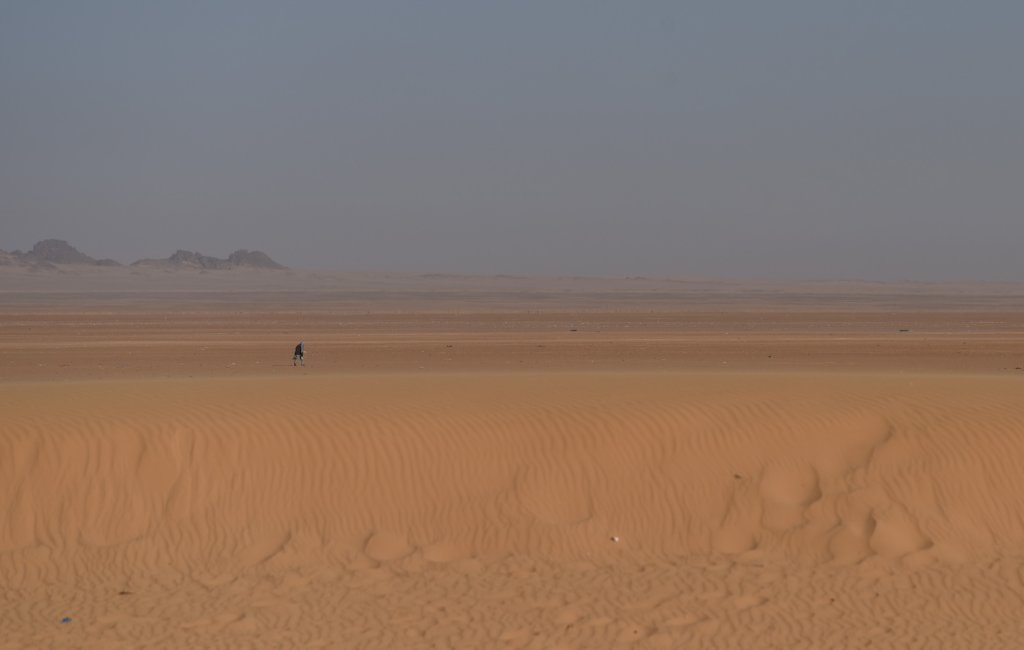 Stuck and unable to get home
MSF have declared the situation an "emergency" and says it is "untenable for anyone to remain living in these conditions."
One of the migrants in the town, originally from Cameroon told staff at the health center that they were "worried because noone gives us an answer as to when we will return back to our country of origin."
Also read: Migrants expelled from Algeria to northern Niger
The migrant described their fate as "like being in an open-air prison. For meals, all that we receive is very badly prepared. There is more sand in it than food. It makes us sick and gives us diarrhoea and stomach aches," he continued.
Humanitarian and food emergency
The man said that "rations are so minimal that we don't eat enough. We live at the health center in sheds that were built for COVID-19 patients. At night, the police patrol the village to catch migrants who have scattered and send them back to the IHC."
MSF's head of mission in Niger, Jamal Mrrouch, called on ECOWAS for an "urgent humanitarian response." He said he was calling on the West African federation because most of the migrants came originally from West African states.
Mrrouch continued that "as a medical humanitarian organization, it is our duty to highlight the visible gap in assistance for people -- including children -- who are in a precarious situation in the Assamaka desert, and the risks to their health."
The state of Niger is facing a humanitarian and nutritional emergency. The government of Niger launched an action plan on March 10 to try and combat these problems. Niger currently has a domestic population of about 26 million people. According to the government aid plan, around 6 million need supplementary food and nutrition and around 2 million are in a precarious humanitarian situation. The budget, which includes funding from partners, set aside to tackle this humanitarian emergency is a little down on 2022's budget but should be around €401 million.