The Czech Republic has mastered the largest immigration influx in its history — to the advantage of the business sector. Many Ukrainians have legal jobs, despite nationalist narratives.
Few windows in the Waltrovka office complex in Prague's Jinonice neighborhood are illuminated. The work day has ended; everyone has gone home. The complex, buzzing with activity during the day, is now almost entirely deserted — save for a group of Ukrainian men and women standing at the entrance.
They are waiting for Tereza Matonohova, a headhunter. She is among the hundreds of thousands of Czech citizens who volunteer their free time to help Ukrainian war refugees integrate. Matonohova has organized a late afternoon information and language class for those waiting to get in.
"I used my professional contacts to find a company that would let us use a room for free," says Tereza. Today's session will focus on questions about housing and finding a job. Refugees will also get a language lesson from an experienced teacher. Tereza managed to use Czech government funds already earmarked for integration to pay for the teacher's time.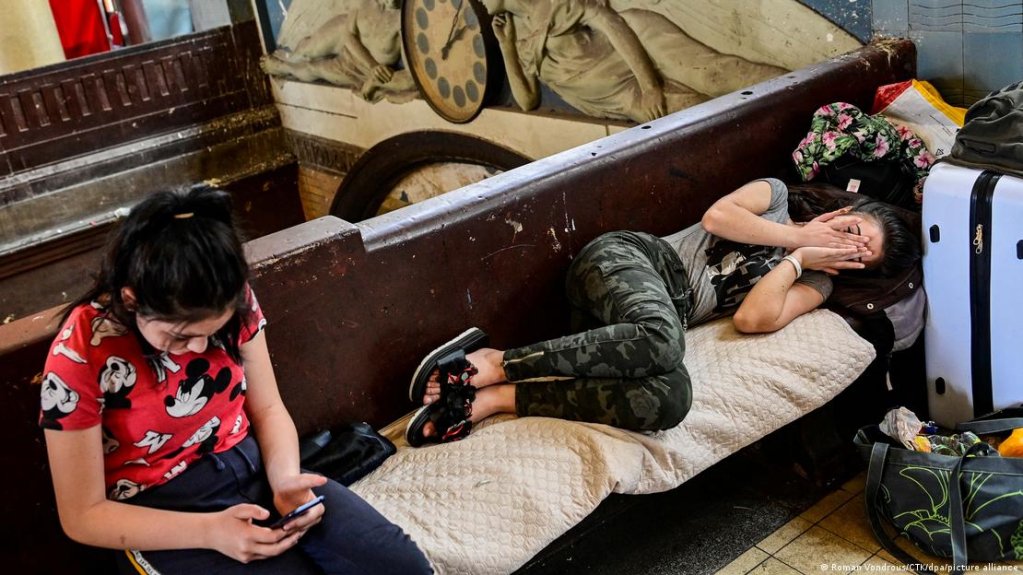 Everyone speaks Czech
"Knowledge of the Czech language is the foundation for finding an opening and a qualified job with decent pay in the Czech labor market," as Tereza explained to DW. "This allows refugees to leave behind poorly paid jobs like stocking supermarket shelves for those where they can really show their skills."
Of those who have come to Tereza's evening class, generally between 15 and 20 people each time, almost all have found work. "Today there are fewer participants because some are working afternoon shifts," she says. Speaking with those present, it is clear that one year on they are all capable of basic communication in their new language.
Thanks to thousands of volunteers like Tereza, the Czech Republic and its 10 million residents were able to master the largest influx of refugees in its history. Since Russia launched its invasion of Ukraine a little over a year ago, the country has offered temporary shelter to nearly half a million war refugees. Proportionate to population, that puts the Czech Republic at the EU's forefront.
Successful stress test
A portion of those refugees who fled to the Czech Republic have returned home, meanwhile. Still, more than 100,000 Ukrainians have found work in the Czech labor market and 90% of all Ukrainian children (roughly 50,000) are enrolled in Czech schools. They currently make up about 5% of the Republic's child population.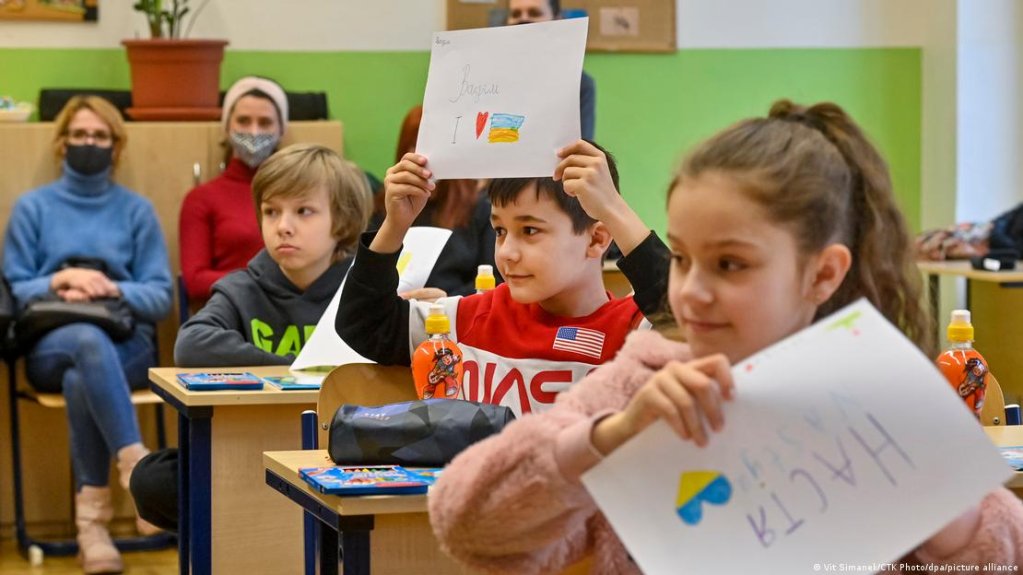 Speaking at a press conference marking the one year anniversary of the first arrival of Ukrainian war refugees, Minister of the Interior Vit Rakusan told journalists that the Czech Republic had passed the stress test. "We were able to take in nearly half a million Ukrainian refugees. And we did it without crashing or overburdening our health and education systems."
The minister said the country had been able to create admissions mechanisms that allowed refugees to integrate into the labor market, adding, "Many have already seized that opportunity."
Not a burden to the Czech people
Rakusan admits there have been problems. "We couldn't have done it without help from the Czech people, without the mayors, the police and the firefighters and so many others." Meanwhile, the situation has greatly improved. The country is no longer in an acute crisis and nor does it have to deal with waves of tens of thousands of refugees at its borders. "We have a system that works," says Rakusan.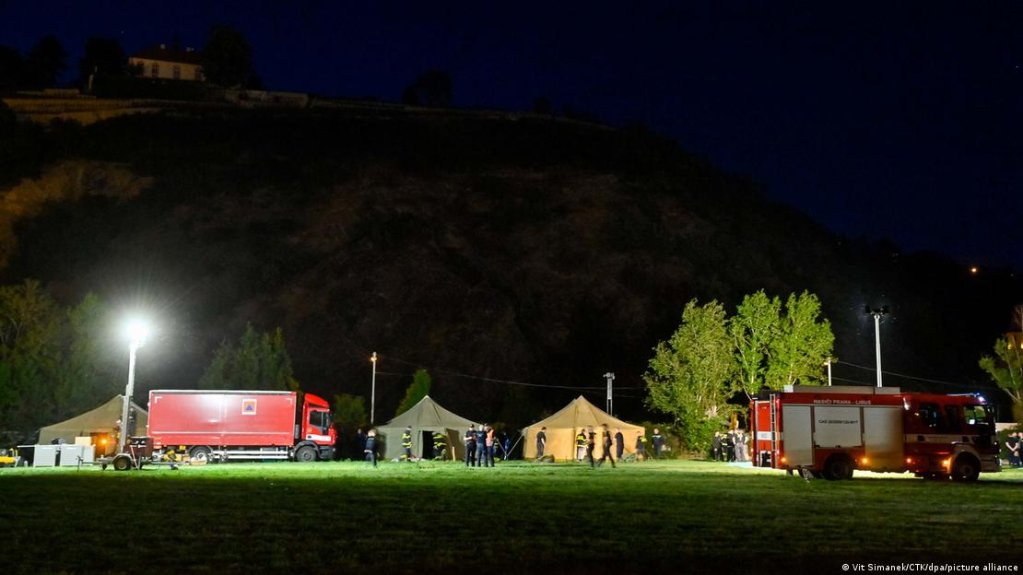 The fact that a large number of Ukrainian adults work and their children attend school is also important for society on the whole. Nevertheless, representatives from extremist and far-right nationalist parties and organizations have claimed the Czech government is helping Ukrainian refugees to the detriment of Czech citizens.
Among them is the leader of the opposition ANO party and a finalist in the country's most recent presidential election, Andrej Babis. Minister of Foreign Affairs Jan Lipavsky refutes the claim, telling DW: "That's not true. Expenditures for Ukrainian refugees are but a fraction of the overall budget made available to Czech citizens during the energy and financial crises."  
Qualified Ukrainians in low-skill jobs
According to the Czech Ministry of Finance, total expenditures for Ukrainian refugees until the end of January 2023 were 28.5 billion Czech crowns (about €1.2 billion / $1.27 billion). The lion's share went to refugee welfare assistance. Prague has doled out about €400 million for it, coming to roughly €200 monthly for each non-working refugee as the ministry posted on its Twitter account.
But the state doesn't only have expenditures — it also profits from those Ukrainians who have found work and pay Czech taxes. That has allowed the Czech government to take in about €350 million in tax revenue from Ukrainian laborers.
"Costs for Ukrainian refugees will be lower than initially anticipated," says Minister of Finance Zbynek Stanjura. Refugees integrated into the Czech labor market quicker than expected and have been less of a burden on the health care system than feared. Furthermore, Czech citizens have been generous when it comes to sheltering Ukrainian refugees free of charge.
One problem, however, remains unresolved: Many new arrivals work in low-skill, poorly paid jobs because their qualifications are not recognized in the Czech Republic. Getting such qualifications recognized is difficult, as Tomas Prouza tells DW.
Prouza is president of the Confederation of Trade and Tourism and an adviser to the Ministry of Industry and Trade. "There are hundreds of Ukrainian nurses and doctors here but they can't get their diplomas acknowledged because they lack the correct documents from Ukraine."
But those many Ukrainian refugees are a blessing to the Czech economy. That's why Prouza suggests the Czech Republic concentrate on how to take full advantage of their professional and labor potential. 
This article was translated from German by Jon Shelton
Author: Lubos Palata
First published: March 19, 2023
Copyright DW - All rights reserved
DW is not responsible for the content of external websites
Source: dw.com