UK Home Secretary Suella Braverman has visited projects in Rwanda related to the UK's plans to outsource asylum procedures to the central African country. She also signed further agreements with her African counterparts.
Suella Braverman, the UK's home secretary (interior minister), visited Rwanda over the weekend (March 18 and 19). While in the Central African country, she described Britain's plans to outsource some of its asylum seekers to Rwanda as "compassionate", reported the French news agency Agence France Presse (AFP).
In an interview with the right-wing broadcaster GB News, she said that the accommodation and construction projects in Rwanda were "well advanced" and nearing completion, reported AFP.
Braverman was pictured smiling and laughing during her visit to asylum seeker reception centers that have already been built. "These houses are really beautiful, great quality, really welcoming, and I really like your interior designer," Braverman added during the tour, reported AFP.
Flights to begin 'before the summer'
The politician also visited new construction projects where she was pictured surrounded by smiling workers preparing to build more centers to house the asylum seekers. Braverman said she hopes flights to Rwanda will start "before the summer."
During her visit to the capital Kigali, Braverman met with her counterparts in the Rwandan government and announced she had signed further memorandums of understanding to strengthen the migrant deal.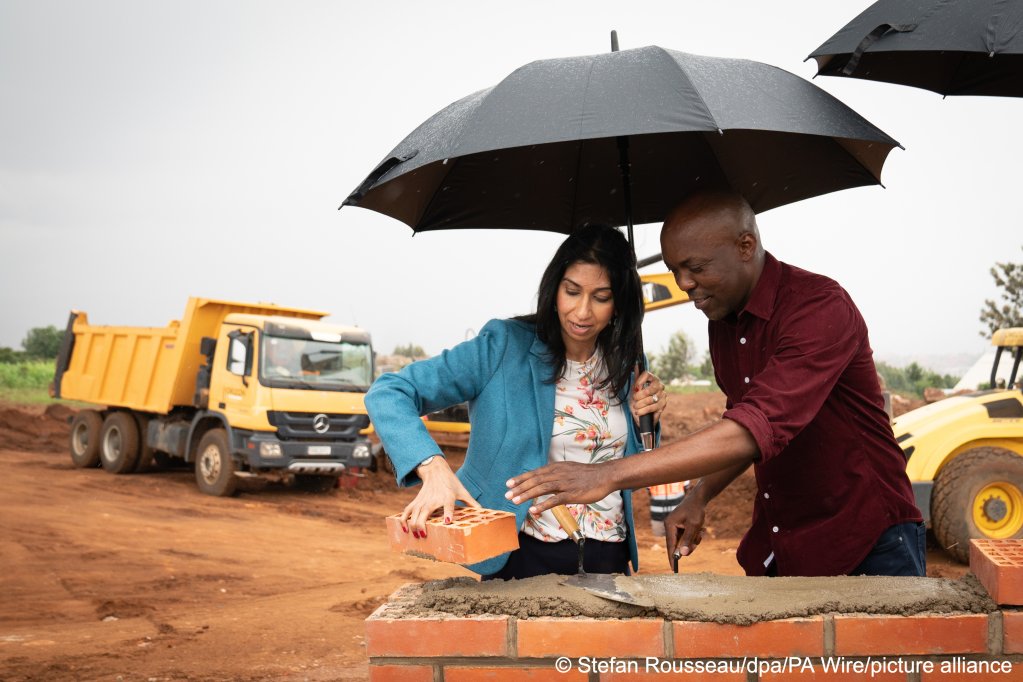 On Saturday, according to her Twitter feed, she held a briefing with Rwandan Foreign Affairs Minister Vincent Biruta, and on Sunday, she met with the Rwandan President Paul Kagame to "reaffirm their commitment to the ground-breaking partnership."
During her visit, Braverman visited a college (Kepler Academy), where according to the Home Secretary "at least 25% of its student body are 'refugee learners.'"
She also turned up at a cricket stadium where she "met up with refugees from several countries to hear how they made Rwanda their home." At each of the events she posted on Twitter, Braverman is seen smiling and talking with groups of smiling people.
Critics say the UK should consider sanctions not partnership with Rwanda
Braverman promised that those who eventually were resettled in Rwanda would be "protected and supported to build a new life." Braverman described Rwanda as "one of the world's fastest growing economies" and "one of the world's safest countries."
However, critics point to allegations about the human rights record in the country, where dissent against the government is silenced, sometimes resulting in prison sentences or worse, and being gay for instance is not tolerated.
British journalist Michaela Wrong, who is the author of a recent book about Rwanda, ("Do Not Disturb: The Story of a Political Murder and an African Regime Gone Bad") told the Guardian that "Rwanda and [its neighbor] Democratic Republic of Congo -- DRC -- are on the brink of all-out war."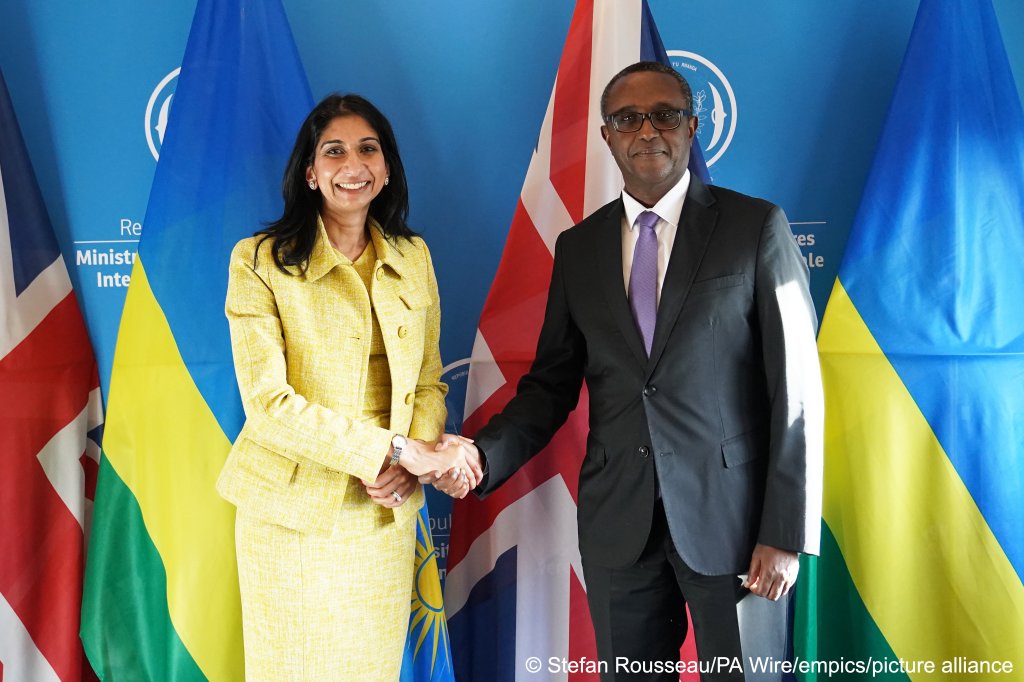 Wrong added that the notorious M23 guerilla group, which she described as a "Rwandan proxy, has sent 600,000-800,000 Congolese villagers fleeing their homes and Braverman is happily validating the African leader widely recognized to be responsible for the destabilization of the African Great Lakes [region in which Rwanda and DRC are situated.]"
Wrong said that "Britain should be discussing slapping sanctions on Rwanda – it is the only message Kagame responds to -- rather than planning to send migrants there," reported the Guardian.
Protests in London against government policy
Wrong was not the only person who raised concerns about the visit itself and the way it was conducted. Only journalists from right-wing newspapers in the UK were allowed to accompany the Home Secretary on her visit. Journalists from the Guardian, the BBC, the Daily Mirror, Independent and i Newspaper were barred, reported the Guardian. This raised general concerns about restrictions on press freedom.
The visit to Rwanda was also protested by thousands in Britain who took to the streets of central London holding banners declaring "No to Racism" and "Refugees Welcome." Many others held up specific criticisms of the Rwanda policy, exorting the government to offer "Safe Passage, not Rwanda flights," "stop deportation," and "seeking refuge is not a crime."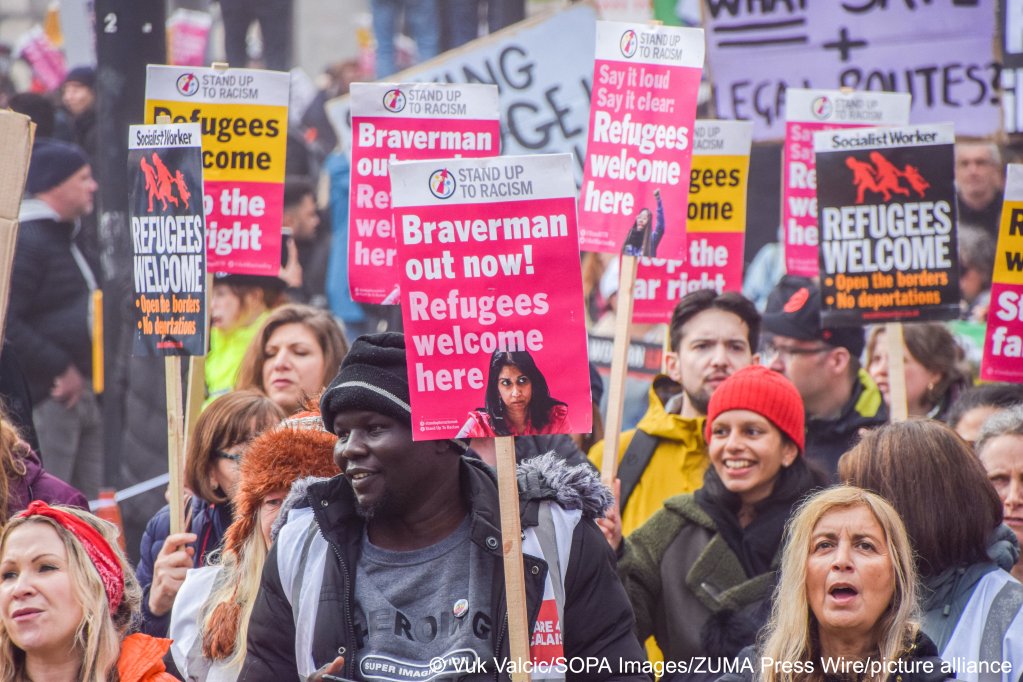 Braverman's trip also drew ire from opposition politicians. The opposition Labour Party's shadow home secretary Yvette Coooper underlined that the public was paying for Braverman's trip to publicize her policy. According to the Guardian, Coooper added: "Suella Braverman has still not come clean on the number of people Rwanda will really take in practice or the full cost to the British taxpayer."
Last year, when former Home Secretary Priti Patel announced the Rwanda plan, it was reported that the government had already paid around €137 million to the Rwandan government but would only be flying a few hundred asylum seekers at most to the country.
Cooper told the Guardian the "already the home secretary has written Rwanda cheques for at least €159 million even though she has admitted the scheme is failing and the Home Office says it has a high risk of fraud. Instead of expensive PR stunts she should put that money into going after the smuggling gangs to stop dangerous boat crossings."
It is not clear if Cooper was referring to the role of home secretary since the scheme was announced, implying that Braverman may have written cheques out for an extra €22 million, or whether she has paid out an additional €159 million this year to Rwanda.
'An expensive distraction'
Also in opposition, the Liberal Democrat's leader Ed Davey, called the Rwanda trip an "expensive distraction" and called the plan "immoral and unworkable." He called Rwanda the Conservative Party's "latest vanity project" and pledged that his party would oppose the "appalling, anti-refugee law, which is nothing more than a criminal traffickers' charter."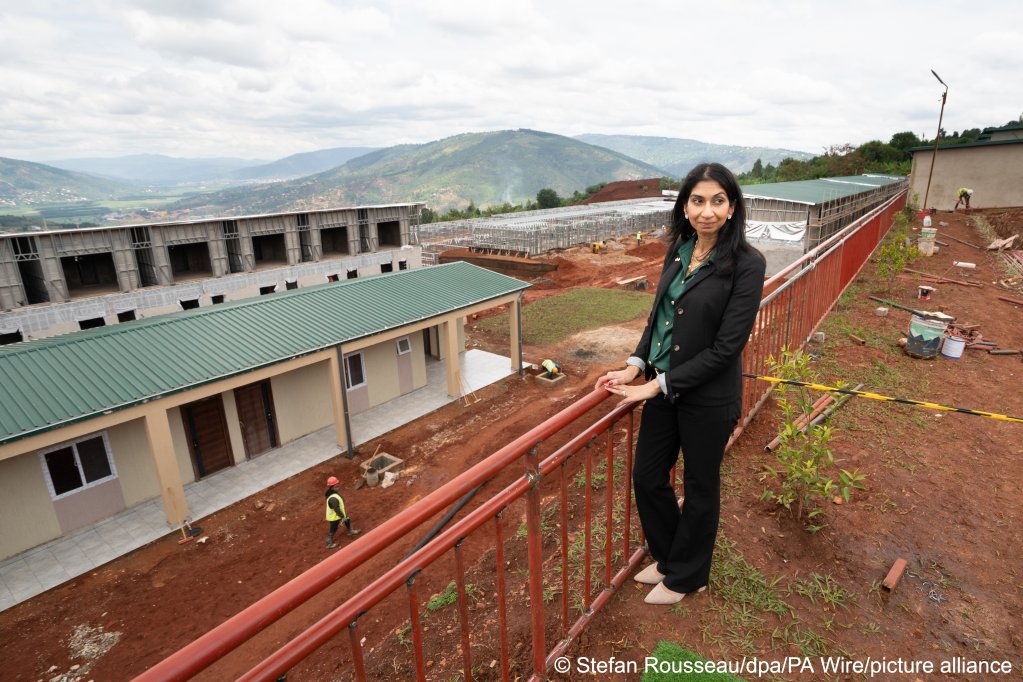 In a video posted on Twitter, Braverman claimed that "Rwanda has the capacity to settle many thousands of people and with our support, is able to quickly stand up the necessary accommodation once flights begin."
Braverman said that "Rwanda and the UK are fully committed to delivering our ground-breaking partnership." She claimed that she thought it would become a "new global model for addressing the challenges of illegal and mass migration."
When asked at a press conference last week whether the EU was also considering a partnership with Rwanda, the Commission's Deputy Commissioner Margaritis Schinas answered a definitive no.
Schinas said the deal seemed like a very expensive way of sending a few hundred people there. He pointed out that several countries, including Israel, had already abandoned a similar idea with Rwanda and said the EU would not be following in Britain's footsteps.