Fighting, struggling, and never giving up on building her own destiny. That's Ramla Ali's story. The English-Somali boxer carved out a place for herself in the boxing world against all odds that were stacked against her. At 33, she is a source of inspiration on and off the boxing ring.
In the summer of 2018, Ramla Ali announced she would change her sports nationality. After a few years fighting for England, her host country, she decided to to compete for her birth country, Somalia, in the 2020 Olympics.
For her, it signified a return home -- a gesture for her homeland, which has been stricken by ethnic conflict for years.
"I didn't return to Somalia since I left because of the war, and I decided I could bring, in my own way, a positive image of my homeland, which too often is in the news for violence," she told InfoMigrants. "So I decided to wear the colors of my birth country, to be proud of my heritage and give hope to the youth of the country, and Somali girls and women."
Long before her name had made the rounds on British boxing rings, Ramla Ali remembers how she struggled, living in fear for her life in the Somali capital Mogadishu, where her family hails from.
'We lived through hell'
Born in 1989, Ramla Ali and her family were surrounded by violence and instability. Local authorities in Somalia would oppress and control people's every move. The country was plagued by ethnic tension, with many looking for a way out in search of a better life.
"We lived through hell. Every day, every moment, something terrible could happen, and life was very, very difficult," she recalls.
"Somalia got bogged down in conflicts and unbearable tension, and everything went out of hand. This put the country on its knees. It destroyed and changed the life of millions of families like mine."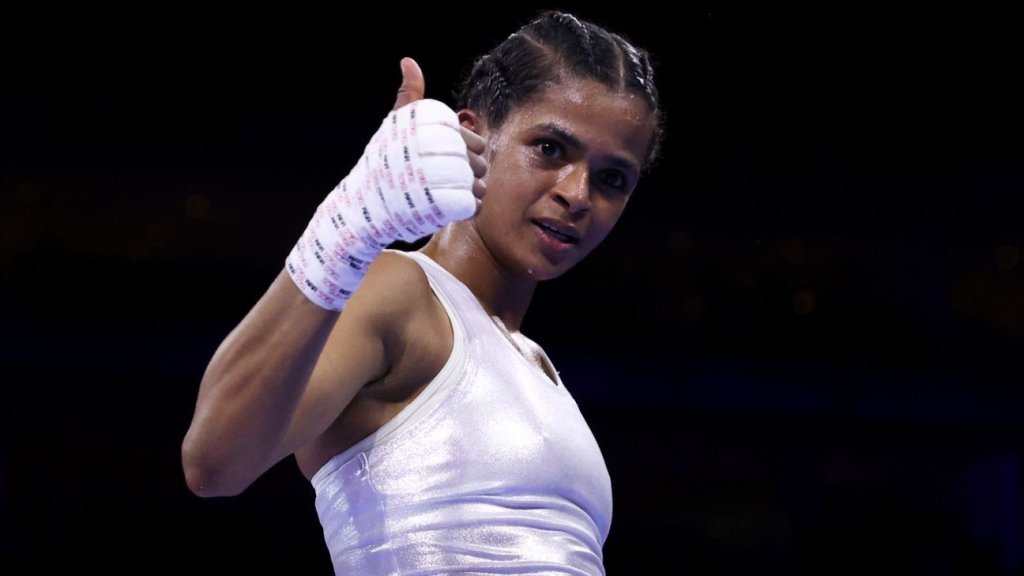 In 1992, while her older brother was playing in the street, he was hit by mortar and killed. After that, Ramla's parents decided to leave Somalia.
"The loss of my brother was terrible for us. We had to protect ourselves, whatever it took," she told InfoMigrants. The Ali family took a boat to Kenya less than two years later. After nine days of travel --- and despite the death of some of the boat's passengers -- they eventually arrived in Kenya.
After spending some time in the country, they requested asylum in the UK. Once it was granted, Ramla and her family made their way to London in 1996.
Fleeing civil war and persecution from the Horn of Africa, Ramla embarked on a new life and finally had the opportunity to enjoy her youth in a stable context, where her dreams of a better future became tangible at last.
'Leaving a mark on women's boxing history'
Ramla adapted to her new life in the UK but remembers that she still had to face some challenges in her teenage years.
Jenna McGuire, a long-time friend, said that Ramla was bullied because she was overweight and "people made fun of her."
"But she always had a lot of energy and she managed to find strength, and a passion, which helped her move mountains," McGuire added.
In the hopes of losing weight, Ramla decided at age 14 that she would join a local gym. After enlisting in a Boxercise class, she says she "fell in love with the discipline and got into boxing."
"But I had one worry: I had to train in secret because I feared my family and my mother would disapprove of me boxing, which isn't considered a feminine sport."
However, in time, Ramla gained strength and impressed her trainers who realized her incredible potential.
"From the moment I saw her with her determination, her rage and will to succeed, I knew she had a special talent," Willis Fields, one of her first trainers, told InfoMigrants.
"Ramla is passionate, she's carried by a fire going beyond the simple desire to make it into the world of boxing. She always wants more, to break down barriers, inspire young women. Ramla's career shows she is leaving a mark on women boxing history."
Global brand ambassador - and much more
Competing for national titles, the young boxing prodigy won match after match as an amateur lightweight. But her mother eventually found out about what was going on.
"She asked me to stop, but after thinking about it, she supported me and that made me really happy," Ramla Ali recalls, smiling.
"When I was boxing in Denmark in 2012, she even called me before my first fight to wish me good luck. I will never forget that."
Fast-forward to the 2020 Tokyo Olympics, where Ramla became the first Somali woman flag bearer.
"It was a unique, amazing feeling. It was so moving to be an ambassador for my country on the world's biggest sports stage," she recalls.
With eight victories and no defeats, Ramla Ali keeps moving from strength to strength. But she also pursues causes that are dear to her heart outside of the boxing ring.
"I wrote my book 'Not without a fight: ten steps to becoming your own champion,' which is a self-help book. I also am involved in projects in Somalia and boxing workshops across the UK with the Sisters Club initiative for women who've experienced violence," she told InfoMigrants.
Ali meanwhile has also signed as a brand ambassador for luxury brands Cartier and Christian Dior, but she won't let the fame and fortune get to her head:
"She always wants to help the next person, give a voice to those we don't talk about, and who struggle in silence," Sandy Kenan from the Sisters Club said.
"Ramla doesn't only fight for herself, she also fights for others."