Amnesty International's 2022 Annual Report highlights what it refers to as "the hypocrisy of the West" in its selective application of human rights. In Europe, that double standard identified by Amnesty was most evident in the response to the war in Ukraine.
Western countries are selective in the way they choose to apply human rights, according to rights organization Amnesty International.
Their silence about vagrant rights violations in certain countries, their uneven humanitarian response to conflicts, and their implementation of protection rights for refugees fleeing from these conditions highlight such disparities, the organization said in its 2022 annual report, which was released today.
According to the document, which highlights the human rights situation in 156 countries, Western powers turned a blind eye to human rights violations in China, which it said were "amounting to crimes against humanity" against the Uighurs and other Muslim minorities. Similar incidents were cited in other cases of human rights violations in Egypt and Saudi Arabia.
"Such examples confirmed to the rest of the world that the West's support for human rights is selective and self-interested, and undermined global support for Ukraine," the rights agency said in its report.  
Uneven attention and compassion
In the case of Europe, less than a week after Russia invaded Ukraine in early 2022, Amnesty highlighted that the Chief Prosecutor of the International Criminal Court (ICC) announced an investigation into war crimes committed in Ukraine.
Soon after, an overwhelming majority of countries at the UN General Assembly voted to condemn Russia's invasion as an act of aggression.
"The main message of the Amnesty International annual report is that we are witnessing the uneven application of what should be universal human rights, particularly in the refugee sphere," Alison Abrahams, media manager of Amnesty International, told InfoMigrants.
Aid to Ukraine 
In response to the Russian invasion of Ukraine, the EU mobilized resources by activating "for the first time in its history", the Temporary Protection Directive -- a set of exceptional measures to provide immediate and temporary protection for Ukrainians in the face of a mass movement of people out of the country.
The latest data as of March 2023 from the United Nations Refugee Agency showed more than 8 million Ukrainians as registered for Temporary Protection or similar protection schemes in Europe.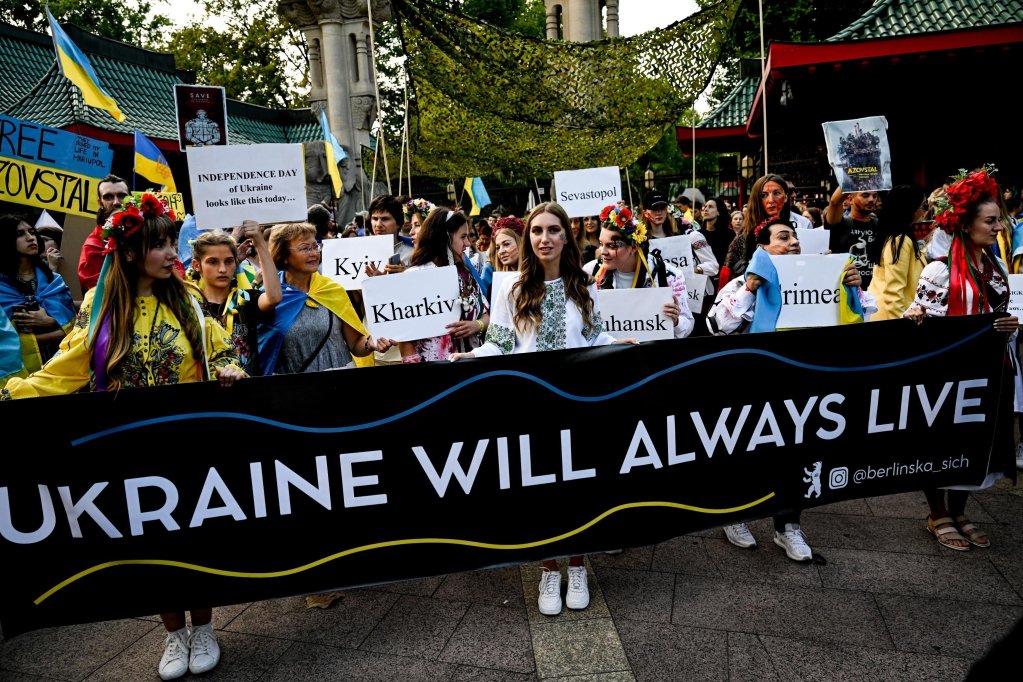 Since 2022, the European Commission has allocated €630 million for humanitarian aid programs. The emergency assistance to Ukraine is the European bloc's "largest civil protection operation to date."
All 27 EU countries, plus Norway, Turkey, North Macedonia, Iceland, and Serbia, have offered assistance to Ukraine -- ranging from medical supplies and shelter items to vehicles and energy equipment. 
"After the devastating invasion of Ukraine, the EU commendably implemented safe passage for Ukrainian refugees who received accommodation, social assistance, and access to public services," said Abrahams. 
"At the same time, on the other hand, we saw pushbacks, violence, arbitrary detention, and sometimes containment in closed centers at EU borders, which were implemented across racialized lines," she added. 
Banning biometric surveillance
Amnesty International also called for banning biometric surveillance and facial recognition technology powered by artificial intelligence, which are used at some EU borders. The organization cited the racial biases embedded in these tools.
"The EU absolutely has the responsibility to make sure that artificial intelligence and biometric surveillance don't repeat the same mistakes and biases that humans are making in our decision-making," said Abrahams. 
The call to ban biometric surveillance and facial recognition through artificial intelligence tools comes on the heels of the EU's recent call to effectively manage migration through assisted, regular and humane migration programs.
A turning point for humanity
On the increasing prominence of returns in EU Migration Policy, Abrahams said that "(t)here is a possibility that people who are returned to [countries like] Iran and Russia are identified and tracked by using these tools. We know of cases where Iranians threatened with deportation had their photos distributed online and were put at greater risk upon their return." 
"Everyone has the right to seek asylum. Returns based on nationality is not acceptable. We need humane treatment for everyone seeking asylum. It is not illegal to seek asylum," Abrahams added.
The release of the Amnesty International report marks the 75th anniversary of the Universal Declaration of Human Rights -- a document created from the ashes of World War II. 
"Let us not wait for the world to burn yet again to truly live by the freedoms and principles that came at the cost of millions of lives. 2023 must be a turning point for upholding human rights: anything less from the world's leaders is a betrayal which could take the world to the abyss," said Agnès Callamard, Secretary General Amnesty International.