A new immigration bill is making its way through the UK parliament. It is intended to deter migrants from crossing the English Channel and would end the reliance on hotel accommodation for asylum seekers. Instead, the bill suggests detaining them on surplus military sites.
On March 29, UK Immigration Minister Robert Jenrick announced his government was planning to use at least two surplus military sites to accommodate asylum seekers, who cross the Channel to reach the UK on small boats.
Stopping migrants from crossing in small boats and cracking down more generally on irregular immigration is among the government's top five stated priorities this year. At the moment, the government has a significant backlog of dealing with asylum claims, with around 160,000 people waiting for their claims to be processed.
Because of this long list of unresolved cases, it has had to turn to booking hotel rooms in order to accommodate all whose cases still being processed. Currently, the costs of keeping migrants in hotels amounts to about £6 million (€6.8 million) a day, claims the British government.
Around £1 million of that sum is used to pay for hotel accommodation for about 8,000 Afghan refugees.
'Wholly unacceptable'
Jenrick and the British Home Secretary (Interior Minister) Suella Braverman have repeatedly stated that "using expensive hotels for asylum seekers is wholly unacceptable."
According to Jenrick, "delivering accommodation on surplus military sites will provide cheaper and more orderly, suitable accommodation for those arriving in small boats."
Two of the proposed sites are to be situated in the counties of Lincolnshire and Essex, respectively. Another site in Prime Minister Rishi Sunak's constituency in North Yorkshire, around the Catterick Garrison, may also be considered.
This week, according to various reports in the UK's right-wing press, the government is also considering using barges, disused ferries and other large multiple occupation sites to house asylum seekers and migrants. However, a government spokesperson talking to the BBC earlier this week refused to comment on whether the government has actually procured barges and is preparing accommodation on ferries.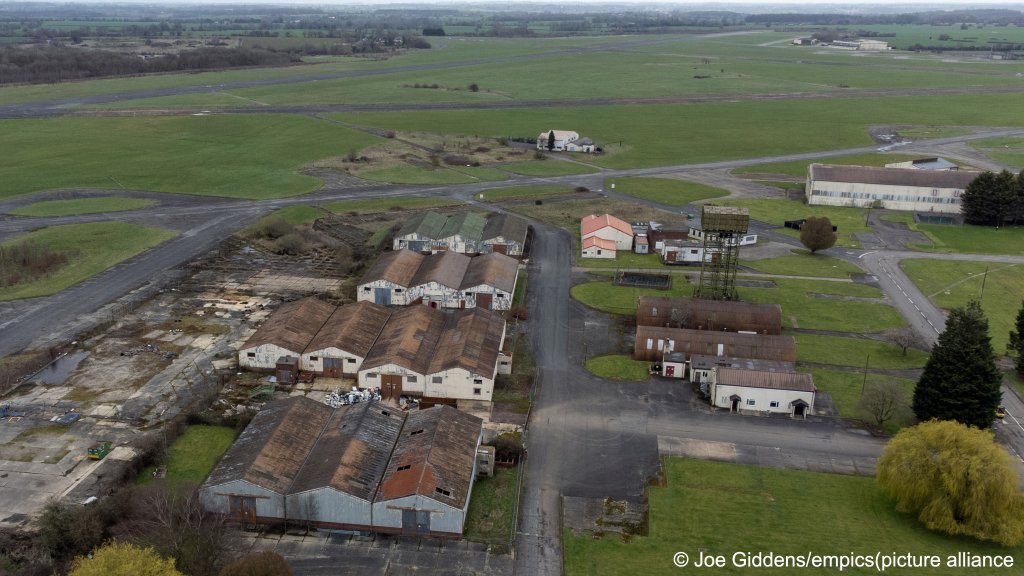 Barracks and vessels considered for new accommodation
The two former barracks which have already been earmarked will offer healthcare provision, catering facilities and 24/7 security, according to the government, which has also promised to work "closely with local authorities and key partners to manage the impacts of using these sites, including liaising with local police to make sure appropriate arrangements are in place."
According to a government press release, the two surplus military sites would house a total of 3,700 asylum seekers. However, as the sites now stand, the government admitted that they could only accommodate about 200 people. Another site in East Sussex, which is described as a "non-military site in Bexhill" could provide accommodation for a further 1,200.
The government says it is exploring "the use of vessels to provide accommodation in line with the approach taken by the Netherlands and Scotland."
Faster asylum processing
In addition to addressing the accommodation problem, the government is also adding more resources to processing asylum applications, including attempting to streamline the process for applications. They have promised to "eliminate the legacy asylum backlog by the end of 2023."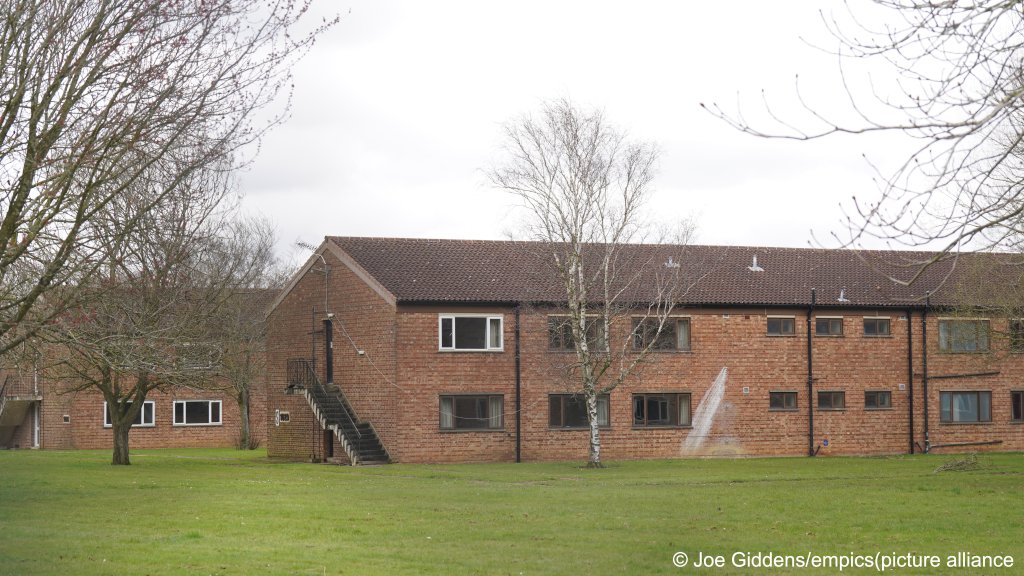 The vast majority of asylum seekers in the country are single males, say the government. In their press release, they add that about 85,000 migrants have crossed the Channel since 2018, which according to the government has placed an "unprecedented and unsustainable pressure on housing."
The idea of using these sites, said Jenrick in parliament, apart from reducing tax-payer costs, is also to help dissuade people from coming to the UK by irregular routes in the first place: "Accommodation for migrants should meet their essential living needs and nothing more," Jenrick said in parliament. "We must not elevate the wellbeing of illegal migrants above those of the British people."
Jenrick said that he believed the UK government had to "suffuse our entire system with deterrence, and this must include how we house illegal migrants." The minister admitted however this would not end the reliance on hotels overnight.
"But alongside local dispersal and other forms of accommodation, ... they will relieve pressure on our communities, and manage asylum seekers in a more appropriate and cost-effective way."
'An admission of failure'
Also in parliament, the opposition Labour Shadow Secretary of State Yvette Cooper called the statement by Jenrick "an admission of failure." She pointed out that four years ago, the ruling Conservative government had promised to halve the number of Channel crossings, but instead "they have gone up twentyfold since then."
She also said that although the government promised to end hotel use a year ago under former Home Secretary Priti Patel, they have actually "opened more than ever" for use by asylum seekers.
Cooper said that instead of blaming everyone else, the government should take responsibility, as they have been in power since 2010. "The asylum system is broken because they broke it; they have let criminal gangs rip along the Channel; people smuggler convictions have halved in the past four years, even though more boats and more gangs have been crossing."
The shadow minister agreed that hotel use needed to end but said the government's plans wouldn't do that. She said, "contrary to all the briefing in the papers this morning, they will not end hotel use – instead these sites are additional."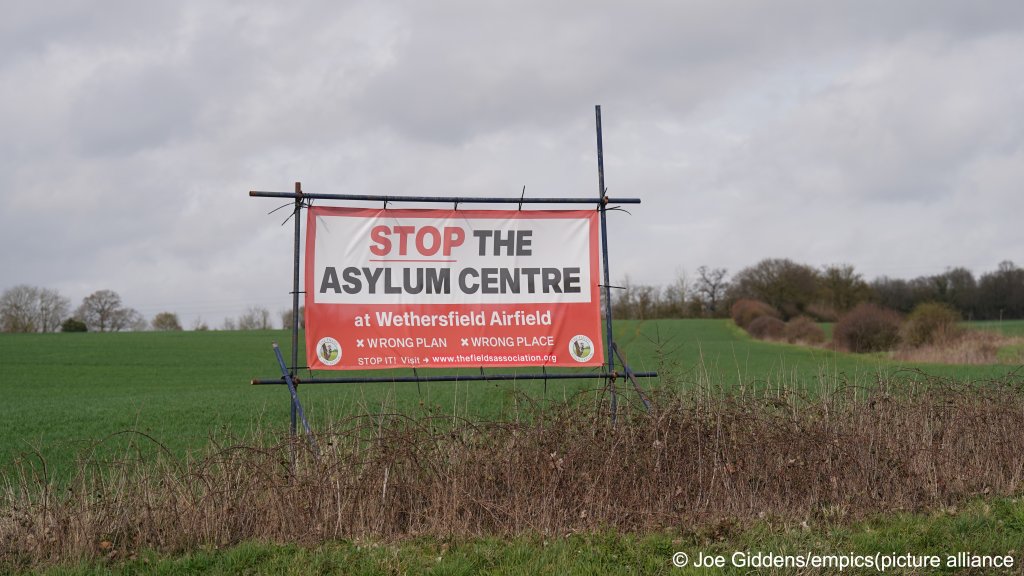 Meanwhile, local residents living around the military sites are also largely against the proposals. They point out that an airbase "in the middle of nowhere" is not a suitable site to house 1,200 men.
Some of the proposed sites would also mean the local villagers would be outnumbered by those on the site.
Government watchdog: 'Poor value for money in UK aid to refugees'
The government's own watchdog, the Independent Commission for Aid Impact (ICAI), released a report on the same day (March 29) in which it said it had found "poor value for money in UK aid to refugees in the UK."
The report said that in 2022, they estimated the UK government had spent around £3.5 billion (€3.9 billion) on refugees and asylum seekers in the UK. This was about one third of the total UK aid spent that year.
The document said the government had engendered "soaring costs resulting from the failure to tackle the processing backlog and competition for scarce accommodation." It also criticized the Home Office for "not effectively overseeing the major asylum accomodation and support contracts to ensure value for money."
More hotels being used since October 2022
ICAI said they had heard "a lot of anecdotal evidence of safeguarding lapses, particularly for women and girls, who face significant risks of harassment and even gender-based violence while in hotel accommodation."
The report said that as of March 2023, the Home Office was using 386 hotels around the UK to host refugees and asylum seekers. That was up from around 200 in October 2022. The ICAI advised the government to strengthen its management of the contracts for asylum accommodation and seek greater value for money.
Refugee charities like the Refugee Council have also criticized the government's new plans as well as their prior reliance on former military barracks like the one in Manston in Kent. The CEO of the Refugee Council, Enver Solomon, said he was worried that the government's "scandalous failings at Manston ... could happen again."