Around 2,000 migrants were brought to Italy over the Easter weekend after being rescued at sea by the Italian coast guard. Italian authorities say they are still engaged in two operations to rescue another 1,200 migrants.
The Italian coast guard rescued around 2,000 migrants over the Easter weekend in several different rescue operations near the coasts of Sicily and Lampedusa.
Rescue efforts are still ongoing at the time of writing for a reported 1,200 migrants on board two different ships off the coast of southern Italy. Italian coast guard ships are close to both vessels, Ginaluca D'Agostino told Italian state broadcaster Rai News 24 on Monday. D'Agostino is commander of the coordination operations in Rome.
A statement from the coast guard, including video footage from rescues that took place from Friday (April 7) to Monday (April 10), said officials had been operating in various different positions around the island of Lampedusa and in the Ionian Sea off the coast of Calabria.
Two big operations continue
However two of the biggest operations were still ongoing on Tuesday (April 11), according to Alarm Phone, a hotline for migrants in distress on the Mediterranean. A fishing boat carrying 400 people remains stuck on the Ionian sea between Sicily and Calabria, while another ship carrying 800 remains about 120 miles from the coast of Siracusa in Sicily.
Alarm Phone spoke to those on board the 400-passenger fishing boat at around 8 a.m. and just before 11 a.m. Tuesday morning. In a tweet, Alarm Phone said that despite being accompanied by an Italian coast guard vessel and other merchant ships nearby, "the situation on board is dramatic."
Passengers said they have "no fuel left" and the boat is taking on water, adding that there are also several medical emergencies on board.
Alarm Phone said they have passed this information on to the relevant authorities. On Monday, Alarm Phone reported that before the Italian coast guard vessel arrived, the people on board said at least four women were unconscious and others were ready to "jump overboard" in desperation.
On Monday, the Italian coast guard confirmed in a press statement they had sent one of their boats, the Diciotti, to accompany the 400-passenger fishing boat stuck in the Ionian sea off the coast of Calabria.
800 on board
A second Italian coast guard ship, the Peluso, had been dispatched to coordinate operations with an even larger fishing boat carrying 800 migrants, D'Agostino told Rai News 24, which reported from the central operations command center in Rome.
This boat, D'Agostino told Rai, was a little more "problematic" due to the sheer number of people on board. The commander said in addition to the Peluso, three smaller motor boats had been sent to help. They'd already rescued between 150-200 of the migrants on board, but needed to guide the large vessel to calmer seas before being able to contemplate performing a full rescue operation. The waves on Monday, reported the commander, were between two and two-and-a-half meters high.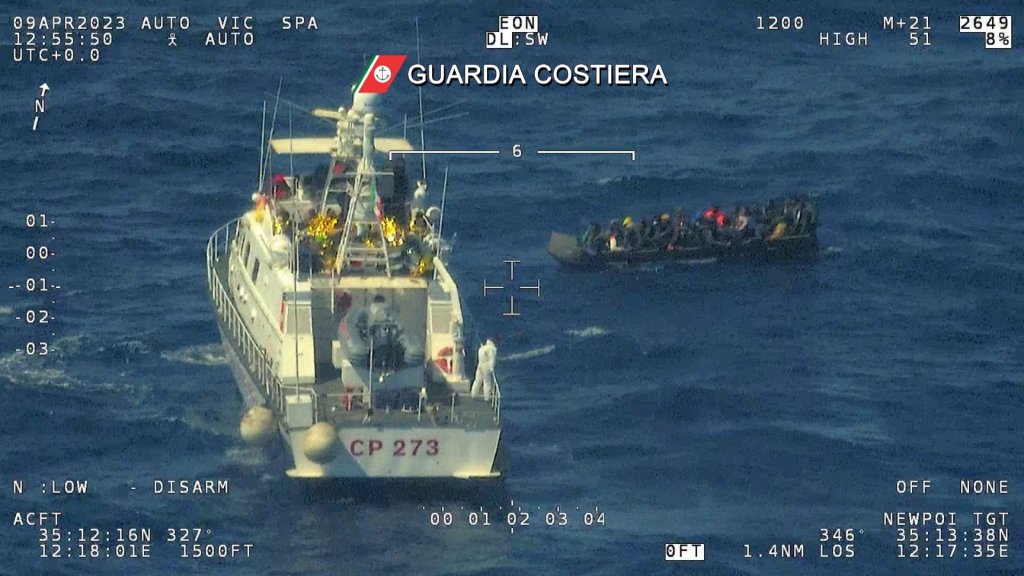 Commander D'Agostino said he had around 1,500 personnel working over the Easter weekend to ensure people's lives at sea were safeguarded and that his command control team could communicate in 27 different languages to ensure that wherever possible, people stayed safe.
One of the nearby merchant ships supplied water and fuel to the boat carrying 400 people, which reportedly departed from the town of Tobruk in Libya earlier in the weekend, according to Reuters.
Accusations against Malta
One of the boats had previously been sighted in Maltese waters, according to Reuters.
But the Maltese Armed Forces reportedly told local Maltese news outlets they had received "no communication" from the ship carrying 400 people, and that "no rescue had been requested."
The German private rescue organization Sea-Watch, meanwhile, said the Maltese authorities had ordered nearby merchant ships to provide the passengers with fuel and water but avoid rescuing them, allegedly to evade responsibility for the migrants in hopes they would continue to Italy.
On Tuesday, Alarm Phone called the Armed Forces of Malta statement denying they had been contacted about the ship on April 9 "absurd", accusing the officials of "lying and denying responsibility."
On Sea-Watch's Twitter feed, the organization asked "Why only petrol and no rescue?" They answered their own rhetorical question with the allegation, "when the boat manages to travel further, it will probably make it to Italy and then Malta doesn't need to take these people in. It seems they would rather risk 400 people dying than have to take these people in. [That is the] EU's migration policy."
Deaths at sea
Although thousands were saved, at least 38 people died over the weekend in two separate incidents, with more reported missing. At least two migrants were reported dead and 20 more missing after their boat sank on Saturday between Tunisia and Italy, the Associated Press (AP) reported, quoting information from the German private rescue organization ResQship.
Another shipwreck in Maltese waters over the weekend is thought to have killed at least 18 migrants, the regional newspaper La Sicilia reported Tuesday. La Sicilia said the Italian coast guard also found the body of one Nigerian man aboard a seven-meter boat when they rescued 38 migrants on Sunday off the coast of Lampedusa.
When the crew of ResQship reached the Tunisia shipwreck on Saturday, they were able to pull 22 survivors from the water, including nine women, the organization said.
Those rescued told the crew they had been there for at least two hours. They were taken to the island of Lampedusa.
La Sicilia said this boat had left Tunisia near the port of Sfax.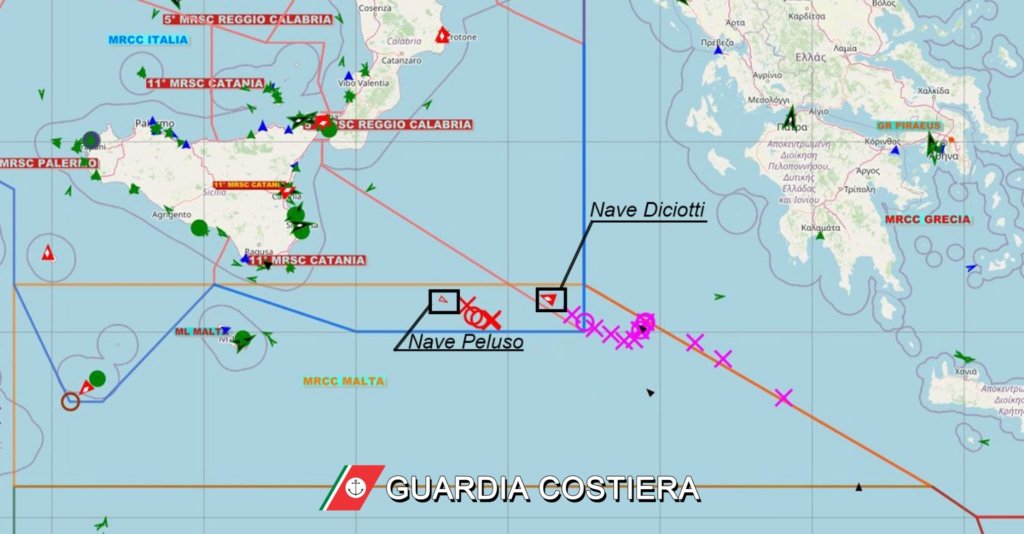 More than 30,000 arrivals in Italy since January
According to the latest Italian government figures, last updated on April 7, more than 28,285 migrants have now reached Italy by sea since the start of the year.
The additional 2,000 rescued this weekend pushes those numbers to over 30,000, around four times the numbers that arrived in the equivalent period in 2022 and much greater than those who arrived in the equivalent period in 2021.
According to the Italian government, the majority of arrivals are Ivorian nationals, followed in descending order by people from Guinea, Pakistan, Tunisia, Bangladesh and Egypt.
More than 1,000 migrants have also arrived from Cameroon and Syria respectively since the beginning of the year and almost 1,000 (900) from Mali.
This year, up until April 3, over 3,000 were unaccompanied minors.
'Hotspot' at four times its capacity
The first reception center on Lampedusa, known as a "hotspot", is currently hosting at least 1,800 people, around four times its maximum capacity, according to La Sicilia.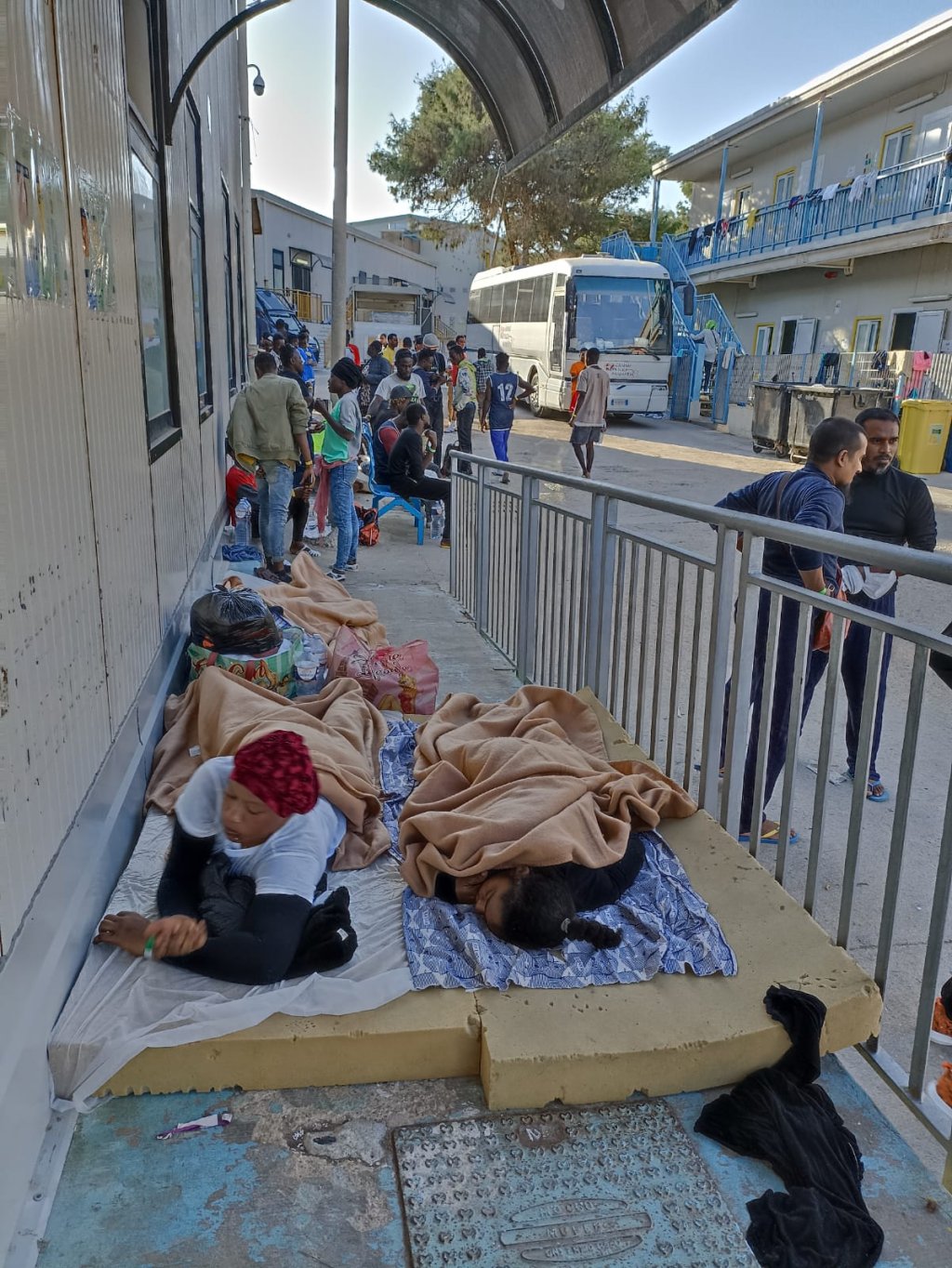 On Tuesday, La Sicilia and the Italian news agency ANSA reported that the Italian government was "ready to declare a state of emergency" due to the high number of arrivals in the southern half of the country.
State of emergency?
Also on Tuesday, Italy's Interior Minister Matteo Piantedosi met with Minister for Civil Protection and Sea Policies Nello Musumeci, a former governor of Sicily and a Sicilian himself. A ministerial meeting was due to take place later on Tuesday.
At the time of writing, nothing official had been released, but Musumeci told Italy's national broadcaster Rai on the morning program Radio Anch'io that the possibility of declaring a state of emergency was "quite probable."
He said he had already been "sounding the alarm for weeks" and that the situation was "unlikely to end for at least the next ten years." He said it was "weighing heavily" and that something needed to be done.
Musumeci added that things had not been so bad in the past and that the south of Italy could not be left alone to confront "these emergency conditions" alone.
Also on Tuesday, spokespeople at the port of Catania told La Sicilia they were busy constructing giant tent-like structures to accommodate the almost 700 migrants expected to arrive there in coming days.
The local Civil Protection Agency in Sicily said it started work on the 12x24-meter tents on Monday.
Over 100 people, including women and children, have already been accommodated in the tents, reported La Sicilia.
That group had already been rescued by the Peluso ship from the 800-passenger boat near Siracusa.
As soon as the first 100 or so migrants had been disembarked in Catania, said La Sicilia, the Peluso coast guard vessel headed back out to help the remaining 700 or so migrants on board. They are expected to arrive in Catania on Tuesday night.