A recent wave of deportations of Syrians from Lebanon is causing people to live in fear of leaving their houses, Amnesty International claims.
The Lebanese army has been rounding up Syrian refugees and deporting them in growing numbers, the international human rights group Amnesty International said this week. In a statement on Monday (April 24), the group said dozens of Syrians had been forcibly returned by Lebanese authorities, despite warnings that the refugees were at risk of torture or persecution by government forces on their return.
Describing the situation as 'alarming', the London-based rights organization called for an immediate stop to the deportations.
Raids in Syrian communities
Across Lebanon, including in Bourj Hammoud in Beirut, Amnesty claims that armed forces last week raided houses occupied by Syrian families. Dozens of those who had entered Lebanon without documents or whose residency cards had expired were deported.
Nearly 830,000 Syrian refugees in Lebanon are registered with the UN refugee agency, UNHCR, according to AFP. A UN spokesperson confirmed Tuesday that they had observed an increasing trend in raids taking place in Syrian communities, specifically in the areas of Mount Lebanon and North Lebanon.
"So far in April, UNHCR has been made aware of at least thirteen confirmed raids," they told InfoMigrants by email.
The spokesperson added that the agency had also received reports of Syrians being detained and subsequently deported, "including refugees who are known and registered with UNHCR."
Registered refugees among deportees
"UNHCR takes reports of deportations of Syrian refugees very seriously and is following up on this with relevant stakeholders," the spokesperson said. 
Some actions reported to have been carried out by Lebanese authorities since the beginning of April, if confirmed, could amount to grave violations of the rights of Syrian refugees. They include summary group deportations, hundreds of arrests and cases of family separation involving minors.
Mohammed, a Syrian refugee in Lebanon whose brother was deported, told Amnesty that there were many registered refugees among those who had been sent back. He said the Lebanese authorities had driven the refugees straight to the border and handed them over to the Syrian army.
According to Mohammed, his brother is wanted by the Syrian government for evading military service. In wartime, draft evasion in Syria is a criminal offense – instead of prison, however, draft evaders are usually sent directly to the military.
Also read: Denmark's declaration of parts of Syria as 'safe' is dangerous for refugees
9 out of 10 refugees living in poverty
After the civil conflict began in Syria in 2011, hundreds of thousands of Syrians fled to neighboring Lebanon, which now hosts the largest number of refugees per capita in the world. The government estimates 1.5 million Syrian refugees and around 12,000 refugees of other nationalities are currently living in the country.
As a result of a socio-economic crisis, the COVID-19 pandemic and other problems, nine out of ten Syrians in Lebanon are living in extreme poverty, according to UNHCR.
In addition, public and political antipathy towards Syrians in Lebanon has been mounting, and authorities have been pushing for their return. Human rights groups say that several repatriation efforts to Syria described by authorities as voluntary were, in reality, forced returns.
Increasing numbers of refugees from Syria and elsewhere, as well as Lebanese nationals, have been attempting to leave the country via the Mediterranean Sea, often with tragic consequences.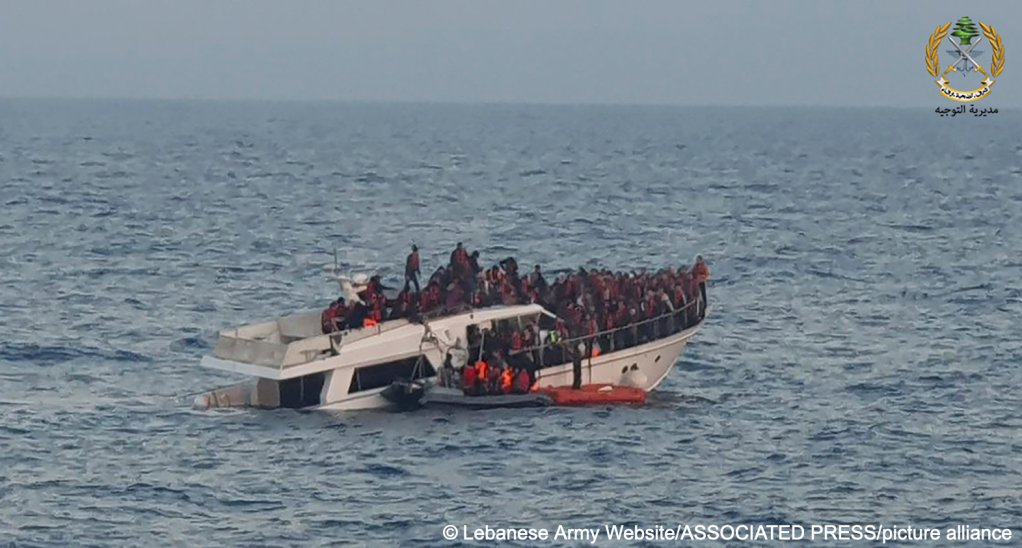 Risk of refoulement
"No refugee should be sent back to a place where their life will be at risk," said Amnesty's deputy director for the Middle East and North Africa, Aya Majzoub.
Majzoub told AFP that the deportations constituted a violation of the principle of non-refoulement, which is the forced return of people to a country where they are likely to face persecution.
"Instead of living in fear after escaping atrocities in Syria, refugees living in Lebanon should be protected from arbitrary raids and unlawful deportations," she said.
Amnesty also called for all those at risk of deportation to be given access to legal advice and support, to meet with the UNHCR, and to challenge their deportation in court.
In response to a question from InfoMigrants, UNHCR said it "continues to advocate for the respect of principles of international law and ensure that refugees in Lebanon are protected from refoulement."
With AFP