A French court has ordered a stop to the clearance of a slum in the Indian Ocean island of Mayotte. But an operation to remove irregular migrants from the territory is continuing.
The government operation, called Wuambushu ('take back' in the local language) is said to be aimed at improving living conditions for local residents of Mayotte, a French overseas territory northwest of Madagascar.
On Tuesday (April 25) the court in Mayotte's main city of Mamaudzou issued a last-minute order stopping the clearance of one of the slums in the area of Koungou, saying the action had no legal foundation and threatened public liberties.
The French interior minister, Gerald Darmanin, confirmed that an appeal against the court order had been lodged by the local administration. "The operation carried out in Mayotte is for the restoration of republican peace. It is a difficult but extremely determined action," he said.
Residents of one slum area said they were happy that the court had ordered a halt to the evacuation. "I am overjoyed, we went to court and we won," 33-year-old Mdohoma Hadja told journalists from the AFP news agency.
Actions by local police elsewhere on the island continued on Tuesday as a video, reposted on Twitter by the interior minister, showed officers with armored vehicles and wearing riot gear in what appeared to be slum clearances. 
Police 'everywhere' on the island
The prefecture of Mayotte announced that two people had been arrested in connection with rioting on Monday night.
InfoMigrants' correspondent in Mayotte, Romain Philips, says police remain "everywhere on the island," and that undocumented migrants are hiding to avoid being deported.
One migrant, who has already been expelled four times, said that every Comorian in Mayotte lives in fear of being sent back.
Another Comorian man, Hardi*, told InfoMigrants that the gendarmes were everywhere around his house. "I only go out when I have to, more around noon when everything is calm," he said.
AFP also observed violent clashes between protesters and police outside slums on Tuesday. The French newspaper Le Monde said security forces had fired 650 tear gas canisters, 85 non-lethal grenades and 60 blast balls (stun grenades that usually release pepper gas or tear gas) during the unrest, according to AFP on Tuesday.
The deputy head of the Mayotte regional council, Salime Mdere, reportedly referred to those targeted in the police operation as "thugs and terrorists" who should "at some point perhaps be killed," prompting accusations of illegally inciting hatred, violence, or discrimination. He subsequently apologized for the comments.
Also read: French territory Mayotte plans to demolish slums and deport migrants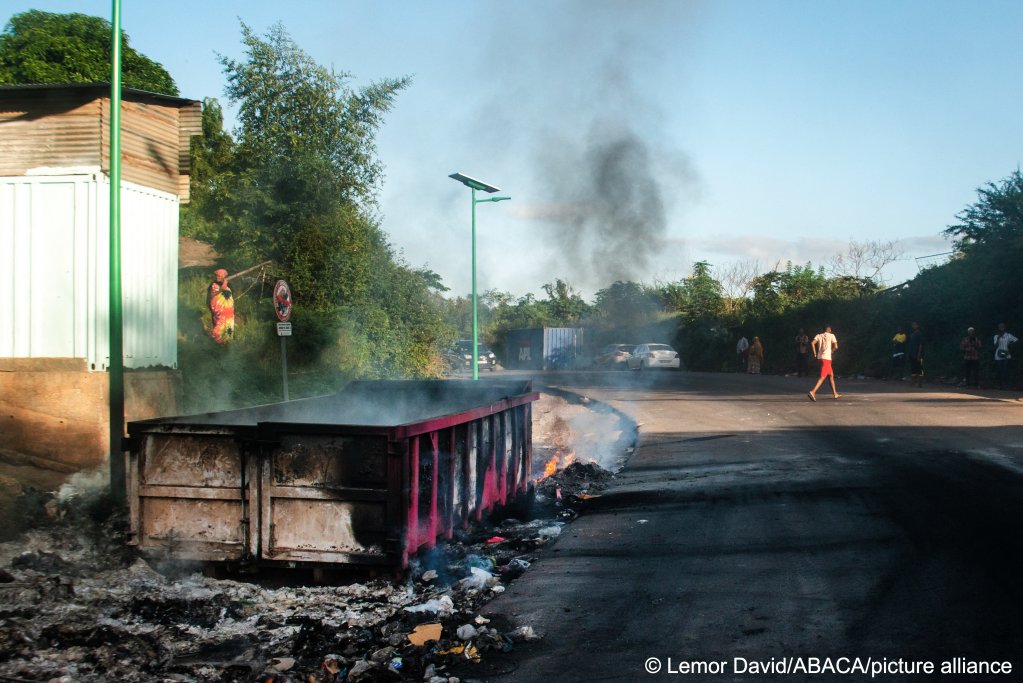 Families fear separation
The French territory of Mayotte in the Indian Ocean lies to the southeast of Comoros which became independent of France in the 1970s. Migrants from African countries, especially Comoros, attempt to reach Mayotte irregularly every year. Many boat crossings end in tragedy when the small boats commonly used – called kwassa kwassa – become shipwrecked. Around half of Mayotte's population of around 350,000 is estimated to be foreign, most of them Comorian.
Among those fearing deportation are Comorian citizens whose children were born in Mayotte and cannot therefore be expelled. Parents are thus deported without their children, resulting in separation of families and as many as 4,000 unaccompanied minors on the island, according to the French interior ministry.
The French government wants all those without papers who can be deported to be sent back to the Comorian island of Anjouan, around 70 kilometers away. The most senior official on Mayotte appointed by France, Thierry Suquet, said he hoped deportations would "quickly resume" and that the unrest would be resolved through "dialogue", AFP reports.
Negotiations between Comoros and France in recent weeks had raised hopes of a solution. But the Comorian president, Azali Assoumani, said he wanted the operation to be abandoned.
Residents of Mayotte, meanwhile, are reported to be mostly supportive of the expulsions of migrants, whom they blame for creating "insecurity" on the island.
*Name changed
With AFP