Thousands of people in Sudan continue to flee violence in the country. But many of them – including thousands of Syrian nationals – are finding themselves with nowhere to turn, having come to Sudan seeking safety from conflicts in their own countries.
Fighting has been continuing in Sudan despite an in-principle agreement on a seven-day ceasefire. According to official figures, at least 528 people have been killed and nearly 4,600 injured since the conflict began more than two weeks ago.
In that time, tens of thousands of Sudanese and foreign nationals have fled to neighboring countries, mainly to Chad. But millions more remain trapped in Sudan.
The UN's head of humanitarian affairs Martin Griffiths arrived in Port Sudan on Wednesday to seek ways to bring relief to those unable to flee.
Read more: Sudan updates: UN says conflict may trigger refugee crisis
Over a million refugees in Sudan
Sudan itself is already host to more than a million refugees, mostly from South Sudan, Eritrea and Ethiopia.
But there are also other nationalities who ended up in Sudan, including more than 66,000 Syrians, as Sudan had relatively easy entry requirements for Syrians seeking safety after their own country collapsed into civil conflict in 2011.
One of them is Radwan Hisham Wahba, who fled Syria for Sudan in 2012 in the hope of building a new life. He now fears for his life once more in his adopted home, he told the Reuters news agency.
'Wherever a Syrian goes he will live through war'
Days after escaping the violence in the Sudanese capital, Wahba finds himself on the streets of Port Sudan on the Red Sea Coast, hoping to get a passage out to safety.
"Let's just say that wherever the Syrian goes he will live through war," said Wahba, who originally comes from Zamalka near Damascus.
"You can't imagine what it was like for civilians and foreigners alike. Everyone was under indiscriminate bombardment. Rockets were fired, and you didn't know where they would land," he said of the situation into capital Khartoum.
Another Syrian, 45-year-old Sham al-Darzi, explained how she, her two sons and her pregnant daughter had sheltered at home for a week before finally escaping: "We were very afraid because of the shelling and clashes, and the lack of electricity and water," she told Reuters.
Mahmoud Suweidan is yet another Syrian stuck in Sudan. He left Syria only last year and headed to East Africa looking for work.
"When we came to Sudan we expected there to be psychological comfort. That we could at least work and establish a new life," he said.
"But the war that happened here was a great shock."
Too afraid to return
The fighting in Syria has died down in parts, but the country remains divided between government, opposition and Kurdish-controlled zones. Darzi, along with some other Syrians Reuters spoke to, remains unwilling to go back amid this power struggle.
Having left her home in al-Kiswah south of Damascus in 2013, she is afraid that her sons will be conscripted into the military if they return. Many Syrians say they also fear reprisals for having supported the 'wrong' side of the conflict.
Darzi meanwhile also complained to Reuters that Syrian nationals had been abandoned while citizens of other countries had been airlifted to safety.
"All countries evacuate their nationals except the Syrians. No one cares about us," she said.
Few options to leave
Some Syrians, however, were among those evacuated in recent days. For instance, Saudi Arabian state media reported that the Saudi navy flew some Syrian nationals to the Saudi city of Jeddah last week.
Syria's Chams airline meanwhile said it was running two flights from Port Sudan to Syria on Tuesday and Wednesday.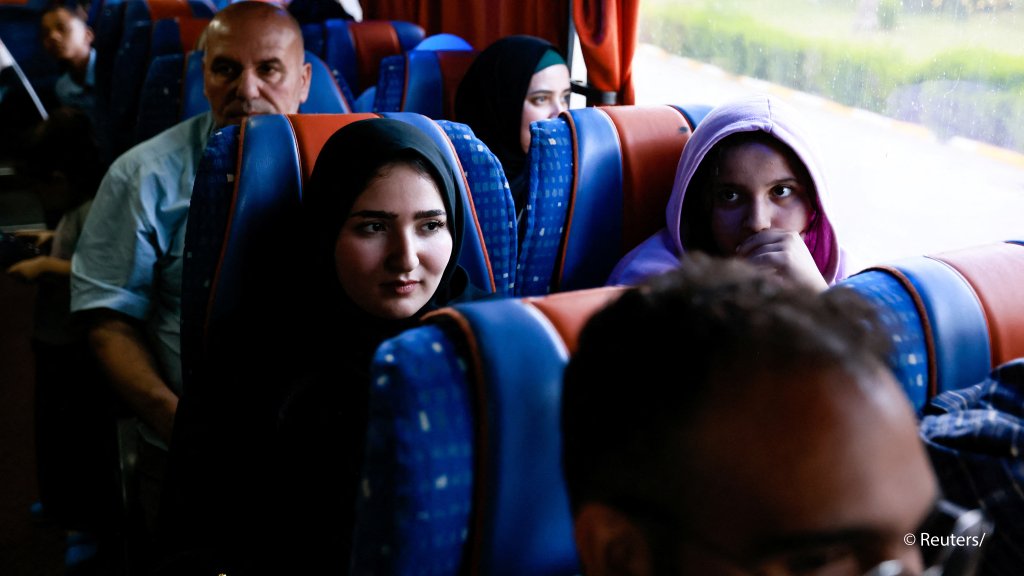 Stuck in Port Sudan
But most Syrians have so far remained stuck in Port Sudan where, like Darzi and Wahba, they find themselves having to sleep rough: "Women have nowhere to shower, there are children, diabetic people, others with hearing impairments, and pregnant women," Wahba explained.
With people flooding to the city from Khartoum prices have risen, and landlords are now said to be asking as much as $83 (€75) a night for an apartment. Still, countless Syrians continue to head to Port Sudan in hope of finding safety elsewhere. 
"It took us four and a half hours from Khartoum just to reach Madani [a town located not far from the capital] because of all he different checkpoints, the damaged roads and the burning tanks on each side of the road," Suweidan said, adding that later it took him 36 hours in total to drive the 800 kilometers to Port Sudan, despite the fact that he was in a rush.
Suweidan said he had heard a story that at one checkpoint, a Syrian man was killed after having an argument with the men posted there -- a fate he wanted to avoid.
With Reuters and AFP