UK media reported earlier this week that the government might be about to announce a deal whereby they house migrants and asylum seekers on cruise ships while processing their claims. InfoMigrants checked with the port company and council mentioned in the reported plans.
As the British government's Illegal Immigration Bill continues to make its way through parliament, the question of where to house migrants and asylum seekers while their claims and status are being processed has returned to the headlines.
Earlier this week, various UK media reports, including in The Guardian, said that the UK Home Secretary (Interior Minister) Suella Braverman might be about to announce a deal to house migrants and asylum seekers who cross the Channel in small boats on cruise ships in various ports around the UK.
One of the ports mentioned was on the river Mersey, not far from the city of Liverpool in north-west England. The port in question is run by the company Peel Ports. InfoMigrants approached Peel Ports about any potential deal and were sent a written statement by their media company Big Partnership.
No deal confirmed, yet
In it, Peel Ports stated: "We have been clear from the outset that any agreement to accommodate a vessel for refugees in Birkenhead [on the river Mersey, near Liverpool] will require the willing participation and full collaboration of local authorities."
Previously the company had berthed a ship that housed Ukraininan refugees in Glasgow. In a written statement, Peel Ports confirmed they had "seen this model work over the course of last year as we provided a berth for a vessel accommodating refugees in Glasgow. This was delivered with the full support of the local agencies working in partnership with the vessel's management and port operations."

According to Scottish media, the MS Ambition cruise ship provided a home to just over 1,000 Ukrainian refugees from September 2022 to the end of March 2023. The ship appears to be undergoing a refit at the moment and those who were still on board at the end of March were offered new homes around Scotland.
'You can meet people, you can share stories'
One of the former residents of the MS Ambition, Olena Klieschch, told Scotland's STV in February that she had found it an advantage living on board a ship with lots of other Ukrainians. "You can meet people, you can share stories, they can support you, you can support them."
However, she admitted the confined spaces on board a ship housing over 1,000 people was sometimes challenging. Klieschch has three children, a ten month old, a five year old and a 12 year old and said they had been sick on board the ship "for almost three months. There are many children in one space, in one room, you cannot really prevent this."
All in all, about 400 of those on board the MS Ambition were children, stated STV. Klieschch explained that leaving the ship for more than six days would forfeit your right to stay there, which made some of the challenges a little harder.
According to STV, another 1,100 Ukrainian refugees are also living on board the MS Victoria in Edinburgh. This ship is due to rehouse its residents at the end of June. The Scottish government promised that they would help all those on board find new accommodation, but when Klieschch spoke to STV in February, she hadn't yet received an offer of accommodation from the Scottish government's resettlement team.
Accommodation options mentioned in the House of Lords
Suella Braverman has not yet confirmed the reports that she is planning on pressing more cruise ships into action to house migrants and asylum seekers.
However, on May 3, the bill was debated in Parliament's upper house, the House of Lords. The Labour Lord David Blunkett, himself a former Home Secretary under Tony Blair's government, asked whether the government could confirm on which sites they were planning to house migrants entering Britain via the English Channel, migrants currently awaiting first determination on their asylum claim and migrants who have been refused their asylum claim on first determination; as well as migrants currently in hotels but designated for transfer to other accommodation.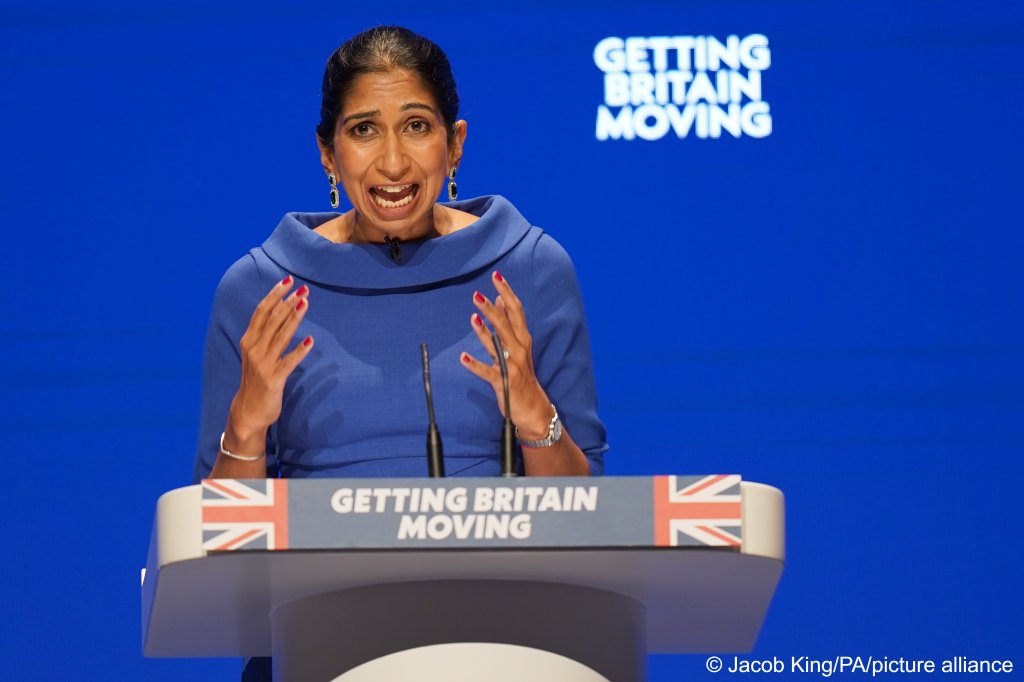 Lord Blunkett's query was answered by the Conservative peer Lord Murray of Blidworth. He listed the sites that have already been reported and confirmed by the government, including surplus military sites, a non-military site in East Sussex, "a further military site at Catterick garrison for asylum accommodation, alongside an acccommodation barge in Portland Port in Dorset." Lord Murray of Blidworth added that they are also "developing immigration removal centers at Haslar and Campsfield."
According to the record on Hansard, which provides official records of debates and speeches in the UK parliament, there was no discussion about cruise ships in particular. However, the cross-bench peer Lord Carlile of Beriew asked whether the government intended to stay "in compliance with current UK law and current UK international treaty obligations?"
Lord Murray of Blidworth replied that "the Government will always obey the domestic law."
Opposition in Dorset to the accommodation barge
InfoMigrants approached local authorities on the Wirral for comment about reports that the government may be seeking to house asylum seekers on board a cruise ship in their area. They replied in a written statement by email on May 3. It read: "Wirral is a welcoming place, with a compassionate community that has a track record of supporting anyone forced to flee their homelands due to conflict."
Nevertheless, they say they object to the reported plans. They continued: "[w]e have written to the Home Office setting out our objection to these plans as they stand due to a wide range of significant concerns and challenges the council, partner agencies and the local community would face should an operation of this nature and sheer scale be progressed in Wirral. We have not received a formal response to those concerns as yet."
Opposition is also forthcoming from a similar project in Dorset. There the local Conservative MP, where the Bibby Stockholm is due to house around 500 asylum seekers on board an accommodation barge expressed his opposition to the plan once again in the House of Commons towards the end of April.
On April 26, MP Richard Drax raised numerous questions related to the issue, including who would monitor the young men on the barge, and whether "cultural differences have been taken into account" with the summer coming and the advent of "families and young people" on the beaches around Dorset where the barge will be berthed.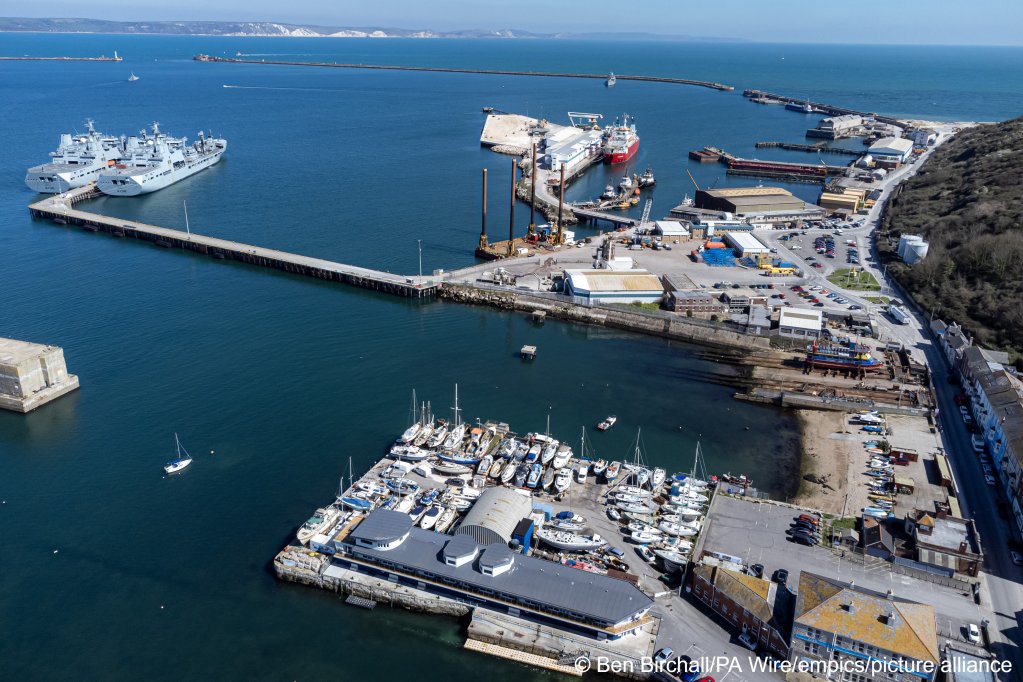 He said he had put these questions to Home Office officials and the Home Secretary and had so far received one reply from the Home Secretary: "The site [in Dorset] is self contained, although those living at the site would be free to come and go. If an asylum seeker were not back on site by 11pm, the team would make a call to check on their welfare. This would not be under curfew conditions; it would be based on following up on the safety and welfare of the individual."
'An unholy mess'
Drax added that he found it "disappointing that there was an absence of community or stakeholder consultation prior to the site proposal being launched and I note the impact upon public trust and confidence resulting from that omission."
Drax said that members of his constituency, like hoteliers, and other small coastal businesses "rely almost entirely on the summer for their revenue. As far as I know, no thought –there is certainly no evidence of it-- has been given to the impact that a large influx of migrants might have on them."
Dorset Council, Drax said, have stated clearly that they oppose the plan, but they had been told the contract signed with the port authorities was for 18-months and withdrawing now would be considered "a breach of contract."
Drax added that he thought it was clear "that the Home Office made its decision before consulting with anyone other than the port." He called the whole initiative "an unholy mess," and concluded that "placing more barges in sensitive ports such as mine is certainly not the answer."