The Tunisian authorities said they recovered the bodies of 14 migrants in the space of 24 hours off the coast of the country. Flavio Di Giacomo of the UN migration agency has warned that more migrants are attempting the journey in precarious metal boats, making the crossing even more dangerous.
On Monday (May 8), the Tunisian authorities said they had recovered the bodies of 14 migrants in the space of about 24 hours.
It is not clear whether there was a boat accident in the same period, or whether these people had all been traveling on the same boat, reported the German news agency dpa.
Also on Monday, crew from the private rescue ship Nadir, operated by the sea rescue organization ResQship, reported that at least three people were dead after they rescued 38 people from the water after their boat broke up south-east of Lampedusa. The migrants rescued had left from the Tunisian port of Sfax, reported the French news agency AFP.
In recent weeks, the number of bodies found on the route between Tunisia and Europe has increased. "This didn't use to be such a deadly route," Flavio di Giacomo, a spokesperson at the UN Migration Agency IOM Italy, told InfoMigrants in a telephone interview on Monday.
🎧 Also listen: Tales from the Border podcast in Sicily
Arrivals in Lampedusa
Di Giacomo has recently returned from a trip to Lampedusa, where he met many of the migrants who did manage to make it to Italy, and also witnessed bodies arriving on boats among the living.
On May 5, Di Giacomo posted on his Twitter page: "Another boat arrives, another body. The second this morning. Today is a terrible day on Lampedusa." Earlier in the day, he wrote about a Guinean woman who had died during the crossing from Tunisia. According to Di Giacomo, "she was traveling with other 46 people (all safe) on a fragile iron boat that capsized when rescuers were arriving."
Di Giacomo added "the Tunisian route is becoming increasingly lethal for migrants."
More than 800 people have already died on the Central Mediterranean route since the beginning of 2023. Di Giacomo told InfoMigrants that according to local NGOs, and from talking to migrants who have attempted the route, the figure is probably much higher.
Deaths rising
One of the reasons for the rise in the number of deaths on this route is the rise in the numbers attempting it, Di Giacomo said.
Another reason is that recently, many sub-Saharan African migrants attempting to leave Tunisia have been offered metal boats for their journey.
These metal boats, explained Di Giacomo, are being produced cheaply and soldered together. They are not even as seaworthy as the wooden fishing boats that were previously used on the Tunisian route, or the motorboats that Tunisian migrants leaving Tunisia tend to favor. Discrimination, explained Di Giacomo to InfoMigrants, is even present in the choice of boat someone is offered, and or, can afford for the journey.
Often, says Di Giacomo, the soldering of the boats is so badly done that the boats will start to take in water, or will begin to crack as the journey progresses, particularly with the force of the waves.
The boats are also so unstable, Di Giacomo explained, that if anyone moves during the voyage for any reason, or are shaken around by the waves, the whole boat can take on water and capsize much more easily than the boats that used to be used. Here he retweeted a picture of the kinds of metal boats he is talking about where you can clearly see roughly soldered seams.
Also read: Scores of migrants drowned off Tunisian and Libyan coasts
More patrols needed on Tunisian route
Finally, because there are fewer NGOs in operation on the Tunisian route in general, the boats that do make it towards Italy have to wait much longer to be rescued, which means that there is more time for the boats to break apart or take on water and for disaster to strike for their occupants, Di Giacomo explained.
Previously, most NGOs patrolled the Libyan route, since that used to be where the majority of migrants embarked. Furthermore, there is no longer a European-led patrol operation like Operation Sophia, which existed in 2016 and 2017 when similar numbers of migrants crossed to Italy.
Di Giacomo called for more NGO boats to turn their attention to this part of the Central Mediterranean in order to prevent further loss of life.
Di Giacomo added that he had also heard that there were some people, masquerading as fisherfolk, who come and steel the engines from the metal boats when the migrants are half-way or more towards Lampedusa, thus leaving them at the mercy of currents and the drift of the sea, and even more in need of being rescued. However, he also said it wasn't clear from migrant accounts whether they really were working as fishermen, or who they really were.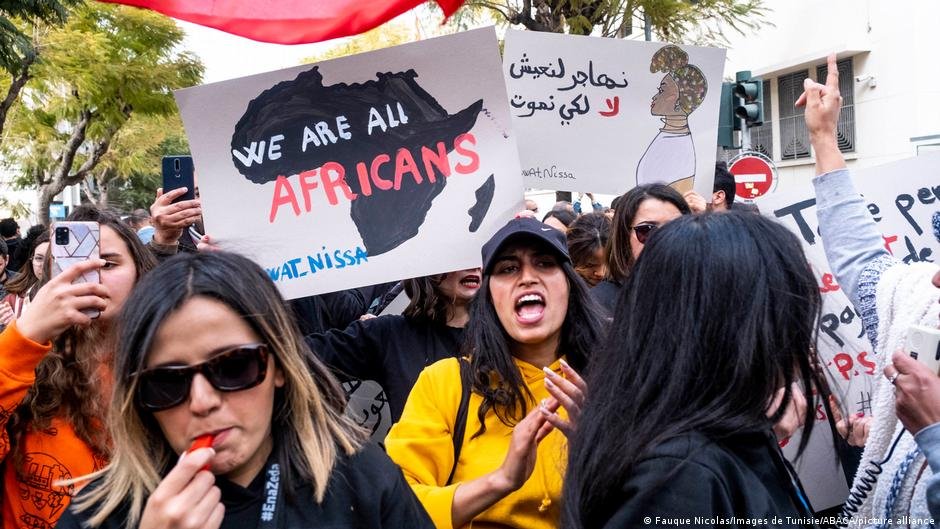 Pushed out of Tunisia
At least 51% of migrants arriving in Italy are thought to embark from Tunisia, according to the UN Refugee Agency (UNHCR).
Di Giacomo told InfoMigrants that many of the migrants he spoke to on Lampedusa last week had been previously living in Tunisia for two or four years, or more, and had not previously thought of Europe as their final destination.
Political, social and economic problems in Tunisia have meant more migrants who might have hoped previously to work in Tunisia and had seen it as a destination country, are now being 'pushed' towards seeking better opportunities in Europe.
Rising discrimination is another factor pushing migrants out of the country. Tunisian President Kais Saied made discriminatory remarks towards sub-Saharan African migrants in the country in February this year and has announced tough crackdowns on them, accusing them of bringing violence and crime to the country. His words also prompted an increase in hostile behavior and racist attacks on sub-Saharan African migrants in the country, reported local NGOs and media.
Last week, the news agency Reuters reported that Tunisia was facing an "unprecedented crisis as hundreds of bodies wash ashore."
The numbers that the authorities have been recovering, reported Reuters, are "filling morgues." The Tunisian coast guard told Reuters that it had stopped 17,000 migrants from reaching Italy in the first four months of 2023, compared to 3,000 in the same period in 2022.
With dpa, AFP, Reuters