A fire has reportedly destroyed much of a makeshift migrant camp in Dublin on Friday night. The informal structure had attracted a great deal of criticism in recent days, with protests resulting in repeated scenes of violence.
The group of about ten homeless asylum seekers had set up camp in an area of central Dublin close to the International Protection Office in early May -- to the dismay of locals, who mounted repeated protests against their presence there in recent days. Police (Garda) had to be called to the location on Upper Sandwith Street to keep the situation under control several times.
Crowds of demonstrators belonging to pro and anti-migrant groups faced each other off for hours in the impoverished neighborhood last Thursday (May 11) already, with some violent scenes being reported from the area that day already, according to investigators.
Videos posted on social media showed clashes on Thursday night between migrants in tents and locals seen as attacking them. According to local sources, at least two people were injured on Thursday. 
"Gardaí are aware of footage being circulated on social media which occurred in the Sandwith Street area and an investigation into this incident is being carried out," a statement read.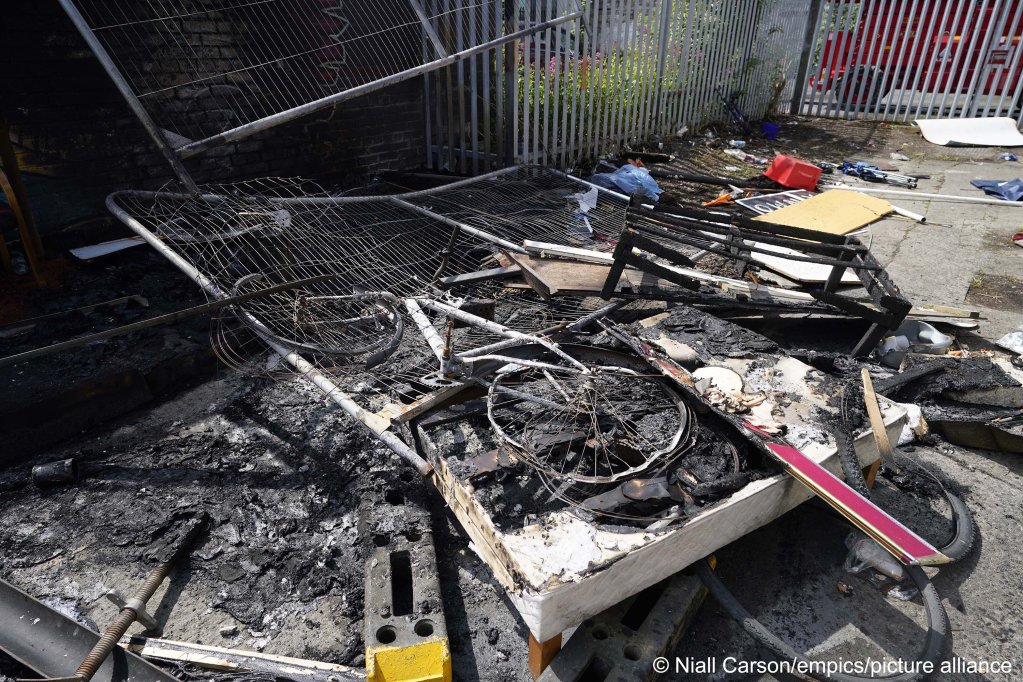 Read more: Ireland: Protests and new policy proposals place focus on migration
Protests for several days
Tensions threatened to escalate for a second night on Friday, with local media reporting that Gardai had to keep the crowds from attacking each other into the late hours.
Anti-migrant demonstrators taking part in the protest were reported as being mostly male. Many of them wore face coverings to disguise their identities, as the scene grew bigger, drawing in onlookers from the neighborhood.
The pro-migrant side meanwhile built a "human wall" to try to stop authorities from breaking up their protest, and also to protect migrants and refugees from falling victim to acts of violence again.
With the frontlines between the two opposing camps increasingly hardened in the course of the second day of protest, it reportedly took increased effort to reason with both sides to bring the demo and counter-demo to an end.
Read more: Ireland: Visa requirement for refugees changes
Fire likely to have destroyed everything
According to reports in the Irish Times daily newspaper, at some point after the demo had ended, emergency services were called to the scene after reports of a fire.
It was unclear initially how extensive the damage cause by the blaze was, but a video posted on social media seemed to show the entire camp essentially as destroyed.
Although the exact cause of the fire has not been publicly acknowledged yet as an act of vandalism or arson, Ireland's Taoiseach (Prime Minister) Leo Varadkar characterized the blaze as an act of "malign opportunism" following the protests, as quoted by the British Daily Telegraph newspaper.
The makeshift migrant camp was set up about two weeks earlier, according to reports in the Irish Times.
According to local homeless outreach services, the migrants had decided to move to the area for safety reasons after witnessing intimidating behaviour from passersby at an earlier nearby location.
Housing crisis dressed up a migration issue
The scene on Upper Sandwith Street has become the latest focal point of growing anti-immigrant hostility in the country, as a dramatic housing shortage in Ireland is leaving many locals squeezed out of the property and rental markets alike. 
Ireland's Department of Integration is currently unable to provide shelter to more than 550 asylum seekers, and "significant numbers of asylum seekers" are sleeping rough in Dublin, many of them in tents, reported the Irish Times.
The issue has become politicized as the major parties in the country are taking varying positions on how to address the migrant situation.
Mannix Flynn, an Independent councillor representing the south-east inner city, where Upper Sandwith Street is located, called for more "balance" in any approach, stressing that those living in the camp needed to be to be "protected."
Elizabeth Watson, a local representative for the Republican Party (Fianna Fáil), said the local community was "concerned" about the camp.
People across Ireland, however, are increasingly wondering if they should accept refugees and migrants when their own people are perceived as being failed by the government amid the housing crisis.
Read more: How Ireland's housing crisis affects refugees and migrants