Mold and rats are allegedly plaguing several accommodation centers for asylum seekers in a German city near Cologne. That's according to media reports citing complaints by refugees living there.
"Where we are staying, you can't take a shower; there is only one shower, which is clean."
Mohamad A. from Syria has been living in a refugee accommodation in the western German city of Pulheim for half a year -- under appalling living conditions, he told public broadcaster wdr.de.
Aside from severe mold in the showers, a bad odor that permeates the facility means he can hardly sleep, he says. "I am one of those people who suffer from bad smell," Mohamad A. told wdr.de which published several current pictures provided by the residents that allegedly show mold inside the facility.
Another problem, which is reportedly known to the city, is a proliferation of rats around the facilities. Time and again, they also enter the living quarters of the residents. According to wdr.de citing city officials, an exterminator has been addressing the problem.
Moreover, the handling of garbage and leftover food is regularly discussed with the refugees, wdr.de reported.
Also read: Germany: Finding housing as a refugee – an obstacle course
Four men sharing a small room
According to wdr.de, Mohamad A. shares a room with three other people in one of Pulheim's accommodation centers for asylum seekers. Currently, 740 people seeking protection are staying in housing provided by the city, which is home to more than 50,000 people.
According to a member of refugee aid initiative 'Pulheim helps' who reportedly pays daily vitis to the facilities, the volunteers of the NGO have been calling for a replacement, or, at a minimum, a reconstruction of some of the very old buildings for years.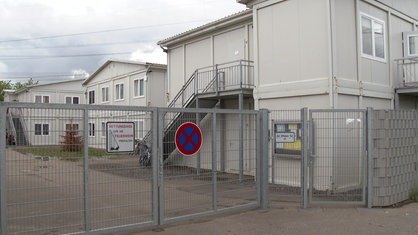 While there are concrete plans for new buildings, the implementation and repairs will take time, wdr.de reported citing city officials.
The 'Pulheim helps' volunteer acknowledges that some of the residents contribute to the conditions. At the same time, he says it's understandable given their psychological state.
"There are refugees who arrive traumatized and then are disappointed by what they experience here and don't feel like putting themselves out there anymore," he told wdr.de.
Many small and large municipalities across Germany have been struggling to house the large number of refugees and asylum seekers who continue to arrive in Germany from Ukraine and third countries. Last week, the federal government gave in to demands from the states to pay more towards supporting the rising number of refugees.
with WDR