Just days after a makeshift migrant camp was dismantled by protestors, another tiny tent camp has sprouted outside the International Protection Office (IPO) in the Irish capital Dublin. Meanwhile protests continue across the country as a rise in migrants coincides with a lack of suitable homes for all.
Mohammed* fled Afghanistan hoping to find a "safe place to rest and the possibility of work," he told the Thomson Reuters Foundation. But upon arrival in Dublin, he found himself homeless. After several days, Mohammed found a place at a center for asylum seekers, Citywest, on the outskirts of the city. There he joined a queue of about 200 other asylum seekers waiting to be housed.
"We are all brown and black people, from places like Afghanistan and Syria," said Mohammed. According to Thomson Reuters, there are about 17,500 asylum seekers waiting for their claims to be processed in Ireland. About two thirds of those have basic accommodation. A third of them are assigned to hotels -- at a reported cost of €166 million per year.
The line of tiny tents perched at the side of the road outside the Irish Government's International Protection Office (IPO) has grown from one single tent in March to tens of tents by May, reports left-leaning British newspaper the Guardian.
Protests against migrants and asylum seekers
More focus has been placed on these kinds of camps in Ireland recently as a series of protests concerning the nationwide lack of housing -- not just for migrants, refugees and asylum seekers, but for everyone living in Ireland as a whole -- have occurred across the country.
Also read: How Ireland's housing crisis affects refugees and migrants
Earlier in May, a small group of men, reportedly chanting slogans such as "Ireland for the Irish" and "You're not welcome here," attacked a small gathering of migrants sleeping in tents near Sandwith street. Some of the unoccupied tents were set on fire.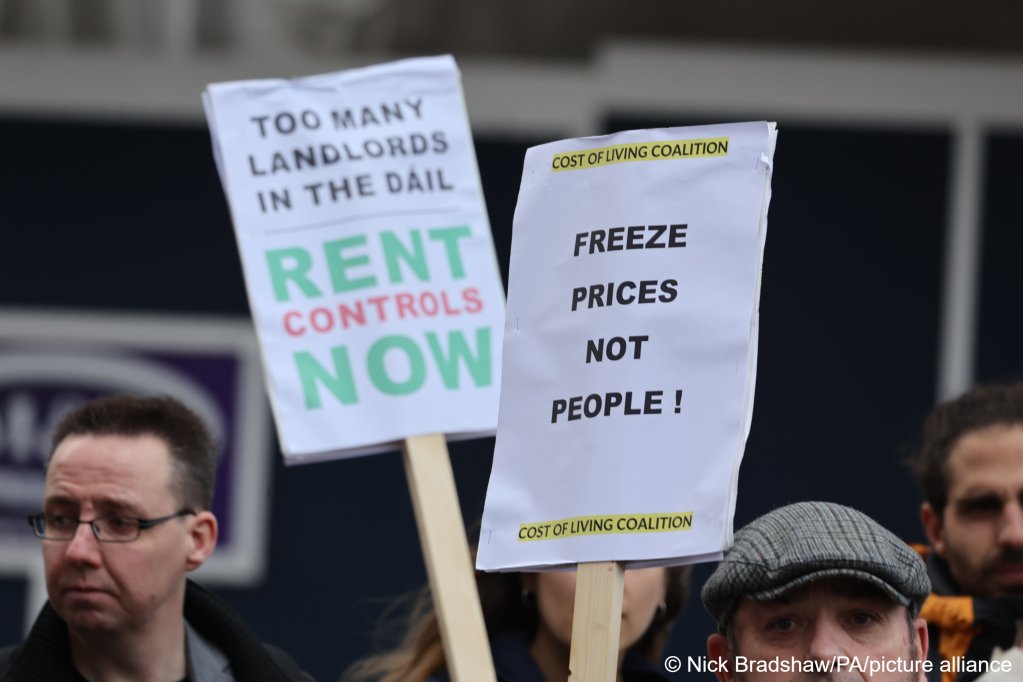 The Irish government, reports the Guardian, estimates the country is lacking at least 250,000 homes, causing a growing incidence of homelessness as the cost of living crisis bites. On top of general economic woes, Ireland took in more than 70,000 Ukrainians and registered a record number of asylum applications in 2022 -- around 13,650.
At least 500 asylum seekers are thought to be living on the streets, reports the Guardian. The housing problem was made even worse after the Irish government announced in March that they would be terminating the contracts they had held with various hotels in order to house asylum seekers and refugees in the country. The hoteliers, it was reported, wanted to use their premises for the summer tourist system and were keen to move asylum seekers out.
'It's my first time sleeping in a tent'
Most of those sleeping in tents outside the IPO are from sub-Saharan Africa, Iran and Iraq, according to the Guardian report. One 30-year-old from Zimbabwe told the newspaper, "it wasn't like I was expecting a mansion but I wasn't expecting this. It's my first time sleeping in a tent."
The man, calling himself Andile, said he was wearing thick socks to keep warm at night.
"If this is what it is, I'm fine as long as it's safe," he said.
Dublin isn't the only Irish city dealing with housing issues and related protests. Last week, a peaceful protest was held in the town of Inch in County Clare, where residents reportedly used tractors to block a road outside a center home to 33 male refugees.
Also read: Ireland, protests and new policy proposals place focus on migration
The Irish Times said that on the day of the protest, a bus had arrived carrying 34 male asylum seekers. The center, a former hotel complex, had capacity for up to 69 people. According to the Irish Times, "advance communication with local residents about this decision [to house asylum seekers in their small town] was sparse."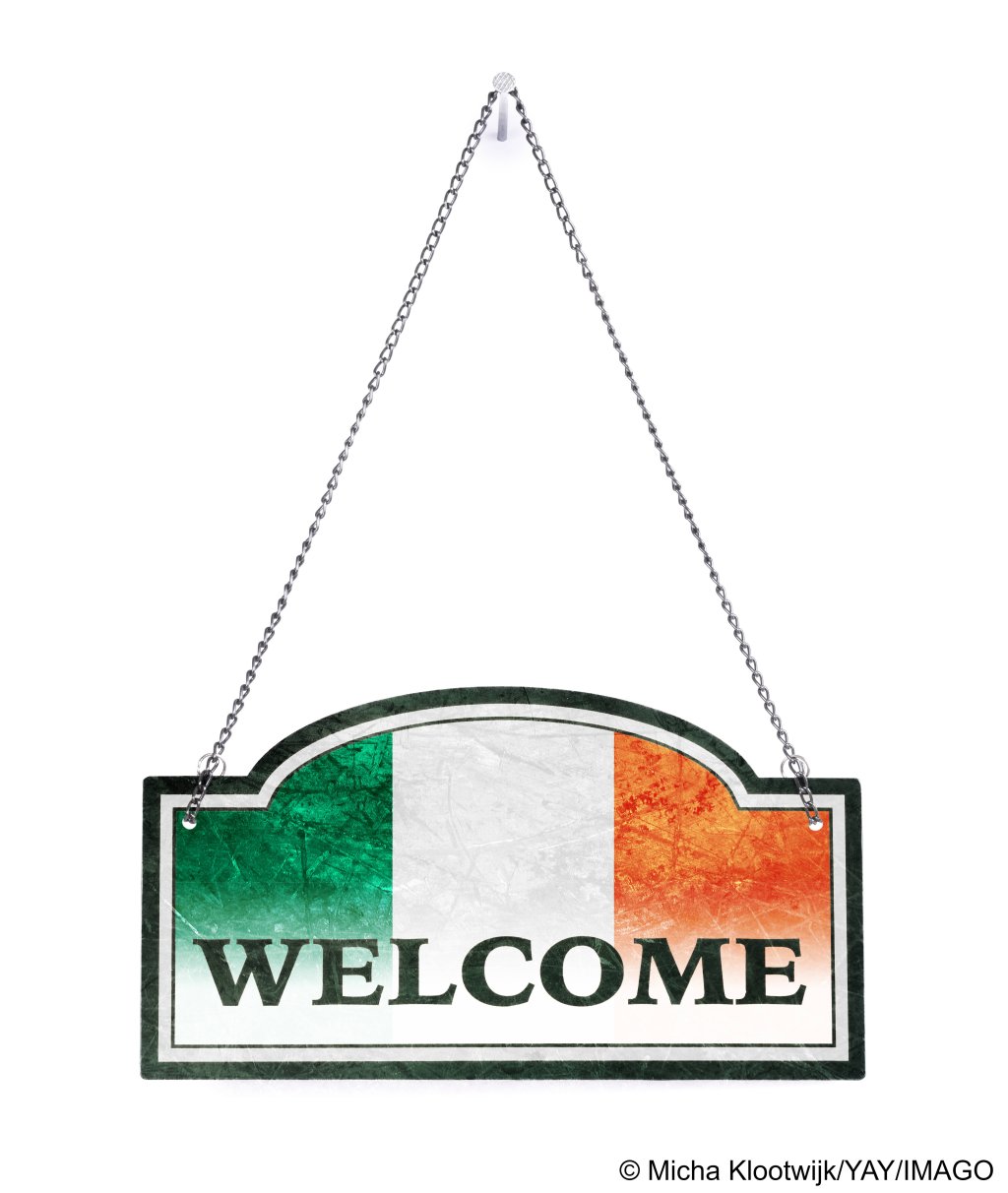 Local resident Clodagh Madden told the national broadcaster RTÉ that residents wouldn't have been so hostile if the group had been composed of families.
"If you said to me there were 30 families coming here with kids, mums and dads, I don't think there would be any barriers at all," Madden said. "I don't want anyone to think that we're here because we're hostile in any way. As a lady, I'd feel intimidated by 10 men standing in the roadside, or standing where I walk, at home, in my own town."
Feeling intimidated
On Tuesday, partly as a result of protests, the Irish Times reported that at least three of the asylum seekers -- two Syrians and one Palestinian -- had decided to leave to walk to the nearest train station in Ennis.
Local resident Martin Vernon heard about their departure and went to see if he could help. He told the Irish Times, that the three men appeared to be "very upset and frightened." They told him, "we are not staying here, we want to get back to Dublin."
The three men were sitting in Vernon's car to talk, reported the Irish Times. "Then they got a phone call from one of the other men back in Magowna [the hotel complex in Inch] to say they had to come back because if they didn't, their [asylum status] case would be closed, and they would have nowhere to stay if they went back to Dublin."
Vernon drove the three men back to Magowna and accompanied them to one of the hotel bungalows. "It seemed okay, maybe a little cramped, but it was clean," Vernon told the Irish Times. "For each room, there seemed to be four men. The rooms had showers," he added.
The men Vernon met at the hotel, he said, seemed to be Algerian, Congolese Nigerian, Palestinian, Somali and Afghan. He told the Irish Times they told him they felt "intimidated" by the people protesting on the road outside, and that all they wanted to do was find work and study English.
Irish Integration Minister: protests 'absolutely unacceptable'
By Wednesday, the group was bussed to another center. However, the Irish Times reported that Roderic O'Gorman, Ireland's Minister for Integration, said the government still intended to use Magowna as a center for asylum seekers, describing the blockade as "absolutely unacceptable."
Irish leader Taoiseach Leo Varadkar reportedly added that "nobody gets to say who can or cannot live in their area."
However, the Irish Times reported that the protesters remained at the blockade, manning the post in four-hour shifts. Protestor Cathal Nagle told the Irish Times: "What we hope to achieve is that the Government will reverse the decision they have made."
Another protester said he was worried the remoteness of Inch would lead the asylum seekers to grow bored in winter and, with nothing to do, "go wandering."
Squatted building
Back in Dublin last week, the Irish High Court granted the authorities an injunction to remove a group of 46 migrants who had taken over a building and were squatting in it. The structure had lain empty for three years, according to the Irish Times, and was marked for redevelopment to house elderly people.
Padraig Drummond, CEO of Streetlink Homeless Support, a charity working with the migrants, said in court that he had been in contact with Minister O'Gorman to try and seek a protection order for the migrants to stay there given the context of protests about their presence in other parts of the country. They posted a picture of the property on their Twitter page.
Drummond told the Irish Times he was "seeking an amicable resolution for the 46 people there who are in 20 apartments and they are comfortable there."
On Tuesday (May 23) the Irish Times reported that the Irish police have been facing abuse when dealing with anti-migrant protesters.
Commissioner Drew Harris said the police had to take a "strategic and long-term approach" to protesters in order to avoid creating a "well of bad feeling" against migrants and asylum seekers.
Streetlink Homeless Support charity said it too had been the subject of abuse from anti-migrant protesters recently. According to the European broadcaster Euronews, Drummond said he received a number of missed calls on May 13 from someone swearing and spamming him after the charity had tried helping people at the Sandwith Street camp.
'Missiles struck the vehicle'
Streetlink also reported on Facebook that their "outreach vehicle was blocked from leaving the area with the belongings of the homeless; while it was blocked from leaving, our volunteers were verbally abused, the vehicle doors kicked, and missiles struck the vehicle."
Similar to the claims of protesters in Inch, Drummond confirmed that the authorities were not always doing enough to consult with local communities before they moved asylum seekers and migrants into an area.
Also read: Thousands apply for regularization scheme before deadline closes
Drummond told Euronews he felt the authorities needed to "engage with the community so they can discuss with their neighbors what's going on."
'Marked difference' between treatment of Ukrainians and others
Migrant and refugee support organization Nasc told Thomson Reuters the difference in treatment in Ireland between Ukrainians and asylum seekers from other countries was also problematic. Fiona Hurley, Nasc's chief executive, said there were "marked differences in access to healthcare, labor and education between Ukrainians with temporary protection and asylum seekers in Ireland."
Also read: Dublin sets up center to welcome Ukrainians fleeing war
Nick Henderson at the Irish Refugee Council, another NGO, told Thomson Reuters, however, that the migration process is bureaucratically difficult even for the Ukrainians.
Some, Henderson said, have been forced to move several times when hotel contracts ended and thousands are not fully registered. Henderson said the Irish government should try and learn from the speed with which they put the Ukrainian Temporary Protection Directive in place and start applying it across the board for all those seeking asylum in Ireland.
*Not his real name, changed to protect his identity by Thomson Reuters