Fresh accusations have surfaced against Malta, alleging that instead of taking in nearly 500 migrants stuck in Maltese territorial waters a week ago, authorities returned them to Libya, where subsequently the people were sent to prison. If the allegations are true, it would mean a violation of international maritime law.
The group of migrants had reportedly been trying to reach European soil on May 23 when they sent a distress call, saying that they were adrift at sea and taking in water after its engine had stopped working.
The NGO Alarm Phone, which runs a hotline for migrants in distress at sea, confirmed this in a statement. It said that the migrants aboard the vessel had shared their GPS location with Alarm Phone, showing they were in international waters at the time. 
However, it was an area of the Mediterranean Sea where Maltese forces officially are in charge of conducting search and rescue operations, tasked with taking care of people they save. 
Malta denies accusations
The Maltese Armed Forces (AFM) responsible for search and rescue operations in the area meanwhile did not immediately respond to questions submitted by The Associated Press (AP), as per standard policy.
However, the AFM later told The Times of Malta daily newspaper that "no such boat was found in the position flagged by activists."
An AFM spokesperson said it had carried out multiple searches for the boat, adding that "(n)o boat was sighted in the reported position."
With regard to any potential action taken by Libyan authorities, the AFM spokesperson said that "Maltese authorities have no jurisdiction over any autonomous actions conducted in International waters."
This was corroborated by other rescue vessels in the area as well as by a surveillance plane operated by the private sea rescue NGO Sea-Watch, all of whom said that they were unable to locate the boat when they reached its last reported location. 
Read more: Malta accused of ignoring alarms again, leaving migrants to die
Alarm Phone doubles down on its version
The version of events according to Alarm Phone, however, is that despite sending repeated requests for help to Maltese authorities, the migrants were eventually intercepted by a Libyan boat and taken back to the coastal city of Benghazi in eastern Libya three days later.
Alarm Phone said it had learned about this series of events from relatives of the affected migrants, who had spoken to their loved ones on the phone ever since the incident in question.
"The people fled wars and prisons in Syria, and now, unfortunately, they have been returned to Libya," an Alarm Phone statement, quoting a relative of one of the migrants, read.
Later, the International Organization for Migration (IOM) and the UN Refugee Agency UNHCR confirmed that a total 485 people had been taken back to Libya after being intercepted in the Mediterranean Sea. 
The two UN agencies, however, could not confirm whether this was the same group of migrants as reported by Alarm Phone.
Alarm Phone nevertheless issued a joint statement along with several other NGOs, including Sea-Watch, Mediterranea Saving Humans and EMERGENCY, which said that "(i)nstead of bringing people who had tried to escape from the extreme violence people on the move experience in Libya to a place of safety, Malta decided to organize a mass pushback by proxy at sea, forcing 500 people across 330 kilometers into a Libyan prison."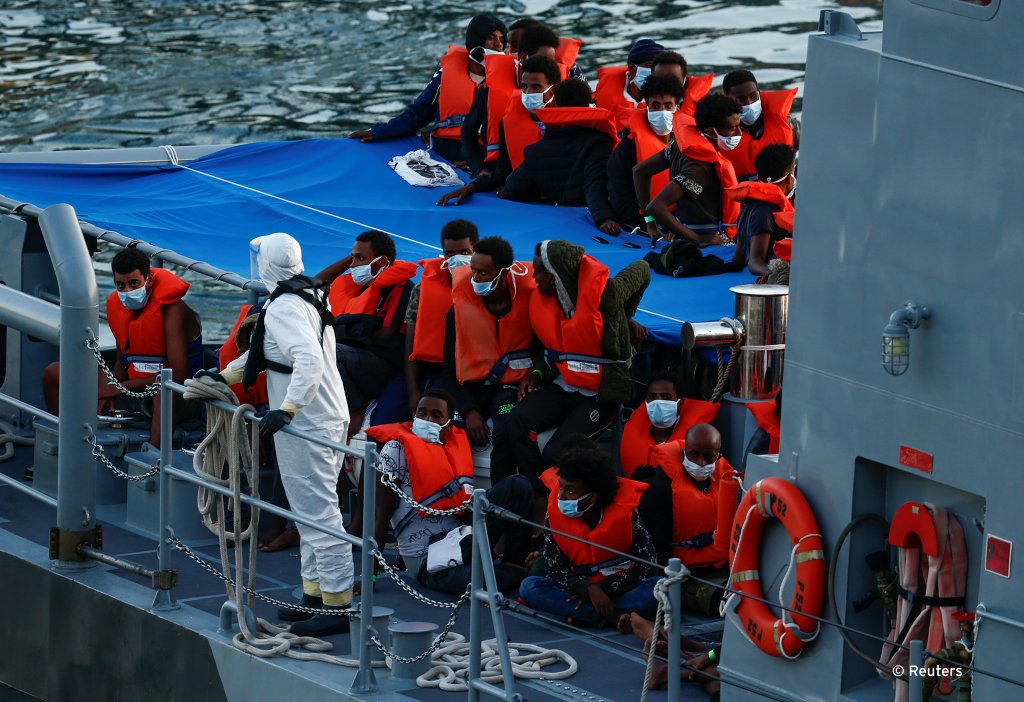 Libyan militia at sea
The two UN agencies added that the vessel that had intercepted the migrants and had taken them back to Libya belonged to the self-styled Libyan National Army -- a paramilitary force in the east of the country, which is led by breakaway military commander Khalifa Haftar. 
The vessel that reportedly was involved in the case of the 485 migrants was one named Tareq Bin Zeyad -- after Haftar's son, who runs his own militia with his father's blessing. 
In a report published last year, Amnesty International accused Tareq Bin Zeyad's militia of subjecting "thousands of Libyans and migrants to brutal and relentless abuses since 2016."
Read more: Maltese minister claims half of migrants come from 'safe' Asian countries
Reports of a second boat taken
Meanwhile in a separate development, over 800 migrants traveling on a large vessel reportedly were intercepted by eastern Libyan forces over the weekend.
The migrants were also brought back to the port of Benghazi -- three days after their vessel had broken down in the Mediterranean, according to AP.
AP reported seeing video testimony in which one migrant claimed that the vessel had broke down off Maltese shores, and that it was the Libyan navy that rushed to rescue them. 
The agency added, however, that it could not independently confirm whether this was the same boat that had reached out to Alarm Phone near Malta.
Read more: Authorities hiding sea rescue operation figures, Times of Malta
Libya: not safe for migrants
The IOM and the UNHCR -- as well as scores of NGOs -- have repeatedly condemned the practice of returning migrants and refugees to Libya, which they say is not a safe place for disembarkation as stipulated by international maritime law.
Migrants returned to Libya are reportedly subjected to arbitrary detention, sexual abuse, extortion, torture and enforced disappearances by militias and human traffickers working in tandem.
A UN panel of experts has stated that these may amount to crimes against humanity.
Human rights organizations meanwhile have long accused Malta of applying a deliberate policy of "non-assistance" at sea, implicitly colluding with Libya's coast guard and other Libyan forces.
Many criticize the fact that Libya's coast guard also receives funds and training from the European Union to keep migrants back from EU shores, saying the bloc is complicit in whatever fates migrants and refugees on this route have to endure.
with AP