Mustafa Hussein is a Sudanese refugee now living in Berlin. He was granted political asylum in Germany on March 10, just over a month before war broke out in his home country.
Mustafa had fled Sudan in 2018 because his political activism put his life at risk. German authorities initially rejected his asylum application, saying returning to Sudan would not be dangerous. But then, his appeal succeeded.
In Sudan, Mustafa was arrested three times for his political activities. The last time, when he was told he would be killed if he did not toe the line, he went into hiding for five months before escaping to Germany.
Now that Sudan is nearly a month into a civil war, most of the people he left behind are desperately trying to leave the country.
Mustafa spoke to InfoMigrants on the phone from Berlin.
"I was born and raised in Kosti in the White Nile, in the southern part of Sudan. My father used to work in administration for the railways. When I was three years old I moved to the capital Khartoum. I went to school and then attended university in 2009, studying mechanical engineering. I started doing political activism from that period.
All of my colleagues and friends and family, there's a huge number of them who have been arrested now in different places, and a number of them are unfortunately not alive any more.
My family left Khartoum three months ago now because they were under fire for three days. There was street fire conflict between the military and the militia [Rapid Support Forces – RSF] and our house was caught in the middle.
My family were underground for three days hiding from bullets and guns, and after that they left Khartoum, traveling to Kosti. They got the news yesterday that the city itself is not secure any more and they have to leave again. The only way is to go further south: option number one would be Juba, the capital of South Sudan [1,500 kilometers drive from Kosti]. The situation in Juba is not stable, but it's better than Sudan now. There they would seek asylum or, if the situation is not stable, they could also move to Nairobi, for example, or Uganda.
Most of my friends who are still alive moved to Cairo or Addis Ababa, because it was the easiest way to get out.
The European Union is involved
Since well before the war, Sudan has been on the route for migrants fleeing countries like Eritrea, Ethiopia and Somalia who travel to North Africa and then on to Europe. The EU has provided support to Sudan to try and block the flow. Mustafa says that makes Europe, and Germany, responsible for helping to end the crisis.
"The militias have got a lot of money from the European Union. Under a very famous deal, the Khartoum Process, signed in 2015, these militias are actually being supported and paid by the European Union to stop migration to Europe. They are trying to reduce the refugees coming from the eastern part of the Horn of Africa, countries like Somalia, Ethiopia, Eritrea.
The European Union wanted to have safe places where the refugees from all those areas were supposed to come so we could then do the asylum process in the North African countries and then from there we can pick which refugees make it to Europe.
But in reality we saw that these militias were militarized by the European Union. Their name in the beginning was Forces of Protecting Borders, before they changed their name to Rapid Support Forces. It was very clear from the beginning [that they were] a criminal militia killing people at the border. Everyone who was trying to flee from Somalia, Eritrea, and Ethiopia through Sudan as a first station, even Sudanese also, they were stopping them at the border [and saying], 'We will bring you back or kill you.' We saw very big numbers of people being killed. So the European Union are very involved in [supporting] these border forces.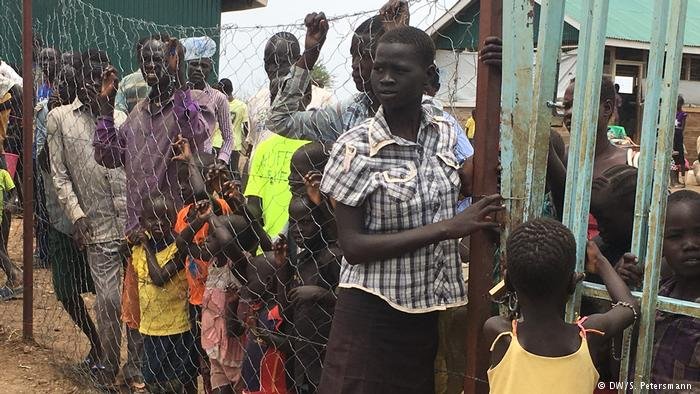 In my opinion the German government should recognize that they have involved themselves in the wrong way. And then they have to stop the war, to bring all the sides with support from the international community and say, 'We want to stop this war.'
The German government has evacuated all of their people. Three hundred and forty people have been brought out of Sudan. But they evacuated only the German citizens, they are not interested in bringing anyone [else] out of the country.
It was very clear. They announced three times at media conferences on the situation in Sudan that they are not involving themselves. It's a kind of contradiction. As the government, you are contradicting yourself, because you have been involved since 2003. For 20 years you involved yourself, and when the war starts, you are not interested. Do the right thing, evacuate the people now.
Uncertainty for Sudanese asylum seekers
Germany stopped deportations to Sudan as soon as the war started, but the problem is there are a lot of people who will keep being rejected until something positive happens [in Sudan] then they will say, 'Okay it is now positive and stable and peaceful, we can send you back.' This is a very clear policy. They want to reduce as far as they can, the number of people traveling to Europe."