Near the Louvre Museum in Paris, an unusual housing project is underway. Eleven refugees and thirteen French people are spending a year living together as a unique 'family'.
They are Somali, Guinean, Afghan and Sudanese. Until now, none of them had imagined ever living in the 1st arrondissement of Paris, a few meters from the Louvre Museum and the garden of the Palais Royal. But since September, this has been their everday life. Thanks to the Caracol organization, 11 refugees will live for a year with 13 French people in a typical Parisian building.
Aged 20 to 35, the 24 roommates are students or young working people. They share the premises of a 1,000-square-meter building that includes several common areas: a kitchen, a living room and a work room. Each has his or her own room with kitchenette, bathroom and toilet.
For Youniss, one of the residents, this flat-sharing was "a chance not to be missed." Coming from Sudan, he left his country on his own, after finding himself and his family "in the middle of the war in Darfur."
He embarked on a journey that lasted several years, taking him as far as Libya and Italy. On September 25, 2016, Youniss crossed the French-Italian border. He then arrived in Paris. For three years, he was "passed from home to home" and after more than a year in France he was granted refugee status.
He heard about the Caracol initiative from a social worker and was immediately interested. Like all the members of the shared residence, he had to have an interview with the people in charge of the organization.
In order to participate in the project, several conditions have to be met. "You need to be over 18 years of age, have a valid residence permit for foreigners because you have been granted subsidiary protection or refugee status, and proof of a regular income (RSA or youth guarantee, for example)," explained Simon Guibert, founder of Caracol.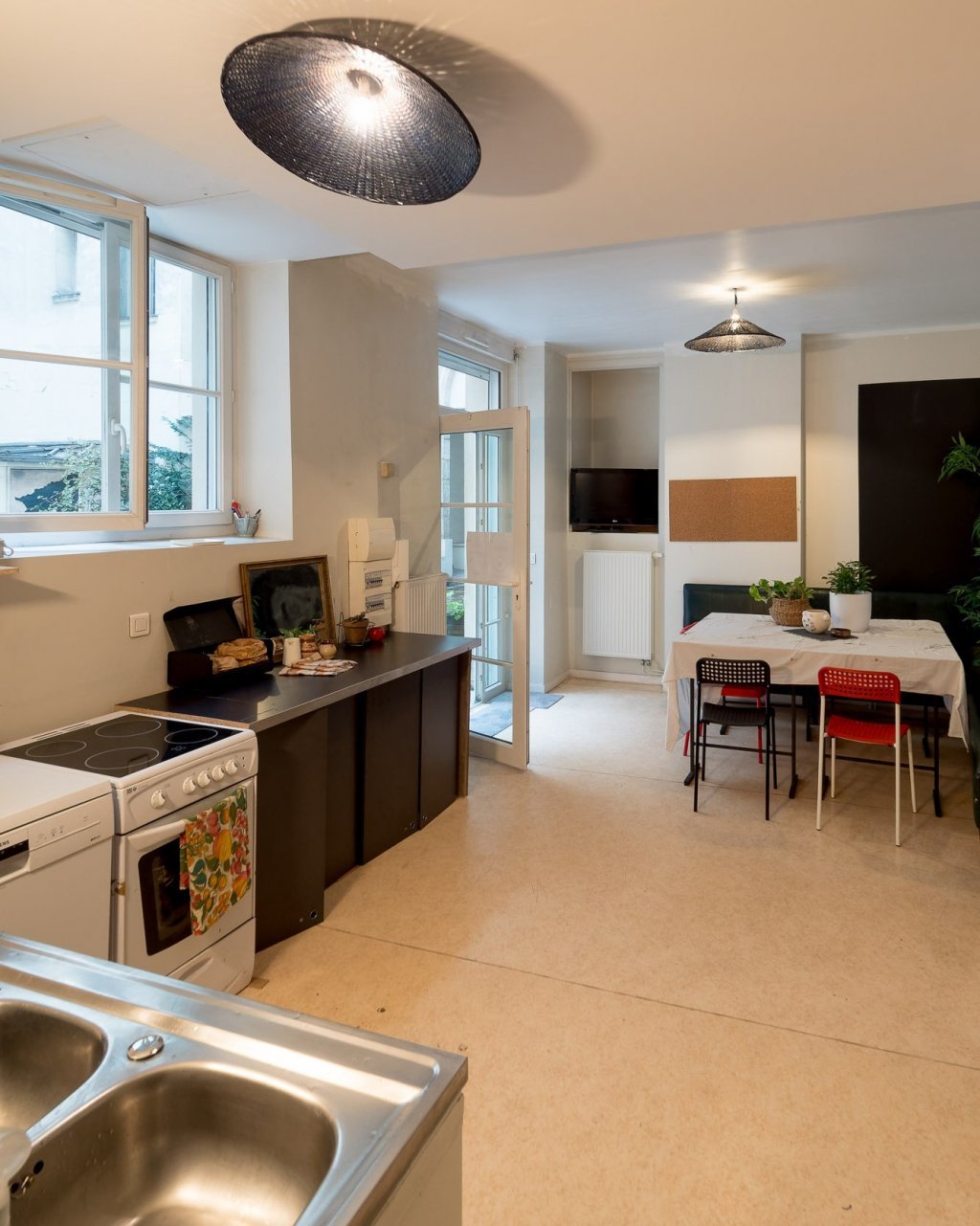 Each flatmate pays a maximum rent of 200 euros per month, in accordance with France's housing reform law, the Élan Act, The money is used primarily to cover utilities. The association pays the corresponding sum to the owner of the premises, the City of Paris Real Estate Board, the second largest public landlord in the capital. Residents are welcome to supplement their rent in the form of donations to the association.
Originally, the building was to remain vacant until it was converted into public housing at the end of September 2021. The system proposed by Caracol benefits the landlord because, with the building occupied, the organization does not have to pay for maintenance.
Pitching in together
The concept also helps to relieve the housing crisis, which particularly affects large cities. "On the one hand, many French people have difficulty finding housing. On the other hand, exiles may find themselves without a solution after leaving an emergency shelter. And yet there are thousands of empty square meters in Paris," Guibert said.
Applicants for the co-living project cannot be in urgent need of housing, however, because the selection process takes time.
From the start, the organization tries to discover the motivations of the candidates. "We ask them to get involved before they enter the flat-sharing scheme," Guibert said. Caracol already oversees several flat-sharing schemes of this type in France.
Prior to moving in, the residents took part in some minor finishing work. They cleaned the premises and equipped the building with furniture salvaged from the homeless charity Emmaus and other places.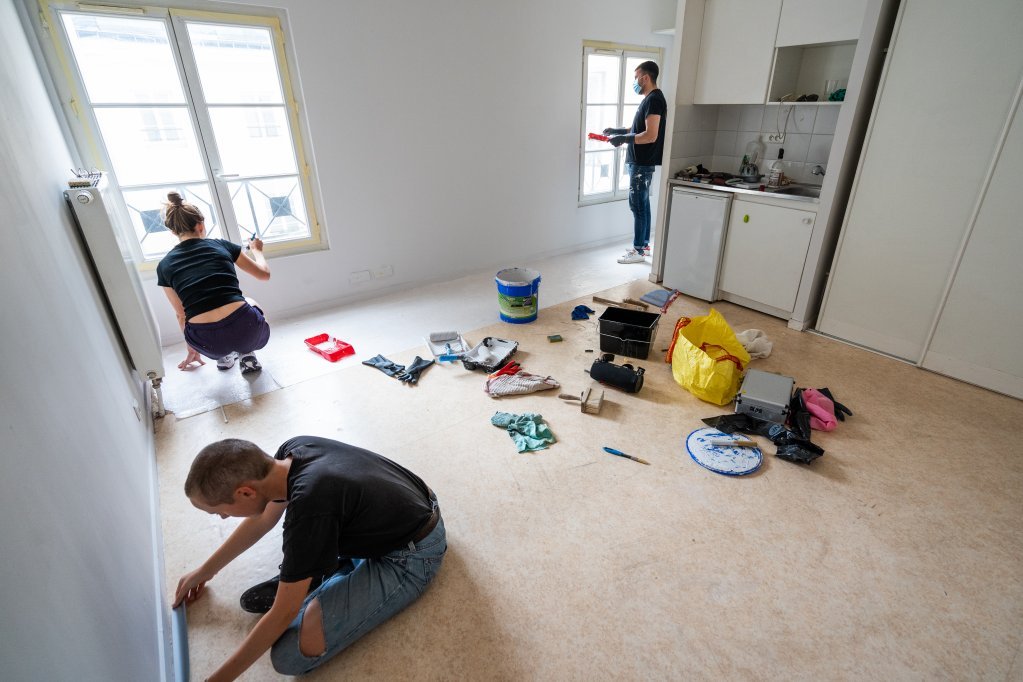 Once the renovation was completed, the residents tried to bring life to the shared home with yoga classes, French and Arabic classes, dance and sewing workshops, all conducted with respect for social distancing. "We have a WhatsApp group in which we can propose ideas," said Youniss. "I've offered to give Arabic classes and sometimes I cook for everyone. I plan to prepare a good dish with rice, lamb and vegetables soon," he said.
Once a week, roommates collect unsold products from the local Biocoop store. "From time to time, we pick up vegetables and yoghurt and put them in the fridge. Anyone can help themselves," Youniss explained.
To the great surprise of Joséphine, a French roommate, household chores are not a source of tension. "In the beginning, we tried to set up a rotation. But in the end, everyone does their own dishes and errands. And those who use the common areas the most are more involved in cleaning and tidying up. It's quite surprising that it works so well without any specific organization," she said.
For this 21-year-old urban planning student, the experience is unprecedented. "I got to know people I would never have met in everyday life. I discovered different cultures and personal stories," she said.
'We live like a family'
For their part, the refugees are taking a step with this initiative toward integrating in France. "Here, it's not like at home. Sometimes we eat together and watch movies. We share the same washing machine. There's even a Guinean who teaches us how to sew and repairs our masks. We live like a family," said Yaseir, also a Sudanese refugee.
As an apprentice maintenance technician, Youniss appreciates the peace and quiet after a day's work. "I can be alone and have my privacy. When I lived in a hostel, I shared my room and the bathroom. In one of the centers for asylum seekers where I lived, there were only two kitchens for 200 people," he recalled.
Although the concept seems to be working well for the moment, the occupants of the premises have been warned: they will have to find other accommodation next September. "Before moving into the shared flat, I began the administrative process of applying for public housing. But in reality, I have no desire to leave," Yaseir confided. "I've made friends and I'm making progress in French. I'm very happy here."
To join a Caracol co-living project: https://www.facebook.com/ColocationCaracol/