The Spanish coast guard rescued more than 220 people travelling in small boats off the Canary Islands on Wednesday. The number of migrants risking the Atlantic route is rising again, and so are the deaths.
Spain's coast guard, Salvamento Maritimo, rescued 225 migrants on Wednesday, September 15 – the migrants had been traveling in six boats in waters near the Canary islands of Lanzarote, Gran Canaria and Tenerife, according to EFE news.
Emergency services rescued 38 North African men from a small boat (Patera) off Lanzarote after receiving a call from one of those on board. The men were in relatively good health and were transferred to Arrecife, authorities said.
A coast guard plane then sighted another four boats while it was scanning the area south of Gran Canaria, where two of the most active routes converge – from Boujdour and Dakhla, in the Sahara, according to EFE. By late afternoon on Wednesday, 98 adults and two children had been rescued from three of the boats.
Fifty people from sub-Saharan Africa who were on the fourth boat were picked up by a search and rescue vessel and taken to the port of Arguineguin in Gran Canaria, EFE reports.
Thirty-six people of North African origin were also rescued from a boat drifting about 12 kilometers from Punta Rasca in the south of Tenerife. The group was taken to the port of Los Cristianos.
A day earlier, around 355 people in 11 boats reached the shores of Lanzarote and Gran Canaria.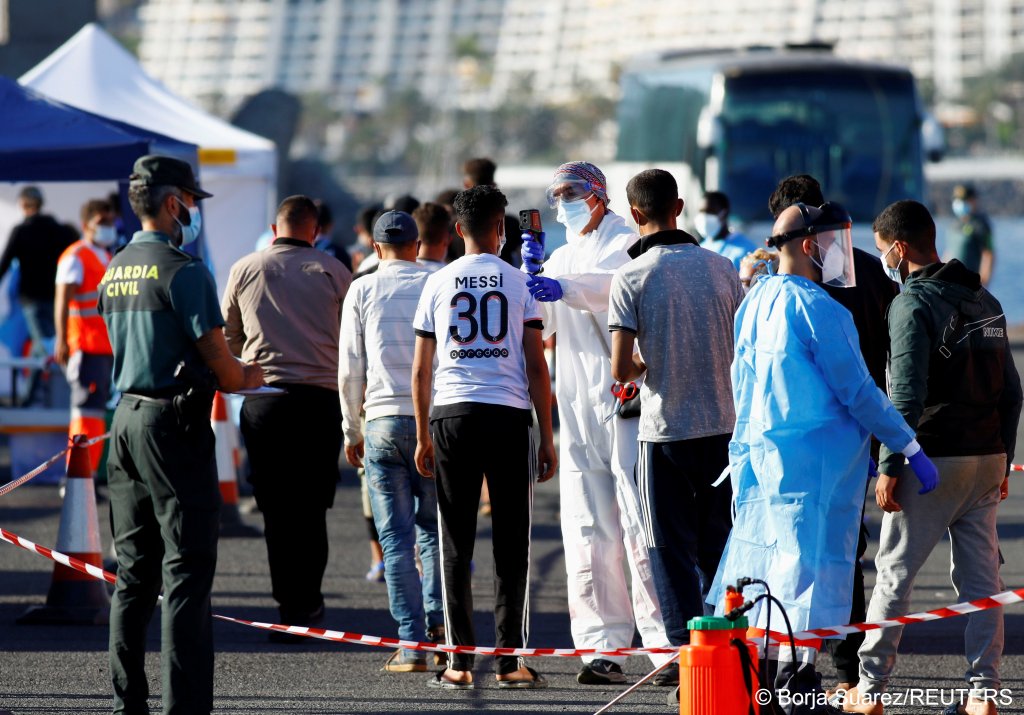 12 deaths for every day
Spanish authorities report that the number of people arriving by sea to the Canaries is increasing. Data from the interior ministry show that more than 9,250 migrants arrived between January 1 and August 29, more than double the number in the equivalent period in 2020, Reuters reports.
The International Organization for Migration's (IOM) Missing Migrants Project, which tracks deaths and disappearances on migrant routes, has recorded a much higher number of deaths – mostly drownings – in the region compared with last year. On the Canary Islands route, at least 785 deaths have been recorded in 2021 so far, though the IOM says the actual number is likely to be much higher. According to Caminando Fronteras, an NGO, nearly 2,000 people have died or gone missing between Africa and the Canary Islands since the start of the year.
In August alone, at least 379 people died on the Canary Islands route, says this tweet from EFE. That's 12 deaths per day.
Also read: Dying to reach Europe: The Atlantic crossing
Authorities expect larger numbers of migrants to risk crossing the Atlantic route in the coming months – last year autumn saw a significant rise, partly due to tighter restrictions imposed on other migration routes.
In 2020 migrant facilities in the Canary Islands were unable to cope with the large number of arrivals, leaving thousands of people stranded on a dockside in Gran Canaria in November and eventually prompting the government to convert abandoned military barracks into camps.
A government spokesperson said on Wednesday that a total of 2,260 people were currently housed in reception facilities across the Canaries, out of a total capacity for 7,000.
"For now we have resources," she said. "But it's true that more complicated months are coming."
Also read: Spain: New migrants camps in the Canary Islands
With Reuters, EFE