Asylum seekers continue to be deported under what one politician in the German state of Saxony says is an inhumane law. Frank Richter believes letting them stay would help both the migrants and the local economy.
In German they are called 'Blitz-Abschiebungen' – flash, or lightening deportations. When there is a knock on the door in the middle of the night, or very early in the morning, asylum seekers who have had their claims rejected or have received a 'Duldung' (a temporary deportation ban) have good reason to fear that it will be the police, coming to escort them to the airport.
This is German asylum law, says politician Frank Richter, which is neither humane nor efficient. So the 62-year-old Social Democratic Party (SPD) member of the Saxony Parliament has set out to change the system, but in an unconventional way. Instead of introducing bills into parliament or campaigning for re-election, Richter, who is also a theologian, has created a website www.abschiebung-sachsen.de that tells the stories of people – families and individuals – facing deportation from Germany.
"It's about people who have fled [their countries] for Germany because their existence was in danger, who have committed no crime, who have made a big effort to get educated, get jobs and learn the language," says Richter. "(They) are desperately needed in Saxony and despite all that they have been deported, or are due to be deported."
Also read: German court: Deportation orders are valid even if deportees face long-term destitution
Deportations continue
German civil society and rights groups have long opposed the practice of deportation, in particular of those with 'Duldung' status. The state refugee councils and church groups say they are forced to live in limbo, knowing that they may be deported at any moment, but still being expected to integrate into Germany society.
Last year the German coalition government announced a 'paradigm shift' in asylum policy which would enable more people to gain at least temporary residency rights. But group deportations continue to happen regularly from Saxony, Bavaria and most other states: On Wednesday, May 11, a plane was chartered from Leipzig to Enfidha in Tunisia, the day before there were deportation flights to Skopje and Belgrade, and to Lagos, Nigeria, according to the group Deportation Alarm, which monitors the forced removals.
'We need immigrants'
Richter points out that asylum seekers from Syria, Eritrea, Iran, Pakistan, Afghanistan and other countries have had a very different reception to those fleeing Ukraine: "The fact that we welcome refugees from Ukraine with open arms is very good. But what about the others?"
Saxony needs asylum seekers just like "they need us," Richter says. The state's population is older than the rest of the country and there is a shortage of skilled workers. Nearly all sectors – nursing, hospitality, retail, construction and trades, are dependent on immigrants, and according to him, the state is doing itself economic damage by continuing with deportations.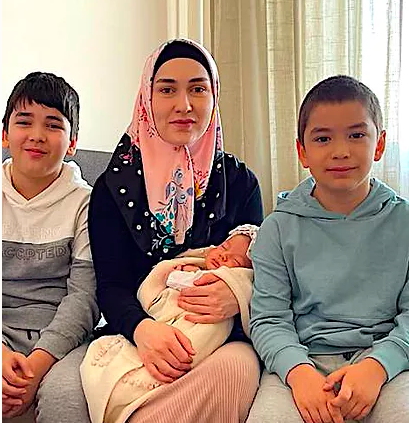 The three portraits on the website so far – of asylum seekers from Georgia, Kosovo and Chechnya – are far from being stories of victims. They are simply human stories, like that of 15-year-old Argjentina, who was born in a small town in Saxony and deported to Serbia in 2020. Or of Petimat Eskerbieva, a single mother from Chechnya whose wish is to be able to stay in Kamenz, where she has learned German, got a job and an apartment. In January, she gave birth to her third child: a girl, Sumaya.