There is growing concern that Germany will soon be unable to accommodate the increasing number of refugees and asylum seekers. Childcare centers and schools, as well as health care, are also increasingly coming under strain.
The head of the Landkreistag (Association of Districts), Reinhard Sager, has warned that many districts in Germany have already reached the limits of their capacity to take in more war refugees from Ukraine.
Around one million people have fled Ukraine for Germany. With a further 115,000 people from other countries applying for asylum since January 2022, the numbers have already surpassed the number of first-time asylum applicants in Germany in 2015.
As was the case then, pressure is being felt in Germany's cities where once again, asylum seekers and refugees are sleeping on stretcher beds in gymnasiums. "We don't want conditions like 2015/2016, but we're heading towards that," Reinhard Sager told the RND media group on Wednesday.
Housing bottlenecks
Finding sufficient housing for refugees is not the only problem, according to Sager. Childcare centers and schools, as well as health care, are increasingly coming under strain.
The mayor of Münster and president of the Städtetag (Association of Cities), Marcus Lewe, believes that more refugees from Ukraine will arrive in Germany with the onset of winter. At the same time, some Ukrainians who are already in Germany might not be able to stay living in private housing and will have to move into state housing or emergency shelters. "In the coming winter several cities will have to accommodate refugees in hotels, gymnasiums or other facilities," said Lewe.
In nearly every one of Germany's 16 states there are already bottlenecks, according to research by the Mediendienst Integration. Thirteen states have announced that they cannot take in any more refugees, and many Landkreise and Kommune say the same.
It is estimated that the majority of refugees from Ukraine live in Germany's most populous state, North Rhine-Westphalia, followed by Bavaria and then Baden-Württemberg. At the end of June, most states claimed to have sufficient refugee accommodation, according to Mediendienst. Since then, however, nearly all have said that their general reception capacities have been exhausted and they are increasingly using emergency shelter in halls, hotels or commercial properties. The federal government is said to be considering how it can offer additional support to the states to address the shortfall.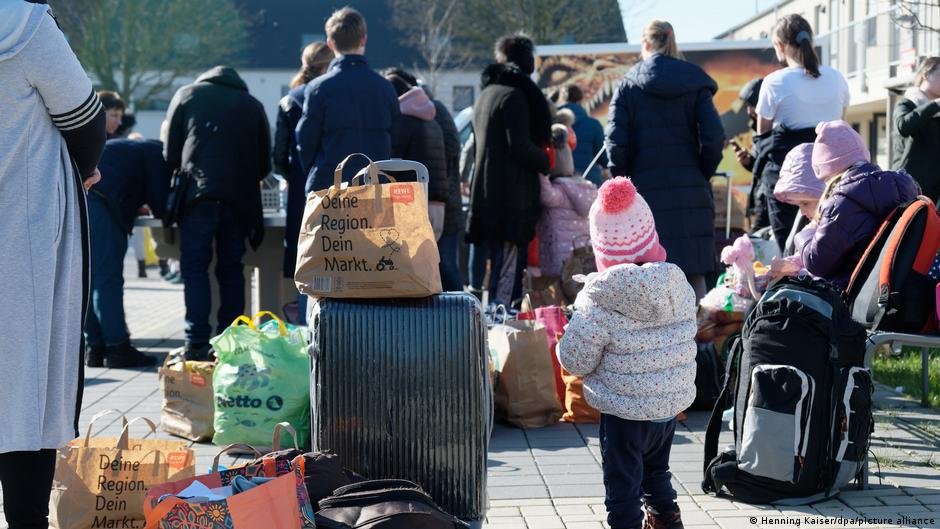 Stop on admissions
The reason that the reception system is under so much strain is partly that the number of asylum seekers from other countries is rising. Nevertheless, five states (Mecklenburg-Western Pomerania, Lower Saxony, Rhineland-Palatinate, Saxony and Thuringia) have temporarily stopped taking in asylum seekers from other countries, according to Mediendienst. Several municipalities and districts have also introduced temporary stops on admissions – they include cities such as Hanover, Dresden and Leipzig, as well as small towns. 
Meanwhile, when it comes to refugees from Ukraine, only three states are still accepting refugees. In North Rhine-Westphalia, the head of the Refugee Council, Birgit Naujoks, said Wednesday that she wanted to see "no tents, no gymnasiums." But she admitted that the goal of accommodating refugees in private living spaces was unrealistic, given that accommodation shortages have been a problem for years.
With the situation nearing breaking point, both the Landkreistag and the Städtetag are calling for an urgent summit on refugees to be convened with the German federal states and municipalities. Otherwise, Lewe said, there is a risk that the public's trust will be lost.
With epd
Also read: Germany: Finding housing as a refugee – an obstacle course (1/3)